Farmers' long-running struggle to find enough workers has gotten even more difficult as the economy recovers from the pandemic.
"It's always been a problem, but over the past year and a half, it's gotten extremely worse," said Rick Ebert, president of the Pennsylvania Farm Bureau.
Employers in many industries have been struggling to fill jobs, leading to hot competition and rising compensation for workers who are looking for new positions.
Farm workers in particular have skills needed in many shorthanded industries, such as trucking and machinery operation. And warehouses, which have proliferated along interstates in southeastern Pennsylvania, often can offer more money for fewer hours of work than employees get on farms, said Mike Hosterman, an ag business consultant at AgChoice Farm Credit.
To keep up with so many lucrative opportunities, Ebert said some farms have been increasing wages, and offering incentives and bonuses.
Farmers will need to be somewhat competitive on wages, but that's difficult at a time when feed and fuel prices are up, said David Swartz, Penn State Extension assistant director for animal systems programs.
"The pie is only so big, so the challenge for any farm manager is, where do I find the dollars to maintain competitiveness and keep the kind of employees that I want to keep?" Swartz said.
Hosterman has had clients restructure debt, drop from three daily milkings to two, and even cut their own pay to afford workers.
One reworked the farm's milking schedule so that it suits stay-at-home parents who are only available in the middle of the day.
Perhaps the best way to deal with rising costs — whether for labor or feed — is to plan for them, Hosterman said.
Starting in 2020, New York required farm workers to receive overtime when they worked over 60 hours. That law increased farmers' costs, but not as much as anticipated because farms did a good job preparing for it, he said.
Hosterman also recommended that farms budget for pay increases. That's easier than waiting for employees to ask for a raise and then trying to make it work.
Adjusting to the Shortage
Even before the pandemic, farmers who were hiring employees faced a tall task —interesting people in work that Americans have been fleeing for more than a century.
Between 1900 and 1970, the share of Americans employed on farms plummeted from 41% to 4%. It's now less than 2%, according to USDA. That dramatic shift is both a testament to American agriculture's technological progress and a reminder that agriculture will never be a 9-to-5 office job.
Farm work often entails long hours, and the timing depends on the needs of livestock and crops, and the vagaries of weather.
"It's not easy work, and it just isn't attractive to a lot of folks," Ebert said.
To fill the shortage of citizen laborers, some farmers have hired foreign workers, often from Central America.
From October to March, the U.S. Department of Labor certified 9,700 foreign nationals to work in the Northeast under H-2A visas, which are for temporary ag workers. Nearly 1,000 of those workers were for Pennsylvania farms.
The H-2A program has disadvantages with cost and complexity, but it has been helpful to fruit growers.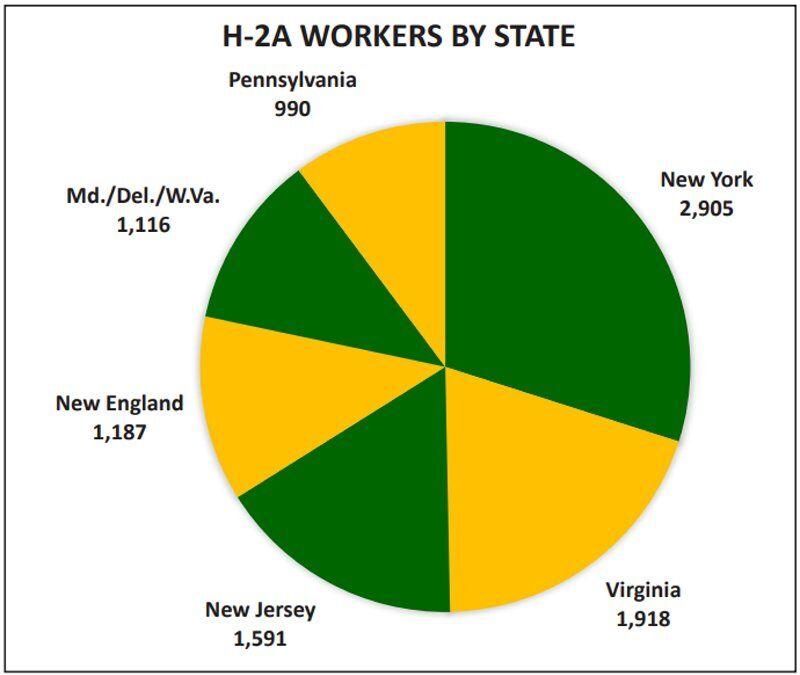 Hosterman has recommended that some of his clients consider hiring through the program, but none of his current customers are using it.
As it is, the ag labor market is tight enough at the moment that H-2A workers may be able to shop around for the best employment situation, Swartz said.
Many farms are also investing in tools that can get more done with fewer workers. Robotic milkers have seen renewed interest, Swartz said.
Even if farms don't spring for fully automated milking, Hosterman said, they can save workers' time by using a robotic teat dip. He has also seen growing interest in heat detection technology.
Another option is simply to keep the farm small enough that a family can get by without hired help.
Ebert, who runs a dairy with his two sons, has taken that path so far. But as his family diversifies into vegetables, it might need to bring in employees, he said.
A recent Center for Dairy Excellence survey found that 71% of Pennsylvania dairies use no hired labor, in part because the state's average herd size is too small to support many employees. Few reported having Latino workers.
A Changing View of Work
While increasing pay is one way to keep workers happy, farmers may also be due for a reset in what they expect of their employees.
Baby boomers grew up believing in the nobility of working long, hard hours, and in deferring the enjoyment of life perhaps until retirement.
Most younger workers don't want to log 80-hour weeks, but Hosterman said older farmers should avoid the temptation to equate this preference with laziness.
"Our next generations do have work ethics. It's just different than ours," Hosterman said. "They want to enjoy life today while working. They want to enjoy family today while working."
If workers can't find that work-life balance on the farm, they may switch to other industries in which they can get weekends off and qualify for overtime.
As a result, farmers may need to redesign their jobs and find ways to increase efficiency so that workers can go home earlier than their parents did.
"For the people that you do have, you want to take care of them and have them be productive," said Gregg Eshelman, who grows Christmas trees and nursery stock at Plow Farms in Plowville, Pennsylvania.
And while pay increases are one way to keep workers happy, a more important step is to treat them with respect.
"They're not just grunts," Hosterman said.
That means communicating with employees and finding out what motivates them. Some may place flexibility, benefits or work with animals above a pay increase.
Farm owners need to show their workers that they care about them as people, not just about getting the job done, Hosterman said.
In the long term, policy changes could help agriculture meet its employment needs. The House passed a bill in March that would ease the process for farms to hire foreign guestworkers, though similar legislation has failed in the past.
In the last few years, Pennsylvania has approved a number of ag-related apprenticeships that formalized the training for machinery technicians, dairy graziers, and diversified vegetable farmers.
Ebert said the ag industry needs to increase its efforts to inform high schoolers about career opportunities in ag.
Gen Z'ers may pass on picking crops, but they might get interested in businesses such as seed development or animal nutrition that support farmers. "There is a lot of good jobs in agriculture," Ebert said.
Courtney Love contributed reporting.
How have you addressed your farm labor problems?