Joy Gamache, a New Jersey-based equine massage therapist, is just about tall enough to see over the topline of the horses she treats.
Despite her size, she has an outstanding reputation with owners and trainers for her work.
Gamache has a passion for horses and has a knack for putting a 1,200-pound animal at ease. She believes it comes from years of experience treating Thoroughbreds, Standardbreds, sport, show and even working breeds of horses.
Gamache got interested in equine massage in the 1990s while volunteering at Monmouth County Park's SPUR program where people with disabilities can achieve personal goals through therapeutic horsemanship.
"Many of the program's horses were geriatric and arthritic," Gamache said, "and I could see that they were in pain and discomfort from carrying unbalanced riders and I wanted to help."
Gamache learned about Equissage in Round Hill, Virginia, founded by Mary Schreiber one of the early proponents of equine massage therapy, and did her initial training there.
A decade earlier, Schreiber had found that techniques from "sport massage," in which vigorous strokes are applied in rhythm with the heartbeat, worked best on horses and helped reduce inflammation and tension while stimulating circulation to improve the overall physical condition of the horses she worked with.
After her Equissage training, Gamache learned by doing. She found she had a natural rapport with horses that put them at ease and allowed her to make progress through massage therapy.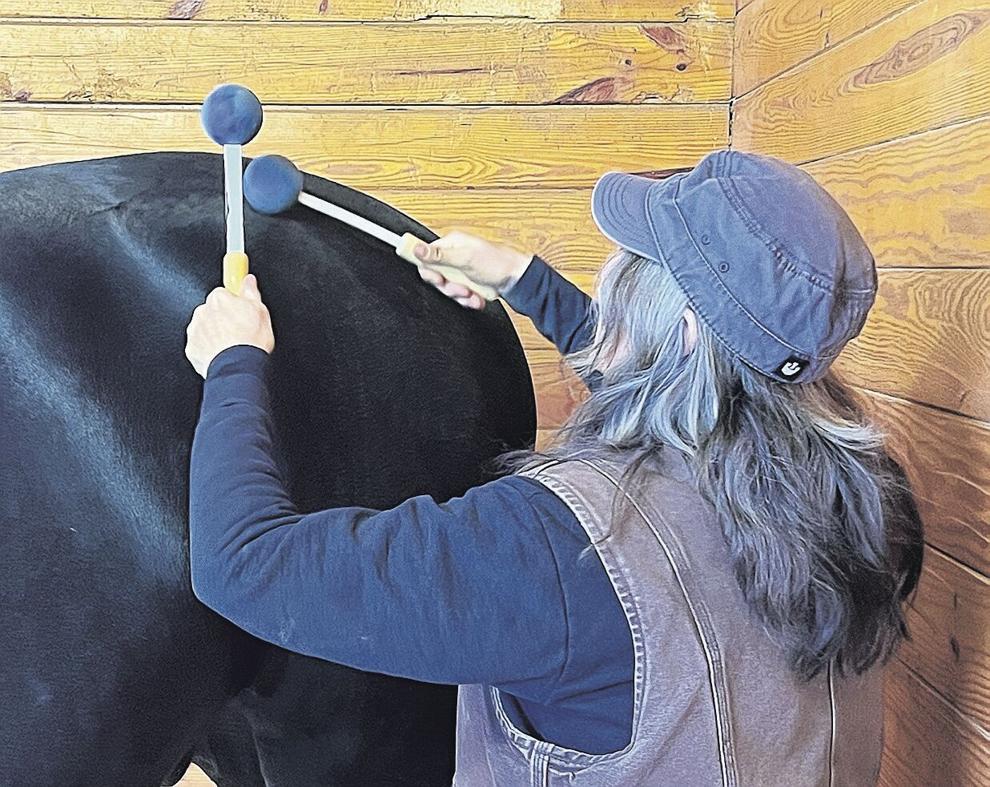 "We saw results quickly at SPUR," said Gamache, "and I found it rewarding when the instructors told me the horses were performing better."
Today, many community colleges offer programs in equine and pet massage therapy as its reputed benefits have attracted animal lovers to the profession.
Equine massage was practiced in ancient Egypt, Rome and China to keep war horses ready for battle by enhancing muscle tone, reducing inflammation, and releasing tension.
It is accepted today as part of a horse's care by many owners, trainers and veterinarians, and it has become part of many training regimens.
Gamache said she has had success with hundreds of horses.
"Unlike humans who can tell you what hurts and what feels better, horses have their own way to communicate," she said. "They show signs of aggression in kicking and spinning trying to get away from you when they are hurt. However, they nod, lick or expel air when your massaging hands are making them feel better."
A Second Chance 
For the past three years, Gamache has been working with Dana Delfino and her horse Jeffrey, a German warmblood. Delfino is a Staten Island, New York, native who competed with hunter-jumpers until she was 21 and for the last nine years has worked with dressage horses.
Delfino's trainer purchased Jeffrey, which has Jazz and Sandro Hit bloodlines, for her in 2018.
Jeffrey's previous owner was considering euthanizing him because of his difficult behavior on the ground and under saddle, and also his potential to be a liability.
Delfino and her trainer both thought the horse was too good to abandon.
"I've always believed that you don't throw a whole life away just because of troubles before trying to fix them," Delfino said.
She moved Jeffrey to Synergy Stables in Colts Neck, New Jersey, where she and Jeffrey work with her trainer.
"We took on the challenge to make Jeffrey, now 12 years old, whole again," Delfino said, "and hopefully he will able to re-enter dressage competitions in the foreseeable future. We enlisted Joy to assess Jeffrey and to work on his physical and emotional issues."
Gaining the trust of high-strung racing and show horses can take time.
"Jeffrey reacted defensively when anyone tried to touch him," she said. "This was no quick fix."
Gamache talks to the horses while she works her hands and fists in rhythm to find and release the areas of tension.
She also uses Bongers (a handheld percussive massage tool) to help her set a rhythm. She may even hold the horse's head during a session when she has gained its trust.
"All those steps came slowly with Jeffrey in twice-monthly sessions over many months," said Gamache.
"I hold Jeffrey on a lead and talk to him," Delfino said, "while Joy works with him. Jeffrey goes through at least one bag of carrots and lots of treats while she works on his whole body from poll to hindquarters."
Both the owner and therapist say Jeffrey has made significant progress but still has a way to go.
Delfino explained Jeffrey is now developing as a dressage horse after two years of dealing with physical and emotional issues.
"I have been riding him consistently for three years," said Delfino, "and we have advanced from just learning how to go forward, have fun, and enjoy work. Now he is a much better balanced horse physically and emotionally through Joy' s work.
"In the last year we have been teaching him his changes and more difficult lateral work, and he's developing into a great partner. We hope we will get to compete but Jeffrey's well-being is still the top priority."
Gamache's ability to quiet a horse with soothing words and her massage success with horses got around quickly in the 1990s.
She found herself on call at a variety of riding events while also working with veterinarian friend Kathy Schappel-Lackey, who was beginning to do acupuncture with horses — a new form of equine treatment at the time.
Gamache continues to work together with Schappel-Lackey, and the vet refers many owners to her who are seeking help with their expensive horses.
Gamache also worked with veterinarian Patty Hogan at the New Jersey Equine Clinic in Millstone for seven years, providing medical, surgical and rehabilitative care for post-surgery animals.
She recently has been working with veterinarian Penelope Rochelle at the Thrive Veterinary Wellness Center in Little Silver, New Jersey, expanding her practice to small animals, dogs and cats.
Gamache said that between referrals, word-of-mouth references and work with vets, she treated as many as 40 horses a week for years. Today, she said, she works with about half that number, many on a regular basis.
Working with Jeffrey, Gamache took the slow-and-trusted approach that had worked for her for years. Jeffrey had multiple issues, Gamache stressed, including his neck, shoulders, and stomach (because of colic surgery).
"It's very unusual for a horse like Jeffrey to have so many problems and have a happy outcome," Gamache said. "Dana and her trainer have made a commitment to the horse, and I am doing my best to help them get Jeffrey to a place physically where he again can compete in dressage."
Horses are athletes and can be injured training, Gamache said.
"Thoroughbreds get sore on their right side from competing while running clockwise on the track," she said. "Hunter-jumpers need work at the withers, saddle area, balance point and pole. Dressage horses need treatment usually for shoulder and neck issues from continual lateral movement, and they all may need more help to recover from a more serious injury or surgery."