Rural people urgently need improved internet service, ag lawmakers agree, but Congress must confront high costs and a variety of technologies as it attempts to ease the problem.
Considered key to precision agriculture, health care, education, commerce and quality of life in rural areas, fast internet remains unavailable to 24 million Americans, by one estimate.
Reducing this number has been high on rural groups' minds for years, but the issue gained political importance when the pandemic drove millions of people to work and attend school at home.
In President Joe Biden's $2 trillion infrastructure proposal, rural broadband is a key element.
"It's resulted in lost opportunities to expand businesses, to learn new skills or even participate in daily activities," U.S. Rep. Glenn Thompson, R-Pa., said in an April 20 hearing of the House Agriculture Committee.
One of the most fundamental questions about broadband is who should be responsible for rolling it out to the countryside.
Large territories with few customers don't make rural places attractive to big internet service providers, so local telecom companies, rural electric cooperatives, nonprofits and local governments are trying to fill the gap.
The technologies to provide the service are as diverse as the types of businesses involved — and they can dramatically affect the price of deployment.
Extending broadband to all unserved Americans could cost anywhere from $60 billion to $150 billion, speakers in the Ag Committee hearing said.
Fiber-optic cable is the gold standard for speed and reliability, but it's expensive to lay.
In rough or mountainous terrain, wireless options may make more sense. That could include satellite internet, which is often costly, as well as fixed wireless towers or even tethered blimps.
These technologies have their own drawbacks, such as the risk of equipment on towers being fried by lightning strikes, said Jennifer Prather, general manager of Totelcom Communications in central Texas.
Whichever technology is used, Prather wants to use hardware that won't quickly become obsolete when the company extends service to a new area.
"If it's taken this long to get broadband, we want to put something in the ground that will last many, many decades because I don't know when we would get back to them to upgrade that," she said.
Path to Prosperity
The challenges aren't limited to wide-open Texas, where the most rural parts of Prather's service area have just 2.75 broadband customers per square mile.
Even densely populated Northeastern states have places where high-speed internet service is poor or nonexistent.
One is Litchfield County, in the rural northwestern corner of Connecticut. The county has seen an influx of new residents during the pandemic, the reversal of an economy-draining trend of young families leaving for greener pastures.
"It's hard to imagine how these families can stay if telework is not an option for them," said Rep. Jahana Hayes, D-Conn.
Rep. Chris Jacobs, R-N.Y., took the sentiment further, looking forward to a renaissance for rural and small-town America.
"I think people are appreciating again the value in space, the value in small community, the value of quality of life, and I think that we have a lot of that to offer," Jacobs said.
There's reason to doubt whether universal broadband can fulfill its advocates' biggest dreams.
A New York Times analysis of change-of-address requests to the U.S. Postal Service found that even during the pandemic, people kept flocking to areas that were already booming, while hard-luck regions didn't see much growth.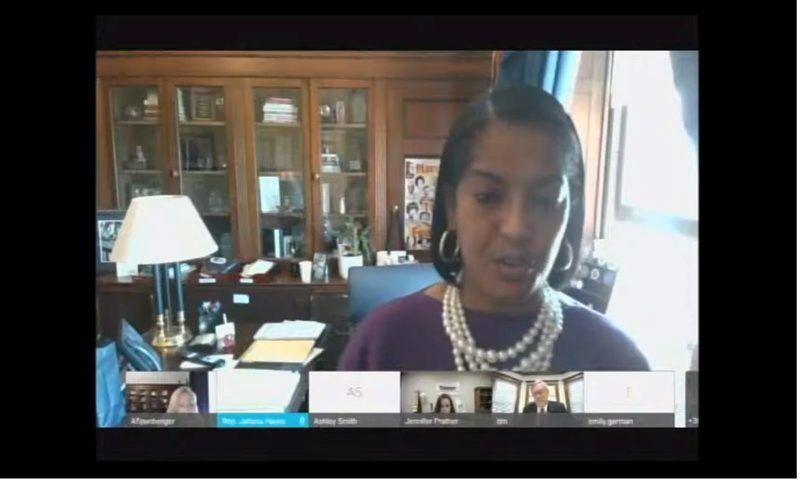 And considering rural counties are some of the least educated places in the country, broadband would do little to help current rural residents tap into well-paying knowledge-economy jobs, Kevin D. Williamson argues in the conservative magazine National Review.
"From that point of view, connecting more rural areas to faster internet service is not an investment in the labor market — it is an indirect subsidy for Netflix and Amazon," he scoffs.
But Williamson's view focuses mainly on the present. Lawmakers are worried that a lack of fast internet could condemn rural areas to economic backwater status for years to come.
"It creates a two-tiered system, like we've been hearing about, where part of our country has access to everything — information, technology, jobs — and the rest is kind of left behind," said Rep. Kim Schrier, D-Wash.
A Bipartisan Issue
On top of the urban-rural divide, there are haves and have-nots within the context of rural internet.
The Federal Communications Commission's minimum standard for broadband is 25 megabits per second download and 3 megabits per second upload.
Acting Agency Chairwoman Jessica Rosenworcel has said those rates are too slow for activities such as videoconferencing and streaming movies. She and other experts have pushed for a minimum speed of 100 megabits per second.
Rep. Austin Scott, R-Ga., said he's worried such a change would steer funding toward areas with meager but existing internet rather than places that don't have access at all.
The Ag Committee members have some other points of disagreement. Many see a key role for government in expanding broadband, though Rep. Scott DesJarlais, R-Tenn., tweeted after the hearing that "the private sector can do a better job than government providing this access."
Still, the Ag Committee members repeatedly cast broadband as a bipartisan issue.
After Biden rolled out his infrastructure proposal in March, it wasn't clear if that across-the-aisle spirit would prevail in Congress as a whole.
Republicans swiftly said many pieces of Biden's bill didn't qualify as infrastructure, and they had included limits on government-run broadband networks in a February bill package.
But when Senate Republicans introduced their $568 billion infrastructure plan on April 22, they slated $65 billion for broadband — more than any other category besides bridges and roads.
West Virginia Sen. Shelley Moore Capito, the ranking Republican on the Senate Environment and Public Works Committee, said the proposal is a step in the negotiations.