When Allison Czapp started her journalism career in Washington, D.C., as an editor for a series of health policy newsletters, she quickly discovered that despite the excellent benefits and compensation, corporate culture was not for her.
"I got burnt out. I didn't like being cooped up in an office, doing the same thing every day," she said.
Looking at her current career as the Buy Fresh Buy Local program director for the Lehigh Valley in eastern Pennsylvania, she said, "I really enjoy having a number of different programs to work on. Every day is different; every season is different. I never get bored, because there's always something new to do."
While living in D.C., she was also taken aback by the farmers markets.
"I didn't grow up going to farmers markets. I think back to the first farmers market I went to in D.C. and it was a weird experience ... (there were) 40 varieties of garlic ... it felt very uncomfortable to me. It was a shock," she said.
As an undergraduate student, Czapp had majored in journalism and anthropology, but always wanted to pursue something in the social sciences. So she began a graduate degree at New Mexico State University, studying cultural anthropology and food systems. She spent time learning about farmers market research, as well as CSAs and SNAP incentives, which were just in the idea stage at the time.
Though she did not finish her degree at NMSU, she was able to apply what she learned when she began as a volunteer at BFBL, or Buy Fresh Buy Local, in the Lehigh Valley in 2014. BFBL is a way to identify and promote locally grown foods.
"When I first started with BFBL, my boss at the time had me go out and visit farms. And there was a small questionnaire as a verification process. ... Having conversations with farmers at the outset —they were so open with the different challenges of farming and things they were struggling with. That helped me see early on how we could position BFBL to best serve the farmers."
Czapp continued, "The director gave me free rein to enact programs that I thought would be useful to the Lehigh Valley."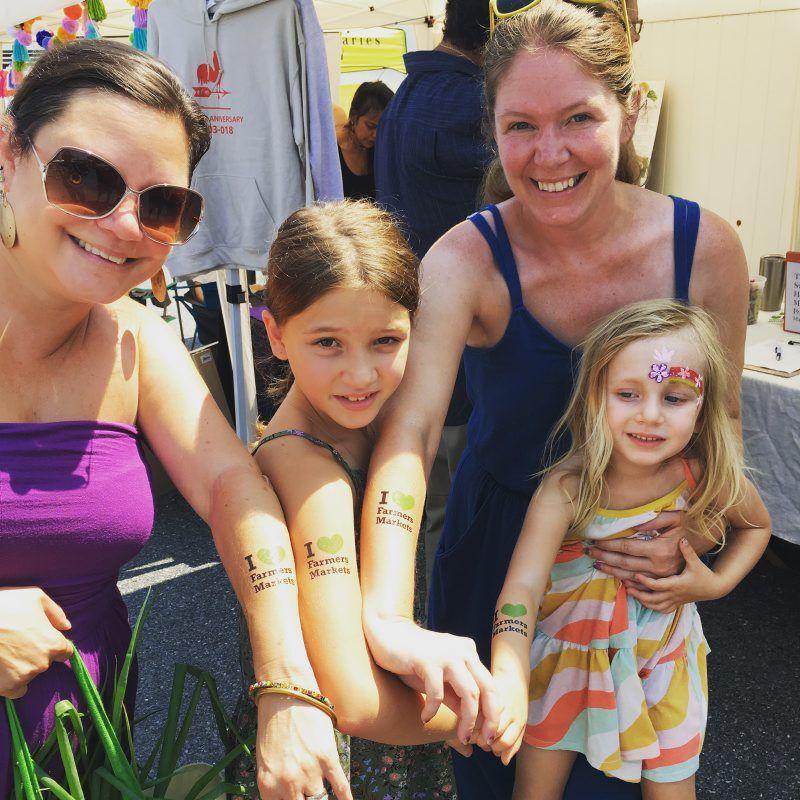 It's easy to hear the pride in her voice when she talks about Northampton County being one of the first grantee cohorts to institute SNAP incentives, which allow people to buy a SNAP-eligible item such as fruits and vegetables, and receive a discount at the point of sale.
Since 2015, BFBL has provided more than $122,000 in matching incentives for people to buy fresh, locally grown produce from Lehigh Valley farmers.
Czapp says that the program's use increased by 21% during the COVID-19 pandemic, with more than $26,300 in incentives redeemed for the year. So far this year, they are seeing strong program growth again and incentives redeemed are up 26% for the period of January to April compared with 2020.
"During the pandemic, we also got a mini-grant, which we directly invested in participating Fresh Food Bucks outlets. For example, we provided funds for personal protective equipment, signage, storage systems and shelving for a mobile market — things that in many cases outlets were struggling to work into already tight budgets," she said.
At the same time, in 2014, she was the coordinator of the Healthy Corner Store initiative, which was a state pilot program and had a vision of bringing local produce into corner stores.
Czapp said, "People were buying pantry staples like milk, bread, eggs or cereal, and they could walk out with fresh, local produce. We partnered with Kellyn Foundation, which was starting a mobile market. They became the microhub and wholesale distributor to the corner store."
Throughout her career, Czapp has tried to promote the food system as a whole, rather than viewing various local food businesses as in competition with each other.
"Farmers have an awesome network, but when it comes to marketing, they're not making a coordinated effort to promote the food system as a whole, so that's really where BFBL comes in," she said.
It is common for regional BFBL programs to be housed under the umbrella of a nonprofit. In the Lehigh Valley that nonprofit is the Nature Nurture Center, which has served in that capacity for BFBL for 14 years. Nurture Nature Center focuses on science, art and community dialogue that emphasizes education about environmental issues.
Lehigh Valley's BFBL program hosts a website featuring a local food finder, an interactive mapping tool that allows consumers to see the abundance of local foods.
"(As a result of the website) it doesn't seem so niche or fancy, it kind of demystifies the process of eating local," Czapp said,
She continued, "I love working with farmers, because they are pretty independent thinkers. I love seeing the innovations that they enact on a farm. There is a certain level of brilliance in that they have all these capabilities and jobs that they are responsible for every day ... and also staying optimistic and continuing to farm."
Generational Shifts
When her now-6-year-old daughter, Frieda, was born, Allison took her everywhere.
"She was dragged to every single farmers market," Czapp said. "When I was pregnant with her and when I had her, I was a manager at a farmers market, so she'd be with me setting up. And I remember setting her in the middle of the field where she couldn't go anywhere and dragging the tents out, so I could set up the market. This is normal for her to go to farmers markets."
She continued, "It's amazing when we go into a supermarket and she's like, 'Watermelons? They're not in season now.' She's also formed good eating habits. We were at Easton Farmers Market and she really wanted mushrooms, so we're walking through the market and all these kids are eating these giant cookies and she's there eating a giant mushroom," Czapp said, laughing.
"She's a healthy kid, she eats lots of whole vegetables, and I've always done a CSA — this was the food that was in the house. I like that she feels comfortable being on a farm and really understands where food is coming from and knows farmers who are our friends. I think, generationally, a lot of people my age are having kids now and this is important to many of them. I just hope that this is going to be transformational to the food system on a generational level," Czapp said.
In many ways, Czapp said that 2016 was a disaster season for farmers markets in the Lehigh Valley and everywhere.
"There was a lot of talk about. Are there too many farmers markets? Is there too much competition with each other? But in the Lehigh Valley, no one was collecting data, so we didn't really have any sure way of knowing what was happening. In 2017, I started collecting that data with some funds from Northampton County. It followed the rapid-market assessment model: doing customer counts, dot surveys and demographic surveying. So we've been collecting the data for five years and it's been so interesting to see what's happening with the trends over time," she said.
The research looked at who was missing demographically from the market and how can they be reached. There were some surprising findings: there really weren't that many people with children at the farmers markets.
She said, "Children are extremely visible, so we feel like there are more children than there really are."
Czapp said that while activities can draw families and children in, many of the markets are small and don't have event capabilities. And, if events are planned for families, they often come for the activities alone, but do not buy that much.
The research showed that the number one reason why people were coming to farmers markets was for produce, so it was clear that BFBL needed to communicate about the whole shopping experience. In 2019, BFBL started working with a marketing firm to develop messaging for farmers markets specifically.
"People say there are too many markets ... the numbers show 2% of the population is shopping at farmers markets. (So) the problem isn't that there are too many markets, the problem is there aren't enough people shopping there," she said.
At the same time that their research findings were released, Cornell University released the results of a multi-state farmers market research project and they provided validation — "the findings are the same and the messaging was so similar," Czapp said.
She continued, "One of the strategies we're trying to use is to encourage people to change the order of their shopping — shop at your farmers market first and then go to the grocery store."
They primarily utilize social media as well as several larger buys on radio and billboards to reach prospective consumers.
Gamified Local Foods Challenge
Another project that the BFBL chapter is implementing this summer is a mobile-based gamification challenge. Participants complete challenges on themes such as healthy eating, nutrition and tourism-based activities — all through a game framework — and then receive rewards.
Some of the activities include a scavenger hunt to find a specific vegetable in the region, which is then paired with quizzes about seasonality and fun facts. Points are redeemable for prizes, ranging from vegetable scrubbers to farm-to-table gift certificates.
The gamification is targeted toward three specific groups: families with children, young adults without kids, and empty nesters, all of which have different reward and value systems, said Czapp.
When looking at her career in local foods, Czapp said: "First and foremost, I truly believe in the transformative power of local food systems on community and personal health. I think that having robust local food systems is probably one of the most important things people can do to ensure food security, get healthful food, have fun with their food, learn how to cook and use ingredients."
"It's such an integral part of my life," she said.