Margaret Schlass poured a decade of her life — her 20s — into building a vegetable farm from scratch.
From growing and managing to direct marketing, Schlass did it all.
And by all accounts, her One Woman Farm in Gibsonia, Pennsylvania, just north of Pittsburgh, became a success.
She earned some recognition when she was featured in the 2014 documentary "Farmland."
Critics largely dismissed the film as a puff piece for Big Ag, but they praised Schlass as "spunky," "feisty" and "a winning presence."
None of that adulation helped Schlass when, two years after her moment in the spotlight, she lost the lease to her largest piece of land.
Schlass, who declined to elaborate on the circumstances, decided that closing the business was a better option than trying to make do on drastically downsized acreage.
Now 34, she does advocacy on young-farmer issues and works as an industrial maintenance mechanic.
"I'm not the only young, talented, go-getter farmer out there who's had to make the difficult choice to exit agriculture," she said.
Indeed, land access is the biggest challenge young Pennsylvania farmers face, according to a new report from the National Young Farmers Coalition.
The coalition, which is establishing a presence in Pennsylvania, surveyed 94 young farmers and held several listening sessions across the state.
The report also found that young farmers need more on-farm training opportunities, better access to capital, and greater knowledge about government programs.
The issue of land access is particularly complex.
Many growers who lease land have short-term agreements, often unwritten handshake agreements.
In some cases, landowners are unwilling to offer a written lease, according to the report.
Schlass has found that building a relationship with a landlord takes time. You don't want to scare the person off by asking for a written lease, but you need the protection a document provides.
"It's a very difficult dance to dance," she said.
Without the certainty of long-term access, farmers are uncomfortable investing much in the land, and frequent moves make it hard to develop a strong market presence.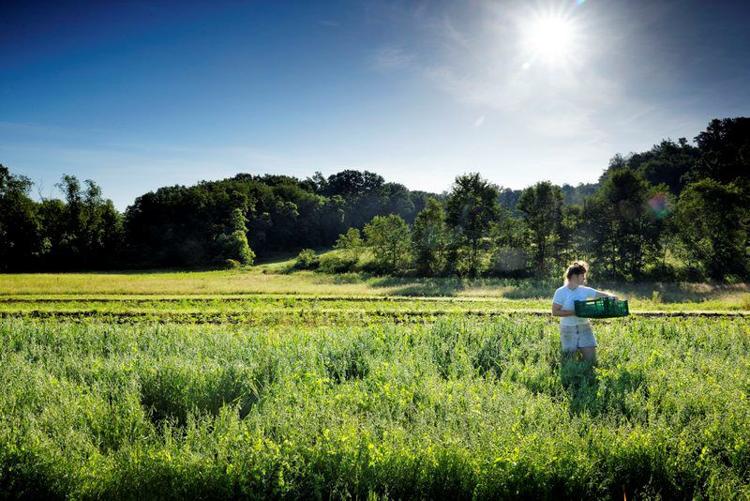 Most farmers would prefer to own rather than rent land, but Pennsylvania farmland is more expensive than the national average.
And farm sales often depend on word of mouth, so newcomers who don't know many local farmers are likely to miss out, according to the report.
Making the situation more difficult, many young farmers are direct-marketing vegetable growers who want to have land relatively close to their urban markets.
Schlass, whose success was built on personal connections with her consumers, wanted Pittsburghers to be able to visit her farm.
"I couldn't be two hours away from my customer base," she said.
Even preserved farmland can be prohibitively expensive because wealthy people have turned some of the land into estates.
Competition with wealthy landowners is especially challenging in eastern Pennsylvania, though it's a concern across the state, said Karen Gardner, the report's lead author.
The report recommends Pennsylvania adopt working farm easements, which stipulate that when preserved land is sold, it must go to a working farmer.
Such easements are already used in Massachusetts, Vermont and New York.
Pennsylvania took a step in the right direction earlier this year by creating a tax credit for landowners who sell or lease to beginning farmers, Gardner said.
The coalition pushed for the credit to apply even to transactions within families. Acquiring a farm from one's parents is a complicated process, Gardner said.
While plenty of Pennsylvania's young farmers grew up on farms, 60% of survey respondents did not.
Training opportunities are especially important for these first-generation producers. Respondents said working on a farm is the top way they learned to do their job.
The report recommends increased use of formal apprenticeships, such as the dairy grazing and diversified vegetables programs run by the Pennsylvania Association for Sustainable Agriculture.
Whatever form the training takes, new farmers need opportunities to learn both agricultural production and financial skills, Gardner said.
Those skills might mean little, though, if young farmers can't obtain the loans they need to get started.
Respondents said lenders can be wary of young farmers, especially those not growing traditional commodity crops.
The report suggests that the state Ag Department create a young farmer outreach position, and seek feedback from young farmers when developing the Ag Business Development Center.
The center, created earlier this year in the PA Farm Bill, will help farmers with business and succession planning.
State Ag Secretary Russell Redding said his agency is open to feedback from young farmers.
"There's not a defined seat for sectors or individuals or organizations in these programs, but our commitment is to make sure that we're listening to a pretty broad group of stakeholders," Redding said.
His department will likely be hearing from the National Young Farmers Coalition.
The group conducted the study to understand the current landscape and guide its growing activism in Pennsylvania, Gardner said.
Schlass, who hasn't been an active farmer for a couple years, likes what she has seen from this year's flurry of ag legislation.
If the state's business climate continues to become more favorable to young farmers, Schlass said, she'd seriously consider firing up the tractor again.
This story has been updated.