HUGHESVILLE, Pa. — Chris Reichard has judged dairy shows throughout Pennsylvania and surrounding states, but he noticed something special about Lycoming County.
Reichard, who hails from New Paris, served as the type judge for the Youth Dairy Show at the Lycoming County Fair on July 18.
He was impressed.
"When we lined up the seven breed champions, every one of these animals deserve to go beyond the county level. Some will be nationally recognized," he said. "There's something to be said for the cattle of Lycoming County."
Reichert also had plenty to say about the Red and White cow that Alex Burleigh took through the ring. Burleigh's EK-STJ Brilliant-Red-ET was named supreme grand champion after taking the reserve grand champion spot two days prior in the Open Dairy Show.
"When she hit the ring, she never left my mind the rest of the day," Reichard said, adding the cow's youthfulness is one quality that stood out to him.
Brilliant comes from North Mont Dairy/ScarletSummer in Muncy, where the Burleigh family milks 90 cows.
Alex, 15, agreed that a youthful appearance is a big quality with Brilliant, considering she is nearly 8 years old and produced six calves.
"Her udder is still above the hocks, and I knew she had it in her to compete," he said. "You have to appreciate the quality of a cow that can stand up to the competition in the ring."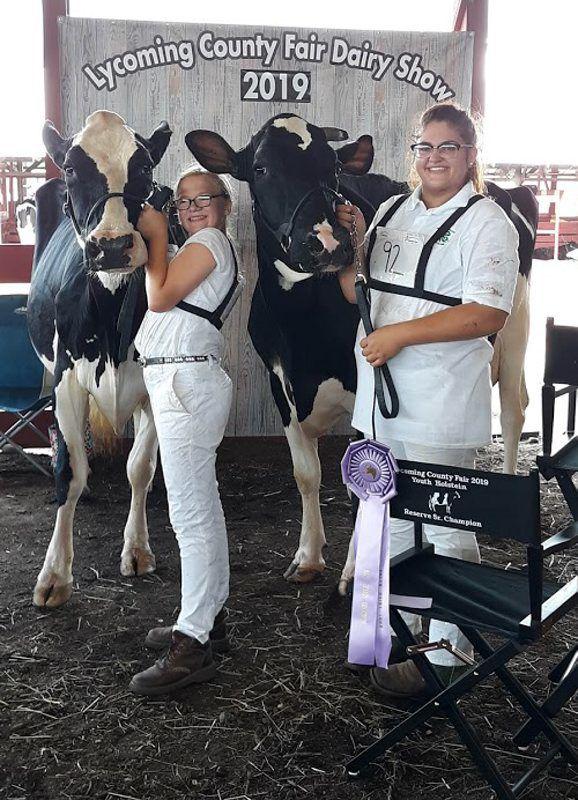 And there was plenty of quality to go around, despite the long day and sweltering summer heat.
Dakota Fraley won supreme junior champion with a winter calf, Reyncrest Savannah-Red-ET, another Red and White. Fraley hails from Muncy and is with Bald Eagle 4-H.
Alex's sister, Madison, won reserve supreme champion with Aftershock Ariel, a Holstein cow from the 6 years and older class.
Among the breed winners was a summer yearling Holstein, S-CreekAcres DBack Today, shown by Weston Taylor of Allenwood, which was named junior champion.
The performance surprised Taylor's father, Brett, who said they almost decided not to bring the heifer to the show.
"She's been on the same program as our other heifers, but she just doesn't seem to have that show ring look," he said. "But after you get her ready and see the final product, it makes you proud."
Madison Burleigh, 12, had two reasons to be proud after winning grand champion in the Holstein and Brown Swiss categories. It marked the first time she won two grand champion awards in one show.
Still, there was another element that made the achievement even more meaningful for Burleigh.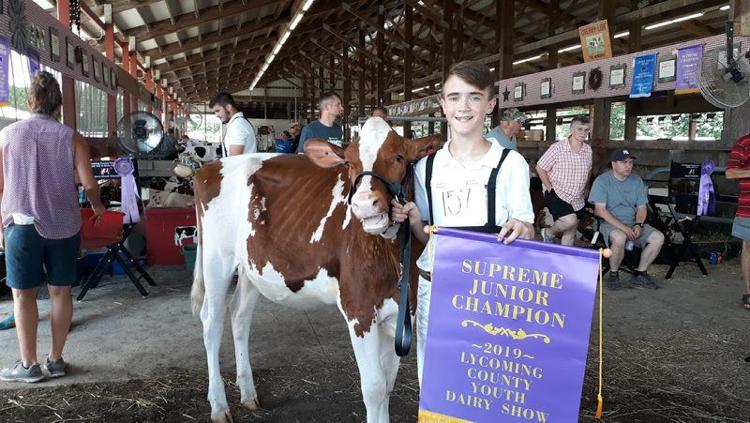 The Holstein was a cow she acquired from her grandfather's herd after he recently retired from the dairy business.
Madison's grandfather, Kevin Burleigh, made the trip from Wayne County to watch his granddaughter compete with the cow.
"I was pretty proud to see that," he said, adding the cow's dam was also successful in shows. "They had her prepped perfectly, she was full of milk and good on the halter. I knew she had a good chance."
Overall, the show attracted 123 entries across seven dairy breeds, ranging from calves, yearlings and cows. Andrew McCarty, who serves as dairy superintendent for the open and youth shows, said watching the kids with their animals in the ring is always enjoyable.
"They bring a raw innocence to it, a genuine love for it," McCarty said. "They're truly doing it not so much for the competition, but for their cows. They have a real connection with their animals."
Winners From the 4-H/VOC Lycoming County Youth Dairy Show:
Supreme Champion
Supreme champion: Alexander Burleigh, Muncy
Reserve supreme champion: Madison Burleigh, Muncy
Supreme junior champion: Dakota Fraley, Muncy
Reserve junior champion: Cael Hembury, Muncy
Ayreshire
Grand champion: Dakota Fraley, Muncy
Brown Swiss
Grand champion: Madison Burleigh, Muncy
Guernsey
Grand champion: Landree Fraley, Muncy
Holstein
Grand champion: Madison Burleigh, Muncy
Jersey
Grand champion: Landree Fraley, Muncy
Red and White
Grand champion: Alexander Burleigh, Muncy
Milking Shorthorn
Grand champion: Katelyn Taylor, Allenwood