Andrew Van Ord only keeps 10 cows, but they're a special group.
After all, they are American Milking Devons, a rare breed with rust-red hides and unusual versatility.
Devons can be raised for milk or meat, but Van Ord grew up using them as draft animals.
In 2014, he returned to the 17-acre family farm, Ox Hill Devons in Warren County, Pennsylvania, to pick up where he left off.
Devon cattle were developed over centuries on the rugged moors of Devonshire in southwest England.
The Pilgrims imported Devon cattle as early as 1623, but in the 20th century, the American breed split into the beef-focused Red Devon and the traditional, multipurpose Milking Devon.
The latter can be told from its beefier, polled cousins by its medium-sized, curving horns.
Van Ord markets his Devons as grass-fed beef, seedstock and rose veal. He also competes in pulling events.
Calving season came early at the farm this year.
Van Ord introduced the bull to the females around the second week of June last year, which allowed his calves to be born in March.
Van Ord prefers the calves to be born within a couple of days of each other. This year, all his cows calved within a week.
"I don't string them out," he said.
The tight age range simplifies his feeding program because the animals are all close in weight and size.
Van Ord generally moves his cattle to a new pasture twice a day from May to the end of October.
Over the winter, he feeds half a dozen round bales bought from his neighbor.
Van Ord also likes bale grazing, in which a bale is broken open on the ground rather than in a hay ring.
This strategy can increase feed waste, but Van Ord sees it as building soil organic matter.
The younger stock, like the heifers, are fed grain, but that's mainly a training tool to get them into the barn and start building a bond with Van Ord so that he can train them to pull with a yoke.
Milking Devons are also hardy, a nice trait for the farm near the New York border, where winters can be intense.
"It's nothing for them to be out there covered in snow," Van Ord said.
Van Ord sells steers by carcass weight at about 30 months. Customers buy half, quarter or whole carcasses.
Van Ord said he doesn't do a lot of marketing with his beef. All of his customers have found him by word of mouth.
Marketing rose veal can still be a little complicated. Some consumers don't like to think about eating young animals, but the rosy, pink-colored meat is appealing, Van Ord said.
Because his calves are born in the spring, they spend most of their time on pasture with their mothers before Van Ord sells them in the fall.
This process seems to strike consumers as humane because the calves are not separated in group housing pens or fed an all-milk diet.
"They live like kings all summer," Van Ord said.
The system also saves him the expense of raising these calves through the winter.
Van Ord charges about $6 per pound for the meat from a 7-month-old calf.
Van Ord also milks his cows, but unlike most Pennsylvania dairy farms, Van Ord only takes enough to feed his family. The calves gets the rest.
Van Ord's wife, Kathy, uses the milk to make butter, cottage cheese and ice cream.
"It's our own milk, and it's fresh," Van Ord said.
According the American Milking Devon Association, Devon milk has high levels of omega-3 fatty acids and low omega-6 fatty acids — a healthful combination.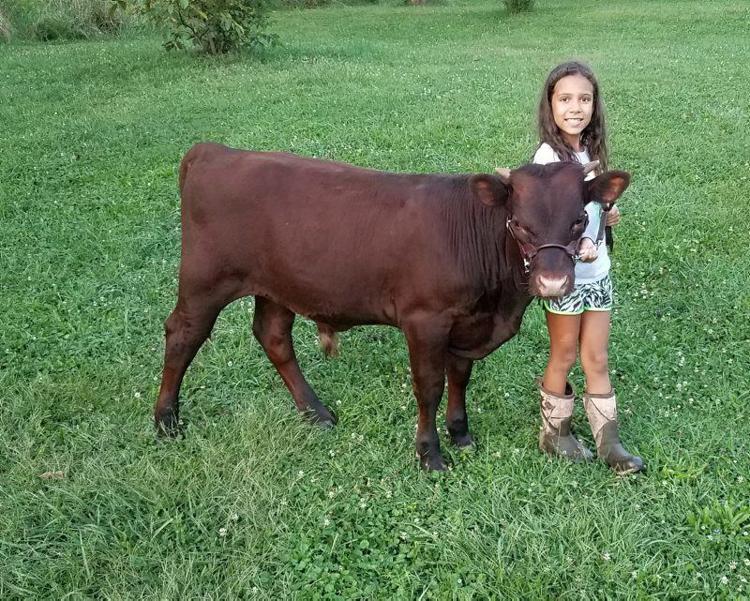 But the main reason the Van Ords love their Milking Red Devons is their strength. They are working cattle.
Van Ord and his daughter, Lily, begin halter-breaking a heifer with a yoke and whip. They also start using voice commands, training the young animal to understand the traditional language used in the 18th century, such as "haw," which means go left, or "gee" to go right.
Training Milking Devons also requires the recognition that you can't underestimate them. The breed is known for its intelligence, and Devons can establish bad habits quickly.
"If you make the same mistake twice, they'll do what they can to exploit that," Van Ord said.
At 9, Lily is already quite the cattlewoman. She has already broken in three heifers and exhibited a working team at the Warren County Fair.
The Van Ords also take a team to a local craft and bluegrass show in the summer. Usually, by the first day of summer vacation, Lily is out in the barn working with the heifers — driving them with the whip and giving voice commands.
"She does pretty well with them," Van Ord said.
Lily is a third-generation American Milking Devon breeder, and Van Ord makes sure that she is included in the management of the small herd.
"When I talk about selling anything, she perks up," he said. "She's a part of the decision making, not just a worker bee."
Because Devons are popular in New England, Van Ord often has to travel a significant distance to select his seedstock.
The artificial insemination program he is developing with the American Milking Devon Association could make that process easier.
Van Ord recently purchased a tank and has semen from seven bulls that have a link to his current bull.
Van Ord and the association hope to collect more semen, gather data on traits such as milk production, and develop DNA testing.
The work is funded by a grant from The Livestock Conservancy, a nonprofit that preserves and promotes heritage breeds.
In looking for the right match for his cows, Van Ord looks at a bull's conformation and intelligence. The potential mate also can't look too beef or dairy, he said.
While it can be a tricky balance for a bull to possess both pleasing aesthetics and intelligence, the ultimate deciding factor for Van Ord is personality. He and the bull need to have a stable working relationship.
When Van Ord is moving electrical fencing at 11 paces, he needs to feel confident that the bull will be respectful of his personal space.
His current 4-year-old bull is curious yet civil.
"He's a real gentleman," Van Ord said.