In Whitehouse Station, New Jersey, the Hionis family, owners of Hionis Greenhouses and Nursery, are in the midst of shipping some 200,000 poinsettia plants to retailers through the Northeast in what Tim Hionis hopes will be a successful end to a trying coronavirus year for the flower industry.
Some 50 million poinsettias are grown and sold in the U.S. each year, and New Jersey ranks 11th in the number of plants grown. Hionis Greenhouses is one of the state's largest growers.
Tim Hionis and his brothers run the family business founded by their parents Spiros and Angie in the mid-1980s. Hionis Greenhouse is the third largest commercial greenhouse in New Jersey. It's year-round operation growing plants and flowers for Easter and Mother's Day, annuals and shrubs in the summer, mums in the fall as well as poinsettias and holiday flowers and plants until Christmas.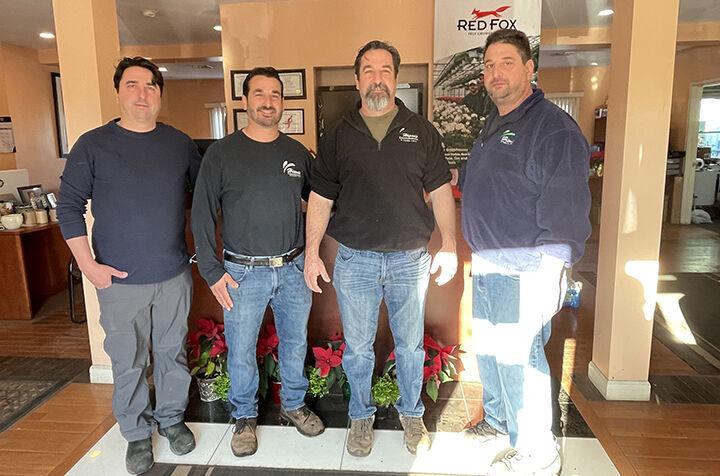 Pandemic Blues Leads to Increased Flower Sales
"Much of the coronavirus shutdowns came just before we were ready to ship Easter flowers," Hionis said. "And rather than compost plants that could not go to retailers we loaded our trucks and brought flowers to 11 New Jersey hospitals."
With safety guidelines loosening in late spring, Hionis and other growers had record Mother's Day sales which gave them confidence for the planting of mums and poinsettias.
"People have continued to purchase flowers as a bright spot in their lives during this pandemic since Mother's Day," Hionis said. "We all are grateful."
Growing a Christmas Staple
Hionis' poinsettias are sold in pots from 6 to 18 inches that all will be gone by Christmas week. Tim oversees sales and marketing and runs the operation with brothers Spiro (logistics), Pete (grower) and Gerry (production). They were trained well by their parents, who still work around the nursery and garden store part of every day. The Hionis opened the nursery-greenhouse in Bridgewater in the mid-1980s.
The Hionis brothers receive poinsettias as un-rooted cuttings from South America each May and plant them in trays and pots. There are 100 varieties of the Christmas flower and 75% of them sold in the U.S. are red according to the University of Vermont Extension. The plants begin to bloom in October and greenhouses start shipping them beginning in November.
Hionis has four box trucks for deliveries that are loaded with metal racks holding plants. The trucks make multiple deliveries each day during December. The company also utilizes 18-wheel tractor-trailer units for deliveries that are loaded with palletized pots that can be unloaded quickly with a forklift.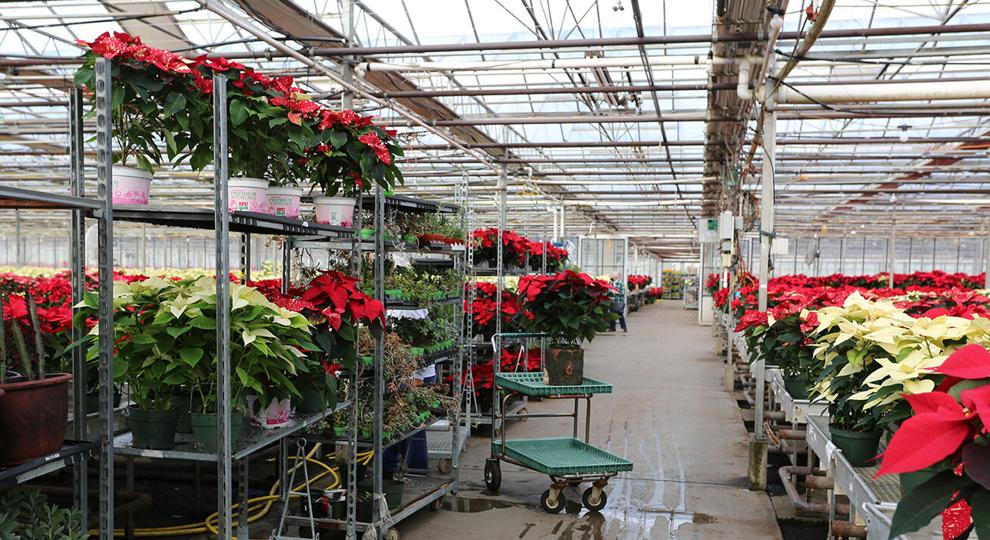 Growers blow warm air into all the delivery trucks as poinsettias and other holiday plants are loaded and most use portable in-truck heaters to keep the temperature warm enough so delicate plant blooms are not damaged before they reach our retail customers.
To keep the plants from being damaged in what can be cold, late fall weather, delivery drivers are instructed never to open the truck doors en route and to be sure there is a big enough crew to unload the plants quickly with minimum exposure to outside temperatures when delivered. 
Hionis says there always will be a place for poinsettias at Christmas as they have been a part of the holiday in the U.S. since arriving from Mexico in the mid-19th century. He just feels with holiday alternatives now like Christmas cactus and colored calla lilies, they are not as easy to sell as they use to be.
Hionis Greenhouses is a year-round operation and the brothers are optimistic they will finish the year with strong sales of poinsettias, wreaths, greenery and other holiday plants.
"It's been a trying year," Hionis said. "It would be nice to end on a high note."