Sonja Galley's Australian shepherd, Bindi, is far more than a faithful companion and most trusted friend.
She's a lifesaver.
In spring 2020, while tending cows at her family's central New York farm, Galley was knocked to the ground and trapped by an over-aggressive heifer when Bindi sprang into action and drove the animal away.
"I don't know what the outcome would have been had she not been there," Galley said. "I know that because of her, I was able to get out of the pen unhurt. I was in a compromised position that could have ended very badly."
For her quick response, Bindi was honored with 2021 Farm Dog of the Year Award, bestowed during the American Farm Bureau's annual convention, held virtually, in January. Galley and Bindi were given $5,000, an inscribed silver plate, a year's supply of dog food and a prize pack from Purina, the award sponsor.
Recently, Galley also received a legislative resolution from the New York State Senate and a proclamation from the New York State Assembly commending Bindi for the award.
"Bindi was born in my living room!" Galley said. "Her dam is my first registered Australian shepherd and Bindi was the pup I chose to keep out of her litter. She will be 6 years old this November. Her mother, Ziva, is still an active working dog on my farm at almost 10 years old."
There are two other Aussies as well, 10-year-old Toby, and Reese, which just turned 3, and is still in training, but adding to her skill set every day and proving to be a nice working dog.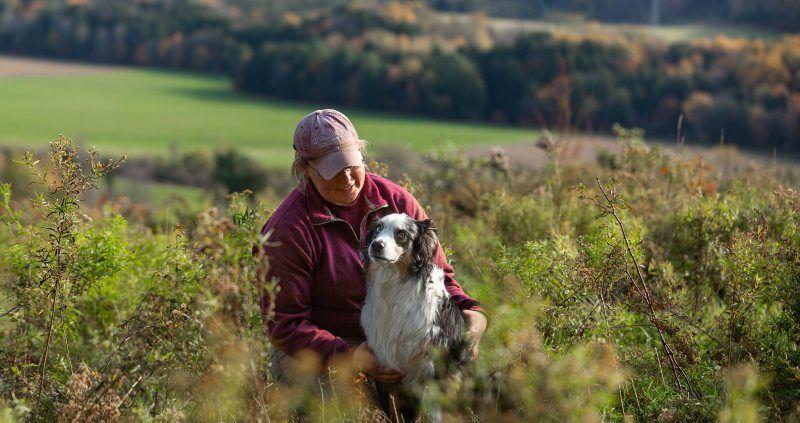 Galley lives in Garrattsville, a small Otsego County hamlet a bit southwest of Cooperstown, home to the National Baseball Hall of Fame.
"I work full time with my parents on our farm, Silver Spoon Dairy LLC, where we milk around 60 cows in a tie stall," Galley said. "August 1 will mark 11 years since I moved back home to work on the farm. I attended Morrisville State College and transferred to Virginia Tech where I earned my bachelor's degree in dairy science. My family has belonged to Farm Bureau for many years. I joined a couple of years ago. I also volunteer in 4-H with both the dairy and dog programs and am the musician for my church (Garrattsville Presbyterian)."
In addition, Galley is a member of New York Holstein Association, as well as Chenango County Holstein Club, Del-Otse-Nango Kennel club and Butternut Valley Grange.
From Training to Herding
She got her first Australian shepherd from a rescue in 2005.
"While I was at Virginia Tech I was able to take herding classes from a nearby trainer and learn the basics of herding and training," she said.
Training has taught Galley the method of starting a puppy's training by having it follow along with an older dog while she moves weaned calves from hutches to the heifer barn.
When Bindi was about a year old, Galley took her to a beginner's herding sheep clinic. Galley noticed that despite the young age, Bindi took to the craft right away.
"Typically my dogs will 'turn on' to stock or show a keen interest in work at about 5 to 6 months old," Galley said. "Up until then I'm mostly training basic obedience and husbandry skills such as walking on a loose leash, walking close to my side without a leash, sit-down-stay, come when called, and having them accept handling such as nail trims, grooming, handling their feet and legs, and looking in their ears and mouth."
Galley also brings her dogs to the barn where they're taught to relax around cows so they understand they don't have to work just because cows are present.
"Some people might say the dog has an off switch," she said.
The most important commands a dog needs to know range from stop — lie down, stand, sit and stay, recall — come when called, and get out commands that tell the dog to remove its pressure by moving away from cows.
When moving calves, Galley is in front of the animal and she's observing if her dog is helping her from behind the calf, keeping a noon and 6 o'clock line with Galley at noon. Ideally, the calf is at the center of the clock and the dog at 6.
"If I move to 11, the dog should move to 5," Galley explained. "If I move to 9, the dog should move to 3. That's called keeping balance. The dog will move in a semi circle behind the calf to keep that balance as she's reading the calf's body language. So if the calf's head turns to the right, she'll move toward the head to bring the calf back in balance. That back-and-forth movement is called wearing."
Aussies are an upright, loose-eyed breed, meaning they don't tend to crouch like a border collie, and they use their bodies to apply pressure to stock to move them.
"This makes them really good at working stock in tighter spaces, which is ideal for my dairy farm," Galley said.
The dogs play an invaluable role in all kinds of situations, such as bringing a fresh cow in the barn, moving a dry cows and heifers out of the barn onto pasture away. They also keep the cattle away from the gate and feeding trough when Galley brings grain to feed them. Bindi, Toby, Ziva and Reese are also helpful with pushing cows into the hoof trimming chute.
"I can send Ziva down to push a cow in the chute," Galley said.
A Loyal Companion
Bindi is a constant companion both on and off the farm.
"I'm active in my local kennel club and we go on group outings about once a month," Galley said. "This could be anything from hiking a local trail to going through a corn maze, berry picking, parades or Christmas caroling. I also compete in agility with Bindi and Reese, and we enjoy training locally with friends and attending nearby shows."
Bindi is very close to completing her Masters Standard agility title, possibly by summer's end. She whelped her first litter last September.
"Those pups are all in their new homes and doing great," Galley said. "A few pups are on farms and showing strong potential to be great working dogs. I'm planning on doing one more litter with her this fall. My goal with each breeding is to produce dogs that are true to the original purpose of the Australian shepherd and are also physically sound, clear of known genetic disease markers, and have an amiable temperament."
Bindi's fans can follow her on social media at Galley's Facebook page and on the farm's Instagram.