The route to dairy royalty usually begins on a family dairy; however, Shelby Benjamin, 23, became the New York state's dairy princess despite having not grown up on a dairy.
Benjamin's interaction with agriculture began with riding horses and participating in 4-H. Her introduction to dairy happened while at the barn where she rode, when someone offered her the chance to show a dairy cow. Soon, Benjamin was hooked. Now she owns six cows and shows at the local, state and national levels.
This show season she competed in 11 events. 
"It was good," she said. "It was the first year I showed one of the cows I bred at home. I'm always happy to get out and be near those in the industry who share the same interests."
When she said "at home," she meant the farms where she keeps her cows, Jesse Hodge's farm and John Marshman's farm, both in Oxford. 
"Jesse's family were the ones who introduced me to dairy and gave me the opportunity to expand my own herd," Benjamin said. "His wife, Sheila, is who would help me feel like I belonged even though I didn't grow up in the industry and that I could do this. She helped me get to the state pageant."
When Benjamin was 18, she realized that she could serve as a liaison between producers and consumers. She served as Chenango County dairy princess alternate in 2019-2020 and as princess in 2020-2021.
Going for the statewide title felt a little intimidating; however, Benjamin wanted to go beyond the county level.
"I wanted to do my part to showcase the dairy industry and bust up the myths and promote the industry," she said.
Compared to a princess who lives on a farm, Benjamin said she might have more flexibility to go out to promotional events because she doesn't have the daily chores.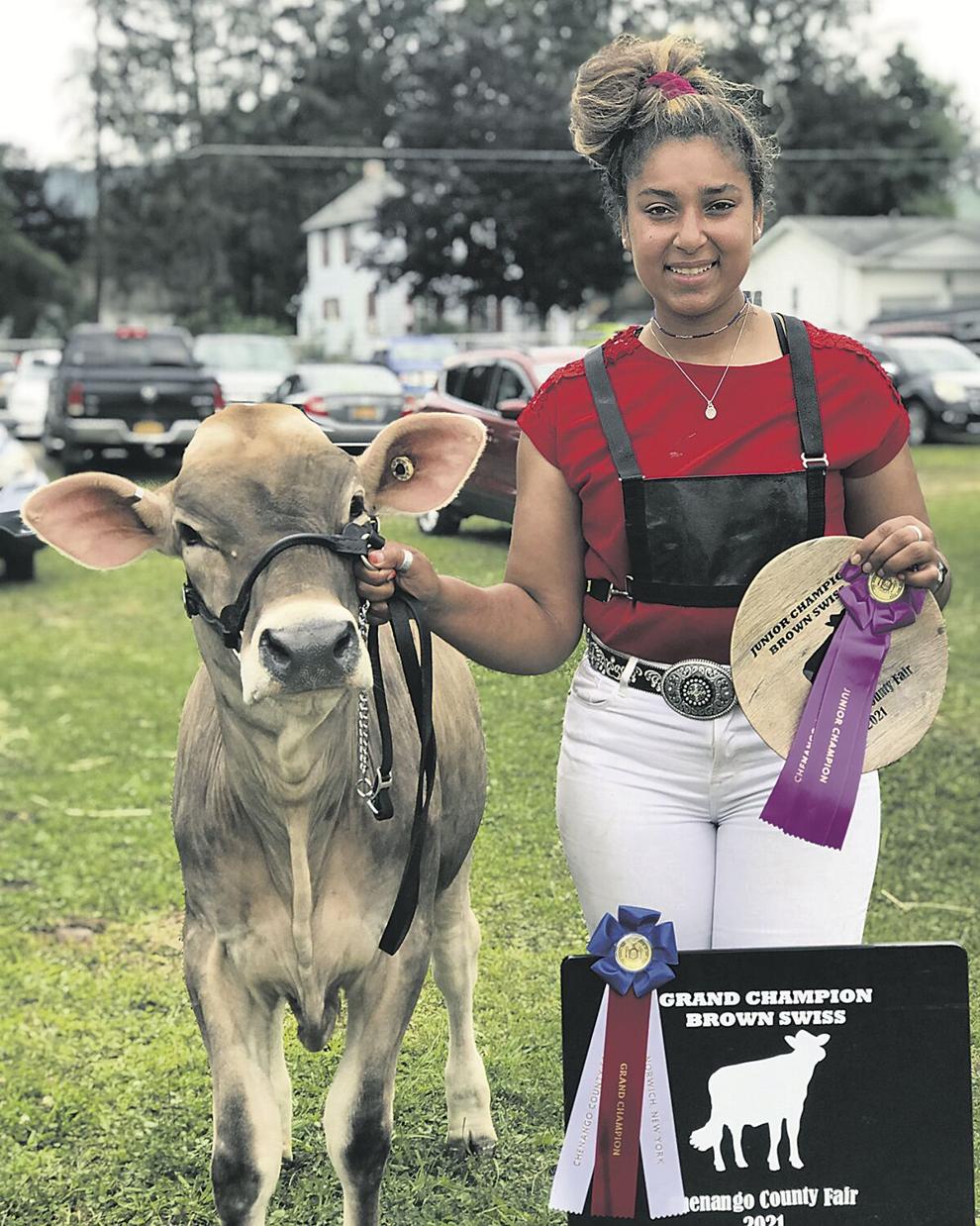 She believes that what makes a dairy princess is not background but passion for dairy, whether from showing or working with cows.
"It should be someone who is willing to learn as they grow. I have learned as I've continued in the dairy princess program," Benjamin said. "I definitely didn't realize that you have to be a good communicator and a good listener as you do most of your learning while listening. I've honed my listening skills."
As it has been with many other undertakings, 2021 has been an odd year for dairy princesses; still, Benjamin has averaged two official appearances per month with more during the summer. She has worked on reaching out through social media as the pandemic has limited appearances, and to an extent the crowds attending those events. 
At the New York State Fair, Benjamin worked with dairy marketing staff and implemented the Milk Moves Me booth where people could take a photo and turn it into a GIF. 
Benjamin has also supported the countywide dairy princesses as needed.
"The dairy industry is super welcoming," Benjamin said. "I didn't grow up in the industry, and they welcomed me with open arms. The public doesn't realize you can ask farmers questions. They're willing and wanting to answer your questions. They don't want a curtain between what they're doing on the farm and how they get it to your table. Farmers can't get off the farm to connect with the public. It's heartwarming that the farmers still support the program and relay the messages that they want the public to know."
Benjamin has a bachelor's degree in sports management from the State University of New York Oneonta, and once she completes her education in the dairy science program at SUNY Morrisville, she wants to attend Ithaca College to earn a master's in agricultural education by the summer of 2024.
Perhaps at that point, she can start a high school agriculture program to encourage more young people to consider agriculture as their career. 
Benjamin encourages young women interested in the dairy princess program to find someone who will encourage them throughout the pageant process. 
"It doesn't matter where you're from. If you believe in yourself, you can do it," she said.