Robby and Shannon Dygert's 13th-generation farm is a half-century older than the United States, but its latest marketing venture is very new.
The couple began direct-marketing their milk earlier this year. That wasn't always their plan.
In 2009, the young couple moved back to the farm — which a hired hand of Robby's grandfather was renting while Robby was in college — and started from scratch with 50 milk cows. The milking herd now numbers 245, mostly Holsteins, in addition to 220 young stock.
The instability of the milk market prompted the Dygerts to start looking for new ways to sell their products. They wanted to diversify to give their children — Dylan, 9, Olivia, 7, Tucker, 6, and Cassidy, 3 — a chance to join the business in the future.
So in 2015, the Dygerts began delivering fresh glass-bottled milk from a nearby dairy to local homes and businesses, with a goal of building their own processing plant some day.
Work on that plant began in 2019, and it opened this spring. Dygert Farms Creamery milk can now be found in three dozen local stores, diners and coffee shops, with more customers coming online weekly.
The home delivery service now offers milk, cheese, eggs and other products.
"We're trying to add as many local products as possible because people really want to know where their food is coming from, especially since COVID," Shannon said.
Rich History, Richer Flavor
The farm is nestled near the village of Palatine Bridge, Montgomery County, just a few miles north of the Mohawk River.
The Dygert family received a royal grant of 50 acres in 1723 for providing pine tar for British ships. The original farmhouse is still standing, and Shannon hopes to open a small museum and shop for local goods in one of the barns.
When the original Dygerts first settled there, the region was still part of colonial America's frontier, inhabited by large numbers of Native Americans.
The area provided the setting for James Fenimore Cooper's novels such as "The Deerslayer," and Cooperstown, named for the author's father, is now part of the Dygert's sales territory.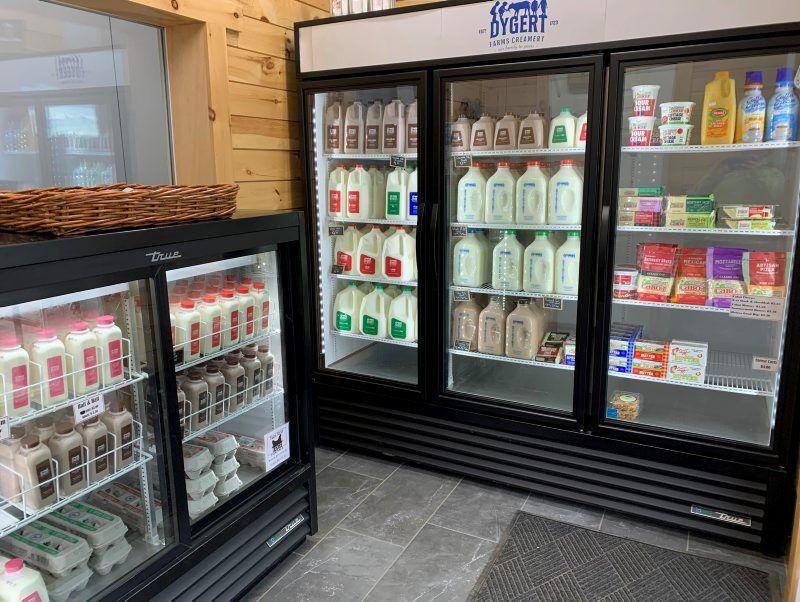 At present, the creamery processes only 1,000 pounds of the 14,000 pounds of milk produced by the farm's herd each week. The rest is marketed through National Farmers Organization.
"Our goal long term is to process a majority of our milk," Shannon said. "We're learning and growing. It all takes time. We just have to get more accounts. We're hoping eventually to get into larger grocery stores."
Most of the farm's fluid milk is sold as whole milk with butterfat content of 4.1 to 4.2%, which is somewhat higher than the 3.25% whole milk found in grocery stores.
Shannon Dygert said this rich, creamy flavor is extremely popular with customers, especially children who are used to drinking skim or low-fat milk in school.
Robby Dygert grew up just down the road from the farm, which his grandfather owned at the time, and worked there before and after school and during summers.
After graduating from Cornell University with a degree in animal science, he worked at several other dairies.
But he wanted to run the family farm, so after he married Shannon, the couple moved to the farm and took over operations.
"The farm was here and we knew it was going to become available so we said, 'Why not try it?'" Shannon said. "We both love animals, we love being outside, and we wanted to do it for ourselves."
What type of milk packaging provides the best drinking experience?