U.S. annual cheese consumption has increased by over 5 pounds per person over the past 10 years. The Martin family at Country Sunrise Creamery has been ahead of that curve, producing cheese since 2007.
The Martins produce about 5,000 pounds of cheese annually.
Moses Martin is the farm's head cheesemaker, but his son Nelson, along with Nelson's children, are part of the production team as well.
When Nelson Martin moved back to his family farm in 2004, his plan was to grow the herd, which had around 80 cows at the time.
"I was convinced that bigger, better, faster, smarter was the way to get ahead," Martin said.
But after working full time at the farm for two years, he decided that to stay profitable in the conventional dairy industry, he would have to keep expanding.
So in 2006 Martin started researching raw milk and decided to start selling directly from a garage at the farm while also continuing to produce for Land O'Lakes.
His direct marketing of raw milk eventually led him to cheese.
"The idea was to get that ball rolling so that when the time comes where we need to get off the conventional train, that we would have something to go to," Martin said. "We had an interest in making cheese. My parents went to cheesemaking school for three days, and they've been making cheese ever since."
When their contract with Land O' Lakes ended in 2016, the Martins reduced their herd size because they only needed to keep up with their retail demand.
Currently, the Martins milk 30 to 40 cows, which provide enough milk for their raw milk, cheese and yogurt sales. And they added an on-farm store for more retail space.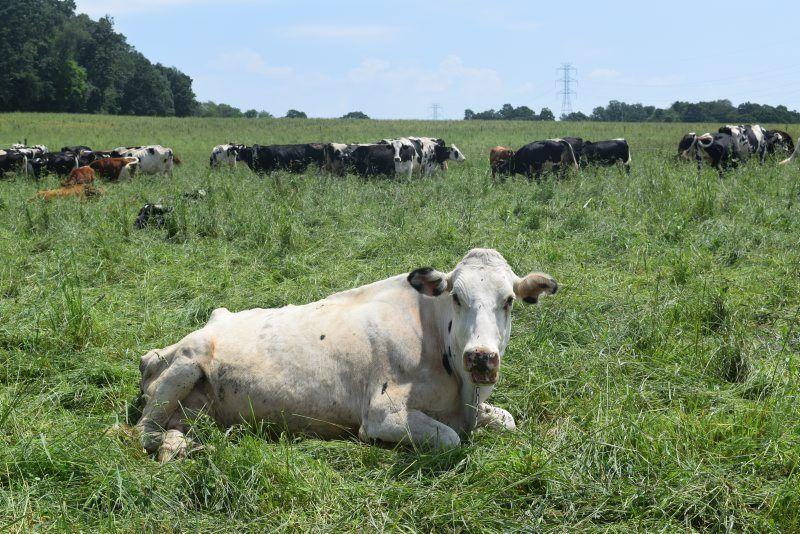 The Martins make cheese most Fridays, and all varieties are available year-round.
"We bottle what we need throughout the week, and then on Friday, whatever is left gets made into cheese," Martin said.
Many of cheeses sold at the creamery are cheddar-based with added flavors such as garlic and hickory smoke.
"I would say the best seller is just the regular cheddar," Martin said.
The Martins also make Jack cheeses and a special "sweddar" cheese, created by Moses Martin, which uses Swiss cultures but is processed like cheddar.
"He has a loyal following of people that come for just that," Martin said of his dad's invention.
Raw milk outsells cheese at the farm's store, but Martin has had better success with his cheese wholesaling to stores and roadside stands.
The creamery's products are also sold at Palmyra Farmers Market and Homestead Market in Tamaqua. And Martin has launched an online store.
"It's really new, and it has been slow to take off," he said.
But that's not a big problem for Martin, who prefers customers come out and see the farm while shopping.
"There's a huge disconnect, you know, between people and where their food comes from," Martin said. "Online sales is not the same as going to the farm and getting it."
Closing that disconnect is one of the main goals of the Pennsylvania Cheese Guild and its cheese trail, on which Country Sunrise Creamery is a stop.
Follow the Trail to Good, Local Cheese
The cheese trail includes 32 cheesemakers, all of whom are members of the guild. The list of locations is at pacheeseguild.org/cheese-trail-map.
The guild was launched in 2015 to promote high-quality cheesemaking and build consumer interest in artisan fromage.
The trail is a key part of the mission, and it's a great tool to help people find local cheese, said Kerry Kaylegian, an associate research professor at Penn State and one of the founders of the guild.
Visiting businesses on the cheese trail is also a fun activity for consumers, especially after a year of pandemic-related restrictions and cancellations.
Martin enjoys having people at the farm, and even hosts farm tours and a customer appreciation day.
"There's other ways to farm, but for us, we like meeting the customers and hearing their stories," he said.
And customers who decide to embark on the cheese trail will be able to find a lot of tasty options. Pennsylvania cheeses have won both national and international awards, Kaylegian said.
She said the guild wants to encourage consumers to try local, artisan cheeses, whether the farms are part of the trail or not.
As for Martin, he said Country Sunrise Creamery has a cheese variety for any meal.
"I like them all," he said. "There's different occasions for different ones. Like the cranberry orange, you don't put that on your scrambled eggs. But cheese is like the icing on a cake in any meal."
What type of milk packaging provides the best drinking experience?