SHOEMAKERSVILLE, Pa. — Many consumers turned to farmers this spring when the supply of meat at grocery stores was tenuous.
Pig farmers Alice and Chad Kamp found themselves perfectly positioned to meet the growing demand.
In February, the couple had finished renovating an old shed into a store at their ACEC Farm in Berks County.
The shop was a big upgrade from selling a small volume of pork halves and quarters out of their garage, and it allowed them to sell individual cuts of meat.
As the pandemic set in, the Kamps saw business increase and got plenty of new customers. They now average 20 to 30 shoppers each week.
Perhaps some of the customers simply wanted to check out the new shop. But the pandemic seems to have driven much of the demand.
Grocery stores' meat inventory was thin because people were stocking up and large slaughterhouses were temporarily closing because of COVID-19 outbreaks among workers, and no one knew how long the problems would continue. As it happened, plants were back to normal production by June, according to USDA.
Many customers told the Kamps they were looking to lock in their food supply, and the family managed to avoid having out-of-stock items.
"People wanted their meat supply at home," Alice said.
The Kamps are hardly alone. Many direct-marketing livestock and produce farms reported increased sales at the beginning of the pandemic, and some farms sought to replace lost sales to restaurants by expanding their retail trade.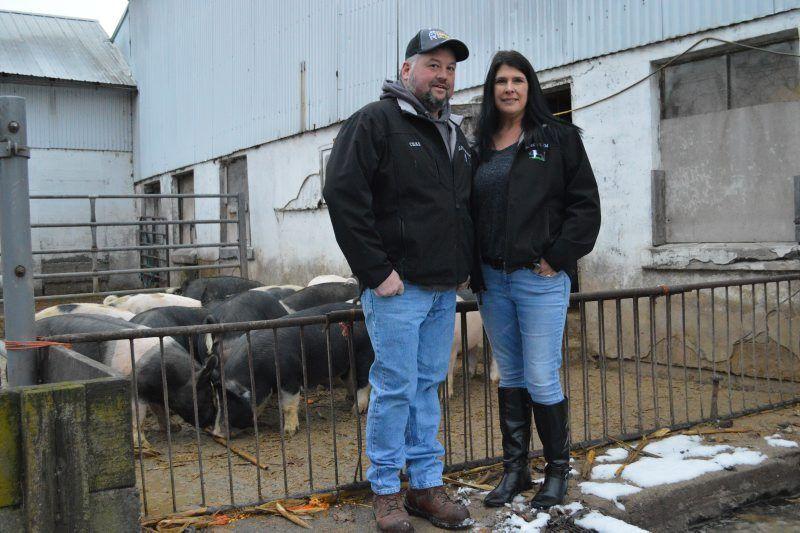 Encouraged to keep their distance from others, consumers embraced contactless pickup and delivery options for groceries, from both supermarkets and farms that were equipped for those services.
While the Kamps don't have a website, many of their customers schedule individual pickups with Alice through the farm's Facebook page.
So far, many of the returning customers have been relatively big spenders, but that also means they don't stop in very often.
"Retail is very hard to figure out," Alice said.
The Kamps got into the pig business when they bought their farm in the 1990s. Alice had grown up on a local farm, and Chad spent his youth working on dairy farms.
Today, the couple farm 175 acres and raise about 200 pigs a year.
Alice and Chad manage the store, while son Evan handles much of the daily pig tending and elder son Collin does fieldwork and pig hauling.
The Kamps raise commercial Berkshire-Duroc crosses, but many of their animals are show pigs. The Kamps entered that market so that their sons could raise market hogs for 4-H without paying big bucks to breeders.
One of the challenges livestock farms faced even before the pandemic was tight processing capacity.
A relatively small number of butcher shops cater to direct-marketing farmers and are USDA-inspected, which allows the meat they produce to be sold at retail. These processors are often booked months in advance, and hauling pigs to slaughter can be a big expense if the butcher is far away.
Chad made arrangements in March to send five hogs a month to his rotation of relatively close-by butchers — Lehigh Valley Meats and Nello's Specialty Meats in Nazareth, and Smucker's Meats in Mount Joy.
Each shop has its own sausage recipe, but Chad has them use one he got from a local butcher who has now died.
His sausage has notes of pepper, and is 80% pork with 20% beef.
Some customers say the links remind them of the sausage they ate years ago with their farmer great-grandparents.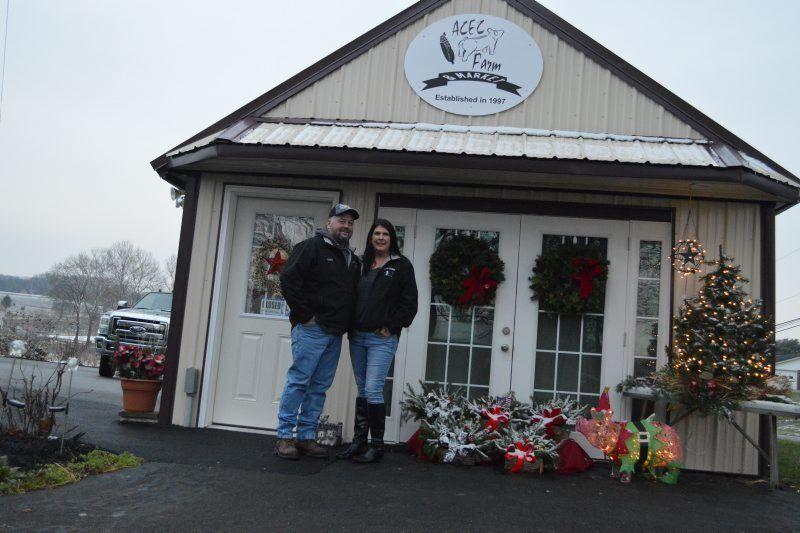 "Giving someone the flavor of sausage that they have been looking for all these years is rewarding," Chad said.
The Kamps also sell beef and other foods from local farms. Their Bargain Cave fridge offers hearts, livers and tongues from their own pigs.
This spring's supply chain issues never became so severe that organ meats became hot sellers, but there's a small group of consumers who like eating liver or making their own scrapple, Alice said.
While the pandemic has exacted a brutal toll on the nation, Chad sees a silver lining. By driving consumers to patronize farm businesses, it has helped consumers understand where their food comes from.
"It opened everybody's eyes up again," he said.