If a peach grower dreamt up an ideal orchard block, here's what it might look like.
The planting would pack in a lot of trees to maximize yield per acre. The trees would be pruned for easy access by machines, and they wouldn't be so tall that harvesters would need expensive lifts or time-consuming ladders to get at the fruit.
Penn State fruit researcher Jim Schupp is trying to make that vision a reality, and in the process he's testing the biological limits of the peach plant.
"In other words, I don't think we've ever really pushed it to see how intensively we can grow peaches, so let's go find out," he said.
Increasing Peach Trees Per Acre
Schupp spoke about his project Monday during Penn State's virtual Winter Commercial Tree Fruit School.
For some time, the intensification of peach production has lagged behind the apple industry, which has used dwarfing rootstocks to create orchard blocks with thousands of trees per acre.
Schupp's experimental planting, pruned for a V-shaped tree canopy, closes some of that gap, and it's a major step up from the 110 to 170 trees per acre in the open vase canopy that Eastern peach growers have traditionally used.
For his study at Penn State's Fruit Research and Extension Center in Biglerville, Schupp is growing Starfire peaches on Lovell rootstock.
The rows are a snug 12 feet apart, and within the rows, the trees are planted from 5 feet to as little as 2 feet apart. That equates to blocks with 726 to 1,815 trees per acre — a strong showing for peaches.
The trees are grown on trellises and are trimmed to keep the bearing surface in a plane that can easily be trimmed and thinned mechanically.
Schupp's team conducted dormant pruning, hedging to 7 ½ feet by machine and touching up by hand. The crew members left 10 to 12 fruiting laterals per side, removing the hard-to-reach inside branches to increase the infiltration of sunlight. The team also did summer hedging.
The story with thinning was much the same — mechanized string thinning, followed up by hand. Thinning the most dense blocks took about 20 hours an acre, while the blocks with wider spacing took about half that, Schupp said.
High-Density Blocks Produced More Peaches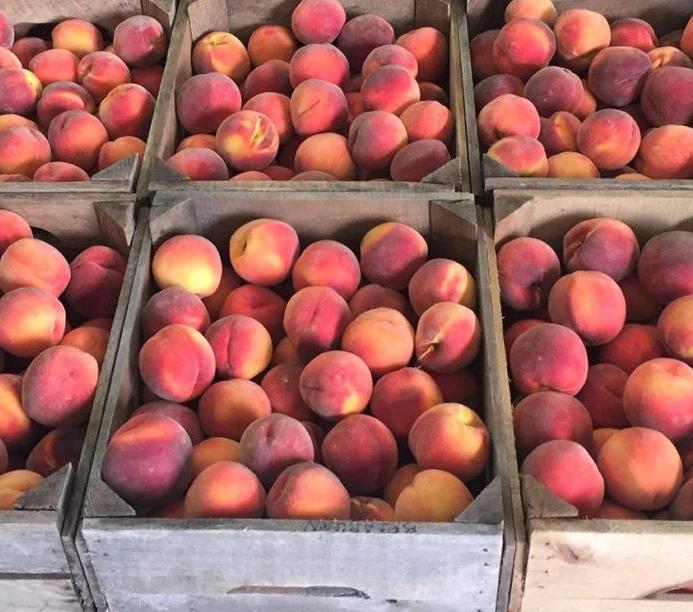 The study block produced its first harvest last year, its third season of growth.
As expected, the highest-density plantings, with 2 feet between trees, had the smallest trees.
They also had the fewest fruits per tree — 33, as opposed to 50 on trees with 5-foot spacing.
And while the roomier plantings produced 17 pounds of fruit per tree, the trees in the tightest blocks averaged just 9.5 pounds apiece.
Those ultra-dense blocks made up for their low per-tree production simply by having a lot of trees. Blocks with 1,815 trees yielded 344 bushels per acre — 100 bushels more than 726-tree stands.
Across the board, the intensive plantings produced excellent fruit color.
"I want to linger over this picture for a second," Schupp said, posting a photo of crated peaches with a tantalizing red blush.
Leaf analysis showed that the trees' key minerals were all in the sufficient range. The highest-density planting had the lowest zinc levels but good levels of potassium, calcium and magnesium. It's possible that the light crop load per tree reduced demand for some of the minerals, Schupp said.
The biggest concern, the place where Schupp may be bumping up against the biological limits of the peach species, is fruit size.
The 5-foot spacing produced fruit that averaged 2 ¾ inches, while the tightest rows had fruit that were 2 ½ inches.
"Those may be acceptable sizes, but that is one of the things that we do notice with these high-density systems," Schupp said.
Even then, he said, fruit size might be increased by adjusting crop load, irrigation or fertilization.
Schupp plans to continue the study, but so far his outlook for orchard intensification looks, well, peachy.