There was no shortage of pumpkins to purchase for the fall and Halloween season Tuesday at the Buffalo Valley Produce Auction in Mifflinburg, Pennsylvania.
For the last few weeks, thousands of bins of orange and ornamental pumpkins in all sizes from area growers were purchased by buyers from Maine to Florida at the twice-weekly auction, according the Buffalo Valley's Neil Courtney.
"Tuesday, Sept. 21, was our biggest day to date, with 4,500 bins displayed both inside our covered building as well as staged on our outside concrete pad, ready for sale and delivery to purchasers over the next several days," he said.
Growers John and Liz Martin, who own the 150-acre Stoney Acres Farm in Mifflinburg, Pennsylvania, sell produce at Buffalo Valley in the summer and pumpkins in the fall.
"It has been a good year for pumpkins in this part of the state, and it comes on the heels of a good 2020 crop too," John Martin said.

The couple sold 60 bins of pumpkins at the auction the week of Sept. 14 and were doing the same this week, and hope to have 50 bins to sell the week of Sept. 28.
Buffalo Valley sells pumpkins exclusively on Tuesdays and Thursdays in September, and they are acknowledged as the largest pumpkin auction in the world with more than 1 million pumpkins passing from growers to buyers in September alone. Buffalo Valley also is known for its late fall holiday sale were more than 50,000 Christmas trees, wreaths and ornamental roping is auctioned.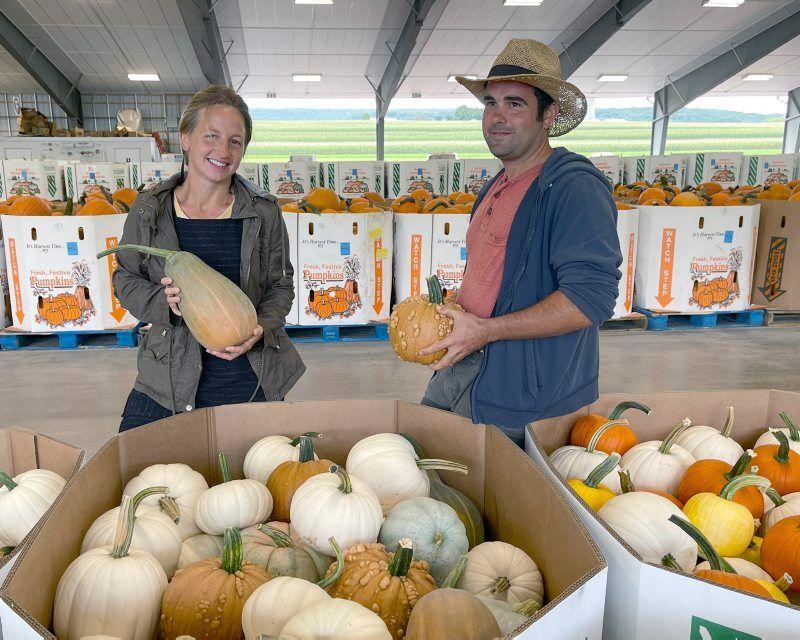 Pumpkin buyer Neil Zanni, who owns The Gardeners' Spot in Leominster, Massachusetts, was on his second trip to Buffalo Valley to purchase pumpkins and ornamentals for his customers.
"It's some 375 miles," Zanni said, "and that's a haul, but you just can't get this quality of just-picked pumpkins at competitive prices like this anywhere in New England."
Zanni had already purchased three truckloads of pumpkins for his garden center earlier in September.
A number of pumpkin growers, when queried about pumpkin rot caused by the heavy rains from the remnants of Hurricane Ida Sept. 1-2, said that although they did have rain in the central part of the state, it was not heavy enough to pond in the fields and cause rot on pumpkins like it did on many acres in southeastern Pennsylvania.
"It's going to be a good pumpkin season," said Courtney, who was auctioneering with Alvin Rice. I caught up with the pair at 8 a.m., an hour before the start of the sale, and they weren't through half the bins when I left at noon.
It was going to be a good day, and a long one as well.