Despite New York's ranking as the third-largest dairy producer nationwide (following California and Wisconsin), the Great New York State Fair may have a much smaller emphasis on dairy and on animals in general.
Gov. Andrew Cuomo announced in April that the fair would go on as a "re-imagined" event running 18 days, from Aug. 20 to Sept. 6. The 18-day event will hopefully help thin the crowds. But it appears the animal participation will also be thinned.
The fair will feature four outdoor areas featuring food, rides, entertainment and "farm animals on display to introduce the young and young-at-heart to New York's agriculture." No mention was made of the animal showing that is part of the fabric of the event. The release also stated that the buildings will be closed; however, it was not clear if barns were included.
George Andrew, partner at El-Vi Farms in Newark, is still waiting to know what will happen. The farm milks 2,000 head, and in ordinary years, takes 16 animals to the fair, including those shown by the children of farm partners and employees; animals owned by people unrelated to the farm but housed at El-Vi; and animals El-Vi leases to children as 4-H projects.
"I'm guessing that there's not going to be animals at the state fair this year in the same way as previous years, but I haven't seen it in writing officially," Andrew said. "Anecdotally in conversation with other people, it sounds like the animal shows are not going to happen."
He thinks that the Dairy Cow Birthing Center will probably happen, perhaps as a virtual-only exhibit to limit passersby. In 2019, crowds thronged the popular attraction, which features live births most days of the fair.
"They are still planning on that as of a month ago, based on an email I saw," Andrew said. "Things are changing all the time though. There's always a possibility they could have a modified exhibit where there could be animals down there but it's definitely not going to be the normal level of participation."
Showing Still Up in the Air
He said that other farmers with whom he has spoken have already decided not to show at the New York State Fair because they want to compete with enough other top-level dairy cows, not at an event with too few premium contenders present.
"When you're trying to earn points, it depends on the competition at the show and what place you stood, whether you end up with an All-American cow or honorable mention," Andrew said. "You have to go to some of the larger sanctioned shows that have the level of competition. It's not just what show you won but who were the animals that were in the show that you won against. You're competing against other animals for those handful of spaces that get nominated to be an All-American. That makes the animal very valuable and makes her offspring valuable."
While he takes COVID-19 seriously, he also expressed regret that 4-H children miss the opportunities for showing because of the pandemic, not only for the work they put into their show animals, but also because of what they learn through the experience and the missed camaraderie with other farm kids at the shows. Andrew also views the loss of fair competitions as a missed chance to promote agriculture.
"The non-farm public gets a lot out of it when they come to a fair and go through the barns and talk to the families with their animals there," Andrew said. "There's a lot of community and connection we miss out on if we don't have those events. That's the downside. We're hoping we don't ever lose that."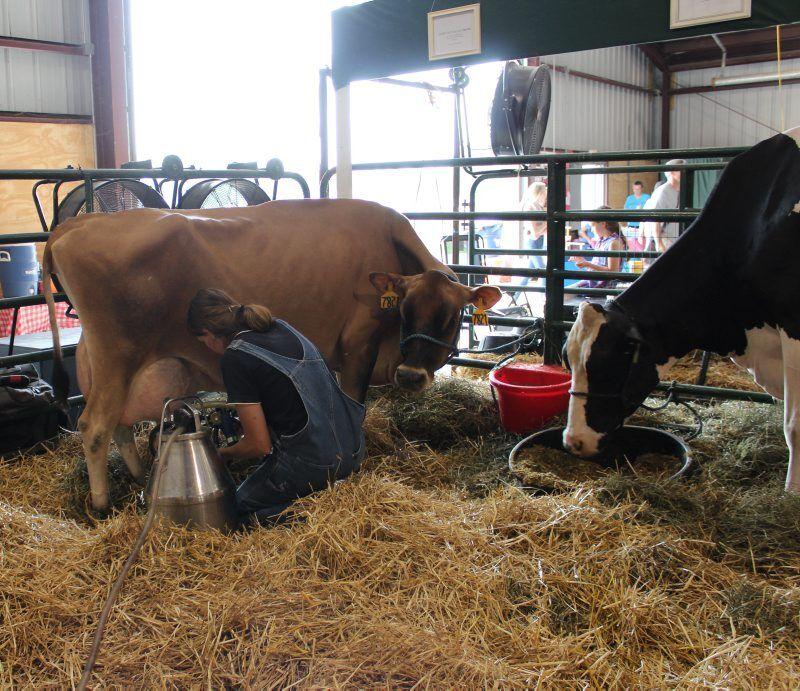 Andrew's farm is in Wayne County, New York. He knows some of the people on the Wayne County Fair board and it looks like that event will also be a shorter, scaled-back event. Part of the reason is that the fair board was waiting on approval from the state level and from the Centers for Disease Control and Prevention as to whether or not they should move forward. In the meantime, deadlines for signing vendor contracts passed.
Andrew said that his farm and some others in the area are considering taking animals to other nearby counties.
Barb Ziemba at Ziems Farms in Durhamville, New York, said the 2020 show season "was a little disappointing" although the farm had more shows to attend than they had expected.
"I felt like we were able to participate in more shows because we weren't sure if the next one would occur," Ziemba said. "We'd jump in to participate as shows came up with the uncertainty that COVID could shut down the next show."
In 2020, Ziems Farms missed the World Dairy Expo — usually a must-do show — because it did not happen, as well as the New York State Fair and the New York Spring Dairy Carousel.
"I'm excited to know that more shows are probably going to occur this year," Ziemba said. "They're still talking that the World Dairy Expo may come back."
Normally, her farm also shows at county fairs with a 4-H group.