HERSHEY, Pa. — Can the samurai wasp vanquish the brown marmorated stink bug?
This isn't the top bill at a professional wrestling match; it's ag science of great interest to orchardists.
Virginia Tech researcher Chris Bergh talked to tree fruit growers about the insect matchup during last week's Mid-Atlantic Fruit and Vegetable Convention, held Jan. 28-30 at the Hershey Lodge.
Bergh's presentation — "Release and Distribution of T. japonicus in the Mid-Atlantic" — focused on Trissolcus japonicus, or the samurai wasp, and how it's spreading throughout the region.
This wasp with the foreboding name hails from the Far East and has an appetite for another native Asian — the brown marmorated stink bug, which causes plenty of problems for orchards and tree fruit growers.
Stink bugs feed on apples, peaches and other crops, leading to deformed and unmarketable fruit.
The samurai wasp was first detected in Maryland in 2014 and has spread quickly. It has since been reported in 12 states and two Canadian provinces.
Bergh and other researchers are studying how to effectively continue its spread throughout the U.S. in hopes of reducing the stink bug's effect on tree fruit.
"This wasp does tend to be quite good at finding stink bug egg masses and establishing itself," Bergh said. "So we're hopeful going forward."
In 2015, Bergh and fellow researchers started surveying for the samurai wasp via sentinel egg masses, which were found at two of the 11 sites monitored in Virginia.
Yellow sticky cards were most effective for capturing the wasps.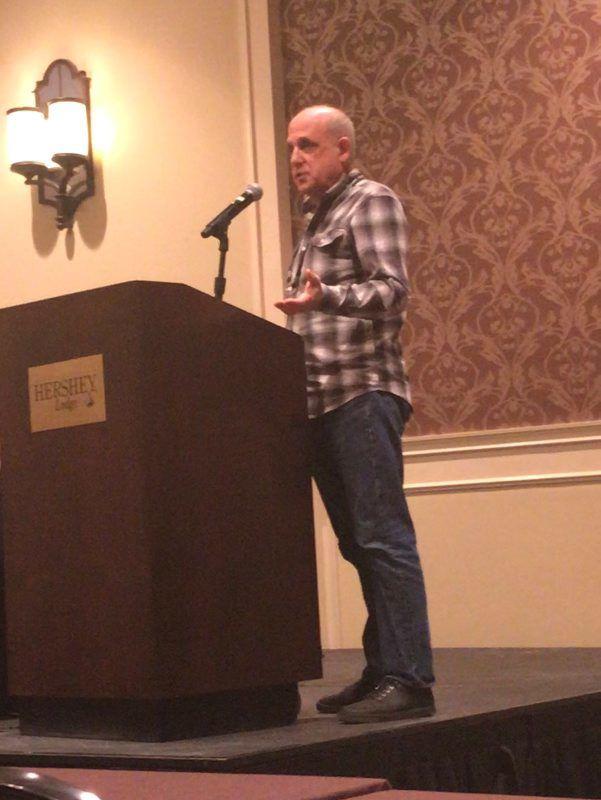 In 2017, Bergh deployed the cards at five new sites.
"This was just a little preliminary study," he said. "And we didn't capture any Trissolcus japonicus."
However, wasps were detected elsewhere, in Frederick County, Virginia.
Next, Bergh selected 10 sites near orchards around the state to release lab-reared wasps into the wild.
Because of regulations surrounding foreign organisms, researchers are allowed to work with the samurai wasp only after it appears in their state.
In the summer of 2018, 12 stink bug egg masses were released at the 10 sites. These egg masses had all been parasitized by samurai wasps at the Virginia Tech lab.
"We let the wasps emerge and disperse and hopefully do their thing," Bergh said.
The researchers later retrieved the deployed egg masses to count how many had yielded a wasp. The wasps had an average emergence rate of 60%, which translated to an average of 368 adult wasps released per site.
Bergh and his team monitored the sites in 2018 after the release, but didn't pick up any of the samurai wasps. After changing how they monitored for the wasps in 2019, they detected wasps at four of the sites.
"You might not think that these are big numbers," Bergh said. "And they're not big numbers. But capturing these wasps at four out of 10 release sites one year after releasing is considered pretty darn good."
Virginia Tech will continue monitoring for the wasps in 2020 and 2021, and plans to do another release some time this year.
Other states in the region are also planning to release and monitor samurai wasp movement.
In Pennsylvania, samurai wasps have been detected in nine counties, and Penn State is following them closely.
Cornell University has been releasing and monitoring throughout New York since 2017, and Rutgers released the wasps throughout New Jersey in 2018 and 2019.
"We are seeing new Trissolcus japonicus detections annually in other states, and that's suggesting strongly that it's spreading quite rapidly," Bergh said.
Regional research has identified native parasitoids that will attack brown marmorated stink bug egg masses, but these species are not as effective as the samurai wasp. Still, having multiple species going after the stink bug should help control the pest population, Bergh said.
As for the samurai wasp attacking native stink bugs, Bergh said he is not "overly concerned about adverse ecological effects." He said samurai wasps will naturally choose the brown marmorated stink bug egg masses over the egg masses of native stink bugs.
Bergh and other researchers feel confident that the samurai wasp will spread rapidly and will help control the stink bug population.