One day seven years ago, Lindsay Matras conducted an experiment in her parents' New Hampshire dairy's milk house. Matras was making soap — with milk straight from the tank of her family's 55 Holsteins.
Her adventure into soap making started after Matras learned about the short- and long-term effects of chemicals and preservatives found in body products on the skin in college.
"If people don't have any sensitivities or allergies to using milk products on their skin, they should choose milk soap over other kinds when they can. Milk-based soap includes more skin-loving nutrients than other soap," Matras said. "Also, buying milk-made soaps supports local farms."
In February 2020, Matras turned her hobby into a business, the Sudsy Cow. Today, she makes 400 bars with 3 gallons of cow's milk soap a month — that's 36 gallons in a year. Sudsy Cow soaps can also be found in 20 different independent New England shops, including the Vermont Cabot Cheese Farmers' Store.
Matras still uses her parents' milk along with an additional supplier, her own Jersey cow, Blue.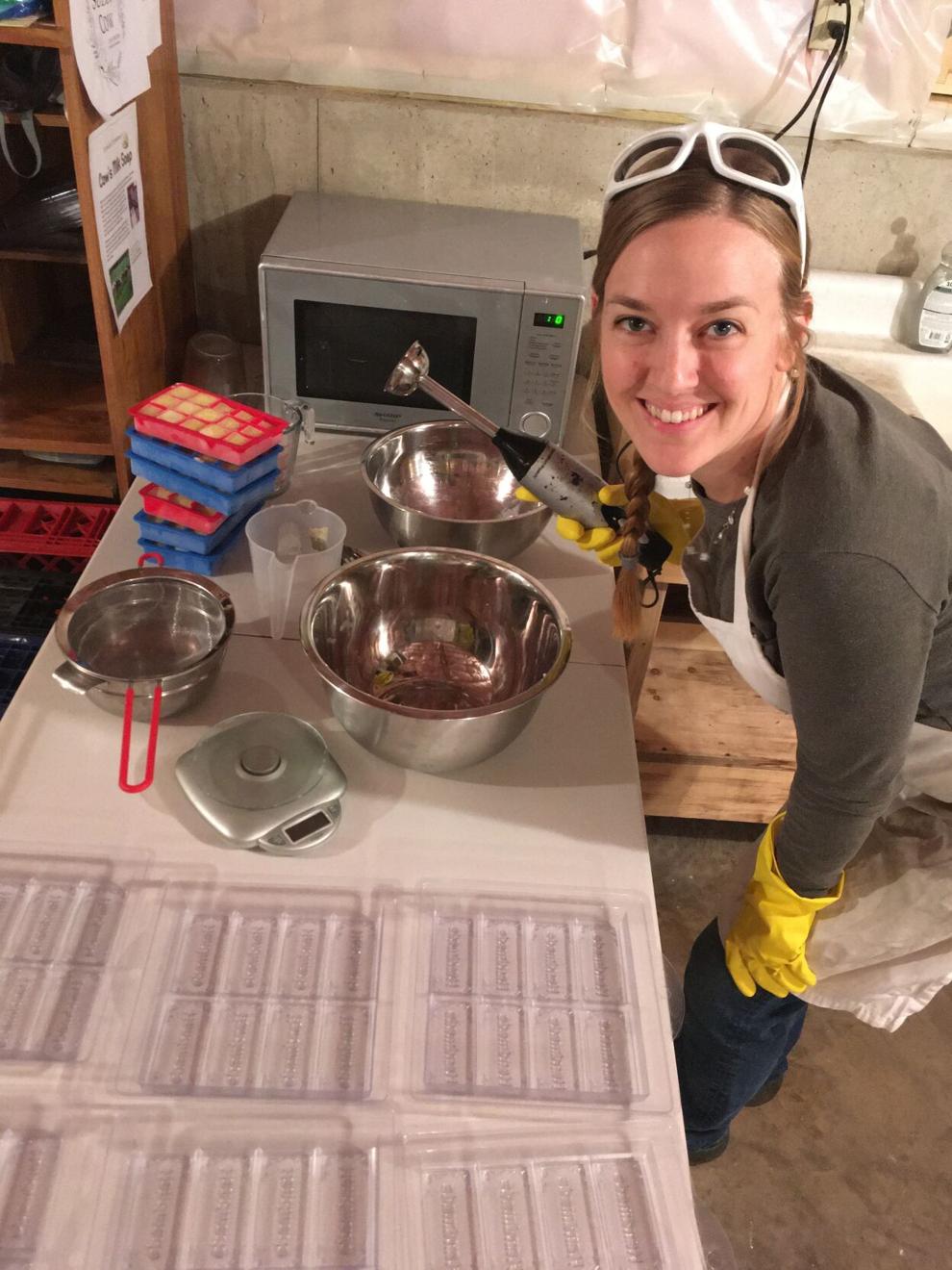 "Adding cow's milk soap can be a great way to add diversity of products to a farm. The process of making cow's milk soap does not require a large amount of milk, it is an additional product that can be used to promote your business and add value to the milk that you do use in the soap," she said.
Using cow's or goat's milk in place of water in the soap-making recipe makes the bar more moisturizing compared to name-brand soap products. Milk also has great anti-aging properties.
"Water obviously doesn't have the nutrient base that milk does, which makes milk-based soaps so good for your skin," Matras said. "It doesn't dry your skin out as much as a regular bar of soap."
Most people are indifferent to cow's milk when compared to its competitor, goats' milk. That's something Matras would like to change. Cow's milk soap contains the minerals folate and selenium and vitamin B12 and D, which are vital for repairing and renewing the skin.
So, not only does her milk soap support the skin's moistening barrier, but it also packs a lot of suds.
"It has such a good lather to bar," she said. "I've heard from others that cow's milk has a better lather than goat's milk."
Matras starts the cold soap process by freezing the milk before she mixes in the oils of coconut and olive. She also mixes in soap making's most important ingredient, lye. Matras says she adds the lye to frozen milk because if she doesn't, the strong alkaline chemical would burn the proteins in the milk. To create most of her soaps' scents, Matras will add plant-derived essential oils. Her soap line only has two bars that are made with chemically derived fragrance oils. To give the soap bars a pop of colors like pink and green, Matras uses plant powders and clays. Matras says she prefers to use clay consistently with her soaps because it helps the bar maintain its color and leaves the skin extra soft.
The second and longest part of the process is curing the soap. Matras pours the mixture of milk, oils and lye into a mold and places them in the fridge for two-three days. When she pulls the molds out of the fridge, Matras will leave the soap to sit on a rack for four weeks. This is to bring the pH level of the lye down closer to a level safe to use on the skin. After about a month, the pH is about 10, but optimal pH levels of 5-6.5 are deemed safe to use on skin.
"When the soap is first made it has a very basic pH level closer to 12 on the scale. As the soap cures it gets closer to neutral also known as 6 on the scale," she said.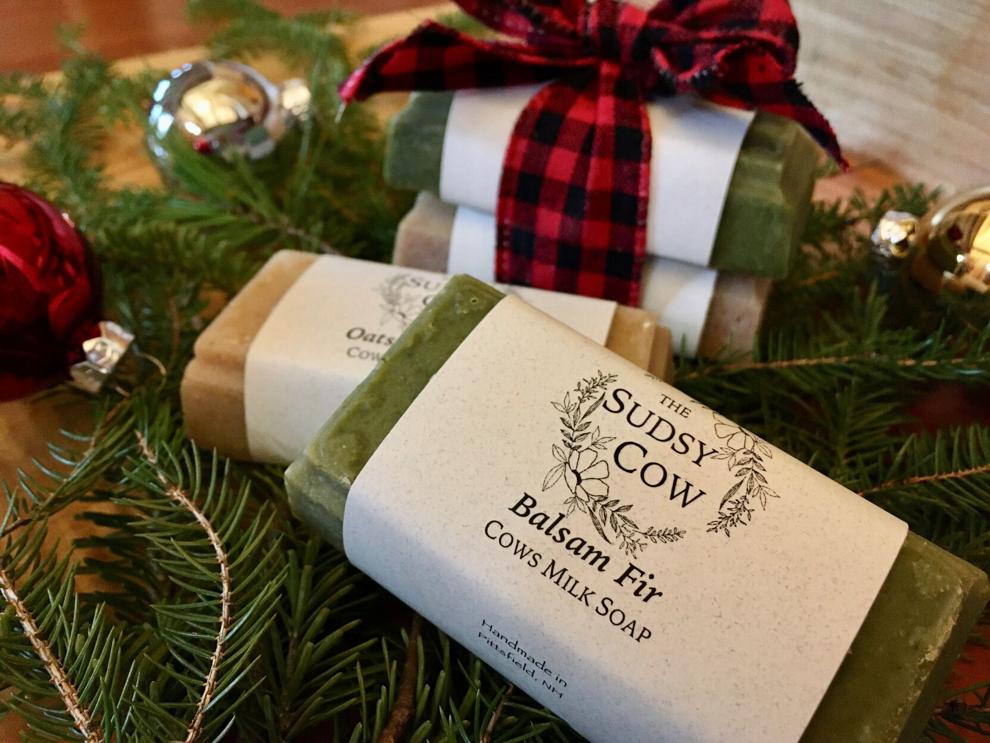 Creating scents is her favorite part of the process. Sudsy Cows has 16 scents that range between musky — the balsam fir and lumberjack, to floral; lavender, rose germanium to citrus; lemongrass and orange blossom. The most popular bar year-round is the lavender. Balsam fir is the most popular around Christmas.
"I like to keep it simple with my scent," Matras said. "I use a lot of inspiration from nature."
For fall and Christmas, Matras makes apple cider, pumpkin spice, peppermint and eggnog. For holiday gift buying, she also creates three-bar gift sets and a stocking stocker — a lump of coal, an activated charcoal facial soap.
"Soap's consumable, but this elevates it," Matras said. "I think it's a great way to connect people personally, to your farm. They are going to be using a piece of your farm by their sink as they wash their hands or in the shower."
The average cost of a single Sudsy Cow bar is $6, and gift sets cost $10. Soaps can be purchased online at Esty or at thesudsycow.com.