CENTRE HALL, Pa. — Three siblings plus four different breeds of livestock makes for one busy fair week.
But Taylor, Landon and Levi Wrye enjoy all of the busyness of their week at the Centre County Grange Fair.
"We used to come to the fair like once for the entire fair week," said mom Alicia Wrye.
But after the kids got into showing thanks to friends who show, one day at the fair soon turned into an entire week of showing and selling.
Now, Taylor, 12, shows goats, sheep and steers. And her brothers Landon and Levi, 10-year-old twins, show goats, sheep and pigs.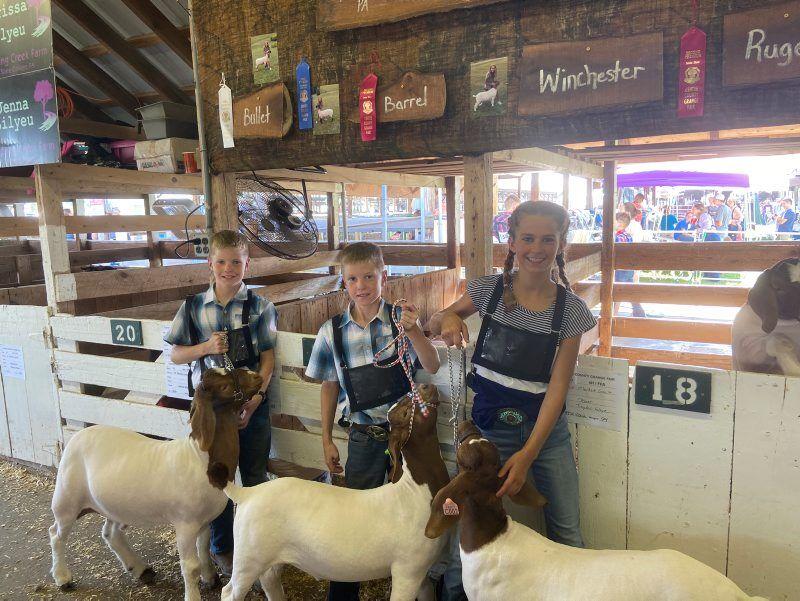 The Aug. 23 goat show was the Wrye siblings' last show of the week. Their pens already had plenty of ribbons hanging from them thanks to the previous livestock shows, including a few champion honors.
But Monday was all about the goats. At home in Port Matilda, the Wrye family typically raises about 10 to 20 goats.
And though goats aren't the favorite animal to show for any of the siblings — Taylor's favorite is steers, while Landon and Levi like pigs best — they still were looking forward to getting out into the show ring.
And showing against each other just made the competition even better.
"I want to crush them," said Taylor, who showed in the same class as Landon for one of their goats.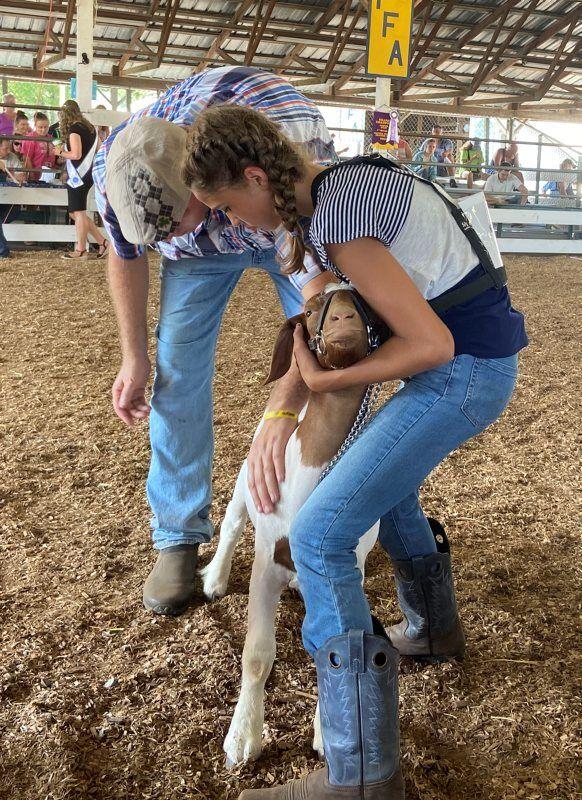 Even at home, Taylor takes the sibling rivalry seriously. She likes to work with her animals on her own, while Landon and Levi work together to get their animals ready.
And though many children roll out of bed just in time to catch the bus for school, the Wrye siblings are up at 6 a.m. every morning to work with their animals before starting the rest of their day.
The hard work paid off for the siblings. Landon left the show ring with the reserve champion heavyweight goat, and Taylor came in second in her showmanship division.
The siblings will sell their market animals at the Aug. 27 livestock sale, which, along with being in the show ring, is their favorite part of the fair.
"They always drink orangeade on sale day," said their dad, Josh Wrye.
The beverage has turned out to be a bit of a good luck charm for the livestock auction.
"It seems to work," Alicia said.
The siblings are already planning ahead for the 2022 fair, thinking that they might stop showing sheep so they can put more focus on steers, goats and pigs.
Results from the Centre County Grange Fair market goat show are below. The show was judged by Shane Conaway of Berry, Kentucky.