When Krissa Brewer competed in the All-American Dairy Show last year, the pressure was on.
In the end, so was the spotlight.
Brewer, 26, and her sister, Emilee, 18, teamed up to earn best senior female, bred and owned with their 2-year-old Jersey cow, Brew-Line Tequila Dove, at last year's show. Emilee had shown the cow during the first few days of the All-American but had to leave for school commitments, so Krissa had the privilege of walking Dove out in the spotlight with the other champion cows on the final day.
"They darken the stadium and the spotlight hits you while they talk about you and your cow," Krissa said. "It's an adrenaline rush."
The All-American Dairy Show, which is held at the Pennsylvania Farm Show Complex each year in Harrisburg, is a five-day affair that features nearly 2,000 dairy cattle from across the United States and Canada. Along with the World Dairy Expo in Wisconsin, the All-American is an important national dairy show.
To do well at the show, it not only takes a good cow, but a lot of work as well.
For the Brewer sisters, Dove's success on the show circuit last year led them to believe the cow would keep it going at the All-American, so they worked with her around the clock.
"My sister had gotten grand champion at all the county and district levels and the New Jersey State Fair. After that, I switched her feed program, put her in a separate stall and worked with her a lot more," Krissa said. "She was our No. 1 priority every day."
And the reason for a hectic, yet fulfilling, year.
The Brewer family milks 100 Holsteins and Jerseys in Bangor, Northampton County. Aside from the demands of the dairy farm, Emilee has a busy schedule with school and sports plus regular dairy shows.
That's why Dove's success at the All-American was a culmination of teamwork between Emilee and Krissa, who also had help from Jesse Kline, Thomas Hosking, and Paul and John Beiler.
"For a while we would go to a show, come home for a week and then leave for another show," Krissa said. "I showed her for the open shows and my sister showed her in the youth shows. It was a year I'll never forget."
Emilee added as the wins kept piling up, it motivated her and Krissa to keep working with the cow.
"As she kept winning championships, we knew she was a special cow," Emilee said.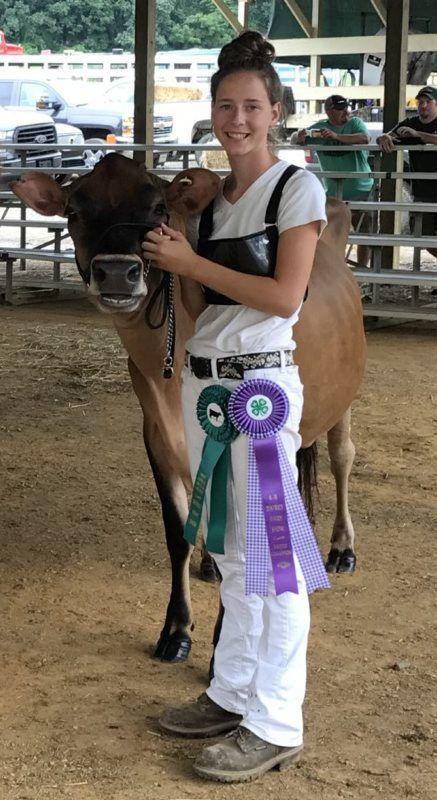 The Brewer sisters are carrying on a family tradition when it comes to showing dairy cattle. Their father and grandfather used to show cows, and Krissa said she's been taking animals into the ring for 20 years. The family has been competing in the All-American for 10 years, but last year was the first time they had a champion.
Two weeks after last year's All-American, Dove went to the World Dairy Expo in Wisconsin and placed second out of 40 Jerseys in the junior 2-year-old cow class.
"Dairy farming is my life and I'm here with my dad 24/7," Krissa said. "To have all that hard work pay off with that cow was a really good feeling."
Still, much of the credit goes to Dove. Krissa said Dove milked really well last year, and the cow has the build that judges look for, including wide and high udders that are level across the floor.
Perhaps Dove's biggest attribute, however, is her demeanor in the show ring.
"She hits that show ring, holds her head up and walks out nice and slow," Krissa said. "She knows how to make herself look pretty."
This year's All-American will be held Sept. 14-18, and the timing isn't good for Dove. She's due to calve next month and won't be returning to the show, but the Brewer sisters may take a couple calves.
Down the road, Dove's offspring may enter the show ring as well. Her first calf from last year was a heifer, which Krissa said she may show one day.
Even though the Brewer sisters won't have a cow to defend their best bred and owned title this year, their memory of competing and winning at the All-American is something they'll always cherish.
"To go to the largest show in the area and win was the greatest feeling I ever had," Emilee said.
"When that spotlight hits you, it's amazing and nerve-wracking," Krissa added. "But Dove really knows when to show herself off. It was a good feeling."