ORANGEVILLE, Pa. — Jan Jurbala has faced plenty of uncertainty in her life.
She remembers what it was like searching for a place to live, going through a divorce and raising her daughter as a single mother.
But through it all, she never gave up on her dream of being a dairy farmer.
Today, the challenges that the 69-year-old Jurbala faced years ago have given way to the daily routine of farm life. Nestled on 10 acres in Columbia County, Jurbala and her close friend, Sandy Hock, run a small but efficient dairy farm, milking a herd of 46 Holsteins and Red and Whites.
The farm, which is named Spotlite Registered Holsteins, may be small, but the amount of pride shown by Jurbala and Hock is enormous. A manicured yard and flower beds surround the tidy tie-stall barn, and inside the cows are constantly bedded with fresh sawdust as Jurbala uses a manure scraper to keep the floors spotless throughout the day.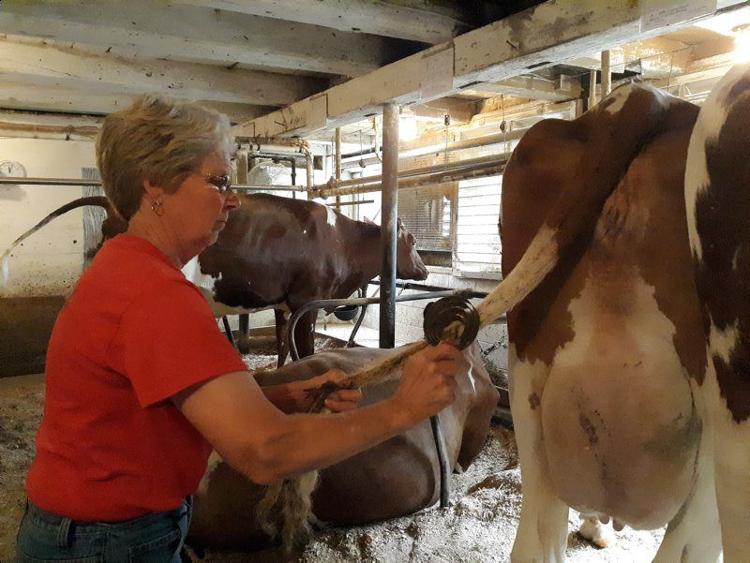 Adding to the efficiency of the operation is the teamwork that keeps the farm running. Hock milks the cows while Jurbala feeds them and cleans the barn, and several grandchildren pitch in to help with various chores throughout the day. Most of the feed is grown on Hock's 100-acre farm, Hock's Haven, just down the road, though Jurbala buys some high-moisture corn for the silo.
Hock also raises heifers for Jurbala on her farm, keeping about 50 throughout the year.
After years of uncertainty, Jurbala admits she's come a long way since moving to the farm in 1978. She didn't grow up on a dairy but spent much of her childhood on a neighbor's farm. The experience compelled Jurbala to consider a career with livestock, but she wasn't interested in going to school to become a veterinarian.
After graduating from high school, she put her plans on hold when she got married and had a daughter. When her husband was between jobs in 1977, the opportunity to become involved in farming arose.
"My husband walked into the house one day and asked what I thought about milking cows," Jurbala said. "He went to Wisconsin and came back with 19 cows."
They rented a farm in Benton and began milking cows until the family that owned the property decided to return. After a brief stint milking in another nearby barn, Jurbala's current farm was up for sale and she and her husband made the purchase.
"It was the only place that looked like it would work," Jurbala said. "We did some remodeling to the barn and moved the cows in. At that time, we were milking 36, plus a few cows for two other farmers."
For the next 10 years, Jurbala and her husband milked cows together until another life-changing moment struck.
In 1988, Jurbala recalled, her husband was tired of the dairy business and wanted to do something different. She didn't, and ultimately they divorced.
"It was working and I didn't want to quit," she said.
The divorce forced Jurbala to disperse the herd in 1988, but she managed to keep the heifers. Before long, they were ready to milk and she made a quick return to dairy farming.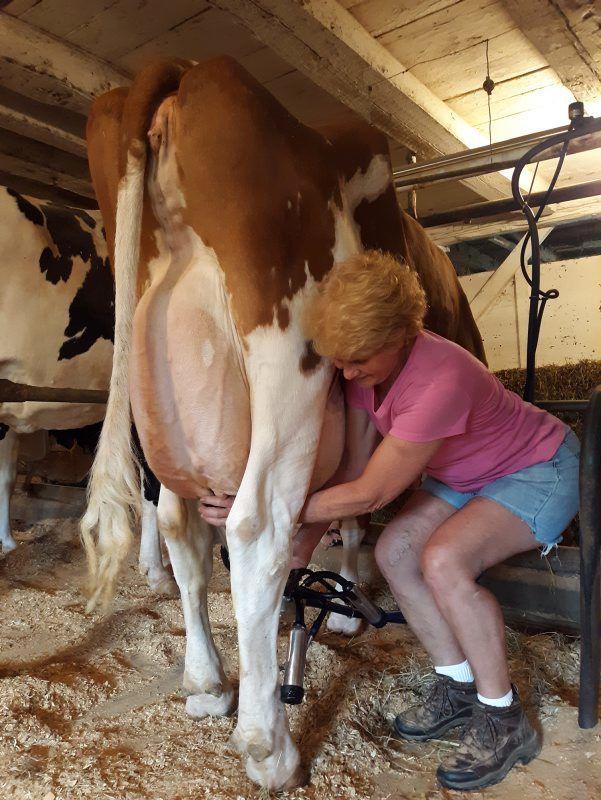 She also made a few improvements, including construction of a Harvestore silo and the installation of a pipeline to replace the dump station.
In 1992, Jurbala received another boost to the farm when Hock inquired about letting her kids show some of the heifers for 4-H. Soon, Hock began milking and raising heifers while her children, and Jurbala's daughter, were busy winning ribbons at county fairs across the state.
Today, the show ring remains a hot destination for several of Jurbala's animals as grandchildren, nephews and neighbor kids continue to show cows.
The show ring is an important element of Jurbala's farm, but production comes first, she said.
"These show cows have to milk," Jurbala said. "I never had a show cow that didn't milk good enough to keep."
When it comes to breeding, Jurbala picks bulls that are likely to produce calves with good traits for the show ring. Breeding and genetics are important to Jurbala, who said it's satisfying to watch a heifer grow and produce better than its mother.
"There are a lot of opportunities for accomplishment when you're milking cows," she said.
Hock, who also runs a beauty shop business during the week, said it's the sense of accomplishment that makes her look forward to the 4 a.m. milking each day. She feeds the heifers on her farm at 3 a.m. before heading to Jurbala's to milk, which sometimes makes for a long day.
But once she's in the dairy barn, Hock feels at home.
"It's a routine. You know the disposition of each individual cow and you have a feeling of satisfaction when milking is over, the cows are laying down and the barn is clean," she said. "I come from a farm background and I don't mind the work, or the cows."
At age 69, Jurbala admits she has thought about retiring, but said the current prices for cows and milk don't make this a good time to sell the herd. She's not going to give the cows away, she said.
Besides, without the cows, Jurbala said she doesn't know what she would do with the farm, or herself.
"At my age I guess I ought to be retired, but what would I do? Paint my house? Cut grass?" she said. "Looking back over the years, it's all come together. I'm pretty content where I am."