JACKSON TOWNSHIP, Pa. — A barn fire. It's every farmer's worst nightmare. The loss of a farm's main structure, along with the valuable equipment, bedding and feed stored there is devastating. Even more distressing is losing livestock housed in that barn.
Dairy farmer Marlin Getz and his family, of Jackson Township, Lebanon County, are now living that nightmare. Their circa 1850s bank barn and part of a 2002 addition were lost to a fire on Sept. 4 along with 14 of their 63 Holsteins, which were either trapped when a section of the barn roof collapsed or later died from their injuries.
The family's anguish was compounded when Marlin's 35-year-old son, Timothy Getz, was arrested by a Pennsylvania state trooper while evacuating cows from the burning structure.
It had been a typical late summer evening, with Marlin, Tim and another adult son, Todd, completing the second milking of the day shortly before 8 p.m. Everything was routine until Todd noticed an unfamiliar car in the driveway and went outside to investigate. It was then that he saw what had attracted the passerby to their farm — flames were shooting from an eave of the barn.
Todd and Tim noticed the fire almost simultaneously and alerted their father inside the barn. Both brothers dialed 911 on their cellphones as Todd ran to the backhoe behind the barn to see what equipment he might be able to tow to safety. After removing a pickup truck, Todd realized the fire was spreading and he needed to turn his attention to the cows in the barn's lower level.
In the minutes before the first wave of fire trucks arrived, Marlin, Tim and Todd worked frantically to release the chains from the necks of the cows in their tie-stall barn and urge them out through three doors leading to the barnyard.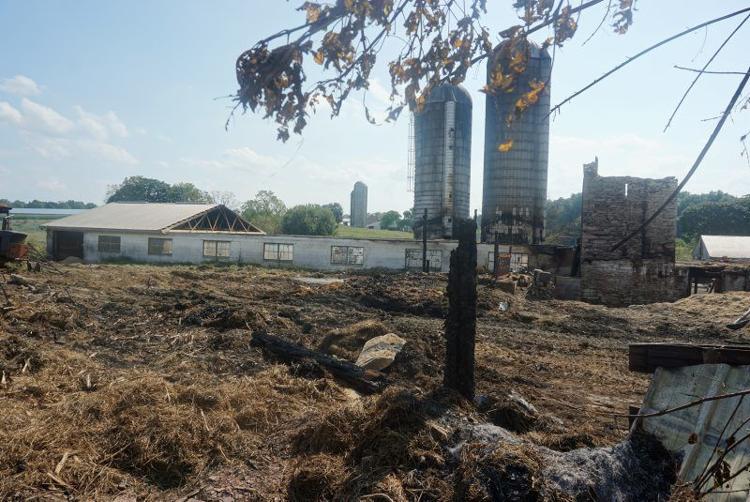 "Some were easy to get out and some were scared," Todd recalls.
When firefighters arrived, they joined the effort, using a bolt cutter to snap some of the cows' chains. A neighbor also came to their aid.
Just before fire trucks, a state trooper who was attending an event at the nearby school complex appeared on the scene. He first approached Marlin's wife, Gloria. Todd remembers, "Mom yelled, 'They want you to get out of the barn.'"
Neither Todd nor Marlin felt they were in any danger at that stage of the fire and remained intent on getting their cows — Robin, Diamond, Ragu and the others — to safety.
The trooper initially called to them from outside the barn, but then came into the barn and told Marlin and Todd to leave so the firefighters could do their work.
According to Marlin and Todd Getz, Trooper Jorge DeJesus also approached Tim, who they said had his back turned while working to unchain a cow. Tim later told them he raised an arm to escape the interruption and there was contact between the two men, which, according to the Getzes, ended with the trooper striking Tim in the head with a flashlight.
Jonestown State Police barracks spokeswoman Sgt. Leslie Barr indicated that, based on the investigation thus far, the police believe that Trooper DeJesus struck Timothy Getz in response to Getz having first struck the trooper.
Marlin Getz recalls turning to see his son Tim down on the barn floor being handcuffed by the state trooper. Todd's cellphone shows the time as 8:09 p.m. when he called his older brother Troy to tell him Tim was being placed in the trooper's patrol car to be taken to what they later learned was the Jonestown barracks. There, according to the affidavit of probable cause, he was charged with second-degree felony aggravated assault, simple assault and harassment.
Tim Getz was then transported to the Lebanon hospital for treatment of his head wound, Todd said. Finally, Tim was taken to Lebanon County's central booking facility where, according to the docket sheet for his case, he was arraigned before Magisterial Justice Carl Garver at 5:45 a.m. and ordered held on $15,000 bail.
Although scheduled to be placed in the Lebanon County correctional facility, Getz was able to be released directly from central booking after a family friend put up $1,500 cash bail.
The days since Sept. 4 have been difficult for the Getz family, but they repeatedly express their gratitude to the many friends and neighbors who have aided them.
They start by praising the efforts of the firefighters, who not only responded promptly, but remained on the scene of until 3:30 a.m. on Sept. 5. Marlin Getz called them "invaluable."
They offer special thanks to John Zimmerman, of Schaefferstown, a friend and fellow dairy farmer who had dispersed his herd earlier this year. "He's been amazing," Todd said. Zimmerman immediately made his tie-stall barn available for housing their homeless herd and has been helping to feed and bed the Holsteins since their arrival.
Marlin also voiced his appreciation for the other farmers who showed up with cattle trailers to transport the Getz herd the five miles to the Zimmerman farm. With no electricity due to the fire, he had wanted to wait for daylight to move the surviving cows from the pasture where they'd spent the night. However, when he made his way to the pasture at first light, he was amazed to find the cows had already been moved to their temporary home.
Todd Getz reported that their Holsteins already "feel right at home" in the Zimmerman barn. Marlin added that "He (Zimmerman) shows them a lot of love and they love him right back."
One of the Getz cows calved a bull in the herd's temporary home just three days after the fire.
Grateful tears fill Marlin's eyes as he speaks about the kindness of so many, like the contractor who had built their 2002 barn addition and brought his lift to help with the post-fire cleanup. Friends and neighbors came to the scene with skid loaders and a track hoe to help out.
He also chokes up when he thinks about the 14 cows that died in the fire, as well as a 15th that might need to be put down.
Due to the severity of the damage, fire investigators told the Getzes the cause will never be known, but the family believes it was most likely electrical. Insurance on the buildings, equipment and cows will help cover their losses, but the Getzes now have big decisions to make, especially with milk prices continuing to be soft.
"We're going to rebuild," Marlin says, but those details are still evolving.
Tim's arrest has been a particularly harrowing and humbling experience for this farm family. Although they're baffled why the state trooper tried to stop them from saving their herd when they felt they were not in any imminent danger, Marlin acknowledges that "the police have a tough job and I still respect them, but..."
"I cannot believe all the people who have reached out to me to express support for the Getz family," said Steven Breit, the Lancaster attorney representing Tim. "Shortly, the (Lebanon County) district attorney and I plan to meet in conference to discuss a mutually agreeable resolution of this matter, short of proceeding to trial, a fair resolution for all involved, trust me."
The next step in the legal process for Tim Getz, who did not participate in the interviews for this article on Breit's advice, is a preliminary hearing on Oct. 3.
Meanwhile, the plight of the Getz family has clearly struck a nerve with farmers and others in the Lebanon area. Within a week of its posting, an online petition had garnered over 9,000 signatures asking that the charges against Tim Getz be dropped. It was posted by social media supporters, who a chuckling Todd Getz calls "Tim's PR crew."
The incident has also been an ongoing topic of discussion on the Laura LeBeau talk show on Lebanon's AM radio station, WLBR 1270.
Barr, the police spokeswoman, said that, due to all the media attention given to this incident, she feels there's been "disheartening villainization" of the police response at the Getz fire.
"Our troopers don't come on the job to hurt the community," she said.
Barr added that, at an emergency scene, those involved are "making very emotional decisions. It's our job to be logical and make some decisions for them."
Safety of the first responders who might be put at risk to perform a rescue must be a priority along with the safety of victims.
"We've had a lot of discussions (in house) about this situation," Barr said. "You want to see something positive come out of it."
"Obviously in any investigation, there's an amount of information that isn't released to the public," Barr added. "I'm hoping we'll be able to come together after all the facts are known."
For his part, Marlin Getz wants people to know that, "With God's help, neighbors and friends, we should be able to get through this."
"We're not totally back on our feet," Todd said, "but we've got a lot of people propping us up."