Sarah (Grim) Sparks grew up on a farm in York County, Pennsylvania, and continues to live a farm life with her family in Thomasville, also in York County. The mother of four, Sparks has three children in school and a preschooler who, at 5 years old, showed a heifer (as a Pee Wee exhibitor) at the York State Fair in July.
Sparks finds time to balance home responsibilities — including the renovation of an 1844 farmhouse and her active family — while also serving as the executive director of the Pennsylvania FFA Foundation.
"We raise nearly a half-million dollars each year from corporate donations, grants, event concession sales and a large golf tournament," Sparks said, "and 90% of it goes into FFA programs for career development and leadership as well as for grants, scholarships, in-classroom ag programs and competitions."
A member of the multi-generational, agricultural Grim family in southcentral Pennsylvania, Sparks had early success herself, showing cattle as a member of the Bermudian FFA Chapter in York Springs, Adams County. She inherited a love of farming from her extended family and is passing it on to her non-farming husband — who has learned the business quickly — and her fifth-generation farm children.
A Penn State graduate with experience working at Penn State's dairy farms and beef center, Sparks was a high school ag education teacher for eight years, before going full-time to raise her active family. In 2014, she found time in her schedule, however, to work part-time for the Pennsylvania FFA Foundation and was named the group's first full-time executive director in 2017.
"It's a challenge as we build our contributor base," she said. "I work closely with our foundation board as well as the state's FFA Association executive director, Michael Brammer, to support programs in FFA chapters in some 148 high schools across the state."
Brammer, with the help of the association's state officers — all recent high school graduates — coordinates FFA programming.
Growing the FFA
FFA (formerly Future Farmers of America) got its start in 1928, to support students with an interest in a career in agriculture. The group changed and shortened its name to FFA in 1988, to recognize the growing diversity of agriculture. Today, there are more than 735,000 junior and senior high school members as well as college FFA members nationally in more than 8,800 chapters.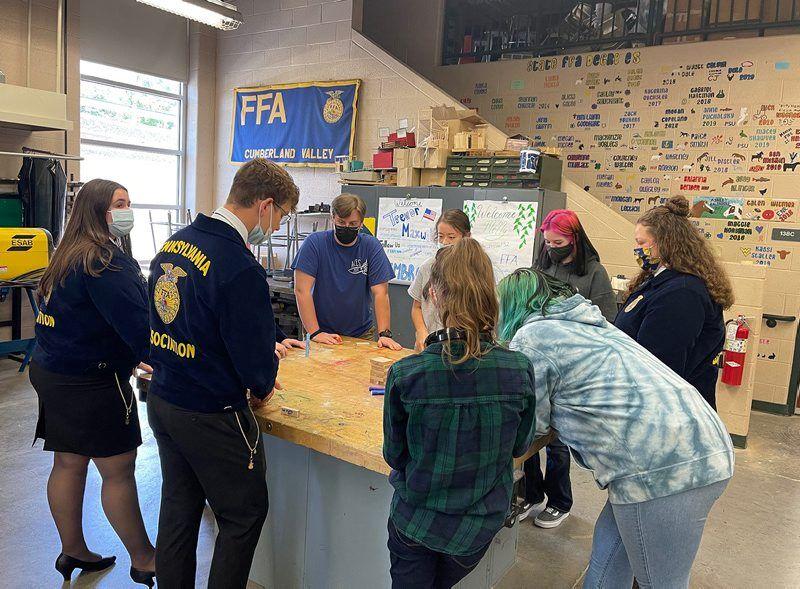 In 1984, realizing the Pennsylvania FFA needed additional finances to support its programs, a group of men and women, most with agriculture backgrounds, formed the FFA Foundation. In 40 years, the foundation has grown exponentially and now distributes more than $400,000 to support multiple FFA programs
The founding group included Steve Kline, now a retired ag teacher at West Snyder High School in Beaver Springs, Pennsylvania, and a former FFA Foundation board member.
"Over the years," Kline said, "we attracted several individuals to the foundation who helped FFA grow, including Sam Hayes, who was at the time a state representative from the 81st District. ... He went on to serve as foundation board chairman before he became Pennsylvania's Secretary of Agriculture."
Kline continued: "Sam was instrumental in both helping secure state funding for the FFA, which continues today, and in finding an office for FFA in the Department of Agriculture."
"Our Pennsylvania officers are elected toward the end of their senior year of high school and commit to a gap year before they start college or their careers to provide FFA program support," Brammer said. "It's a great learning opportunity for them. The officers make visits to more than 100 high schools from the Delaware River in the east to the Ohio border in the west during their year in office, besides running leadership training programs, coordinating conferences, and representing the FFA at events."
Youth Leaders
Brammer and Sparks agree that FFA in Pennsylvania could not operate without the young officers.
"It is a once in a lifetime opportunity for these 18-year-olds to prepare for a career, usually agriculture related. The foundation support even includes a van for FFA state officers to use for programming and their school visits," Sparks said.
Abigail O'Neill, a 2021 Garden Spot High School graduate from New Holland, Pennsylvania, is the current state FFA president. She credits the organization in helping her choose her future career in agribusiness marketing and management. She will begin her undergraduate studies at the University of Delaware in 2022.
"The state FFA officers have a busy, non-stop schedule," she said, smiling, "and we're just (over) halfway through our term. We are getting hands-on experience running programs for our colleagues and helping them reach their goals through the organization — as my fellow officers and I have done."
FFA programs are not only at rural high schools, Brammer said. Chapters are formed in any high school that has an agricultural education program.
"About a quarter of the state's high schools do have ag education programs and certified teachers," Brammer said, "And you might be surprised that it includes Walter Biddle Saul High School of Agricultural Sciences in urban Roxborough, just outside of Philadelphia. The school has the largest FFA chapter in the state and is one of the largest in the U.S."
Brammer and Sparks are pleased that interest in agriculture is continuing to grow in this country, citing 30-year USDA statistics.
"Interest is really growing in colleges too, especially in programs devoted to sustainable-farming practices or what is called agroecology," Brammer said. "Agroecology is the application of ecological concepts in farming that help mitigate climate change, reduce carbon emissions, increase recycling and prioritize local supply chains. FFA students here in Pennsylvania are all part of that growth."