HOLLENBACK TOWNSHIP, Pa. — On Aug. 12, Jeff Bloss will resume his yearly routine.
After he finishes milking, Bloss will head to the haymow, cut open a few pre-selected bales of later-cutting grass hay and alfalfa mix, and scrutinize each one.
It takes time, but eventually the Luzerne County dairy farmer will settle on sections from the bales that he feels best exemplify quality forage, tie them up, fill out a tag and take them to Rock Springs the next morning.
Bloss has been a regular competitor in the Pennsylvania Hay Show at Ag Progress Days since 2007. He won grand champion awards in three years (2008, 2010 and 2012) and numerous first-place finishes in several categories.
While Bloss will spend a few hours in his barn getting his entries ready the night before Ag Progress Days opens, preparation for the show actually begins earlier in the year when the first load of fertilizer is applied to his fields.
For Bloss, the Pennsylvania Hay Show is serious business.
He doesn't enter the show for the money — first place pays $20 — but rather for the competition.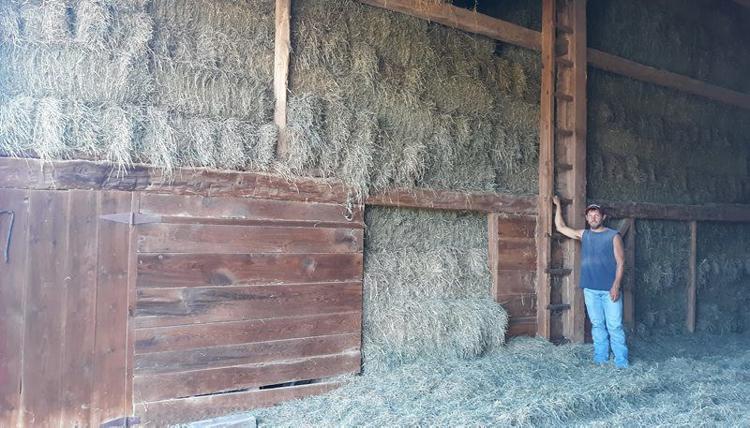 "It's kind of like a report card to see how my hay compares with samples from other areas of the state," Bloss said. "To consistently do well in the show, you have to pay attention to the fine details in the field."
And there are plenty.
Soil fertility, cutting height and maturity are just a few of the factors that go into hay show bales.
When asked what he looks for in a bale to make it show-worthy, Bloss rattles off a list of details that encompass everything from the field to the barn.
"I consider the days between cuttings, how the field was fertilized, if the grass has that blue-green color with no rust or dead pieces, and very few grass heads," he said.
Bloss also considers the location in the field that the bale came from (hay baled along a shady treeline is lower quality), and how long it laid in the field after it was cut.
"If it lays there too long and it settles down, it can draw moisture from the ground," he said. "It could also bleach, which doesn't really impact the forage analysis, but isn't good for appearance."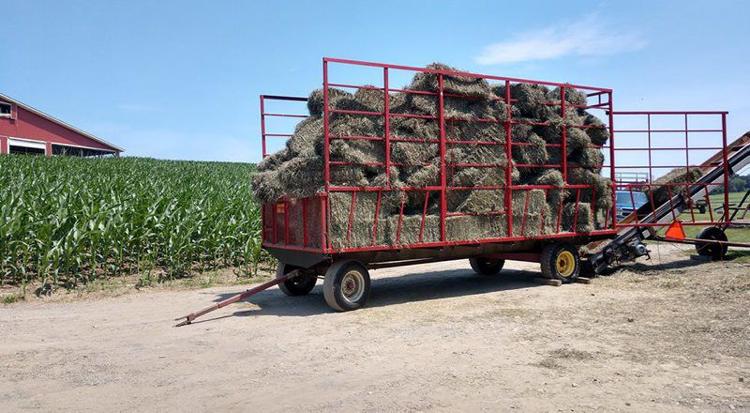 Even before the hay is cut, Bloss is cognizant of the fine details needed to win at the hay show. Cutting height is key, he said, adding that higher is better, because it reduces ash levels in the hay, allows air to get under the windrow to aid in drying, and keeps the forage a bit elevated, making it easier to ted and rake.
But, for someone who makes several thousand bales of dry grass and mixed alfalfa hay each year, how does Bloss keep track of where his hay show bales are stored once it's all stacked in the barn?
"Sometimes, I put the bales within the stack and just remember where they are, or I'll put them separately in the overhead where it's out of the light," he said.
While Bloss has fared well at the hay show, his home county of Luzerne isn't a stronghold when it comes to racking up the awards. The bulk of the quality entries, he said, come from places like Perry and Northampton counties.
The northeast part of Pennsylvania doesn't have many entries — aside from Bloss and a few others — partly because of the declining dairy industry. Dairy farms typically put up a lot of baleage, Bloss said, and that affords the option of removing fields of lesser quality and simply getting the first cutting off in a timely manner.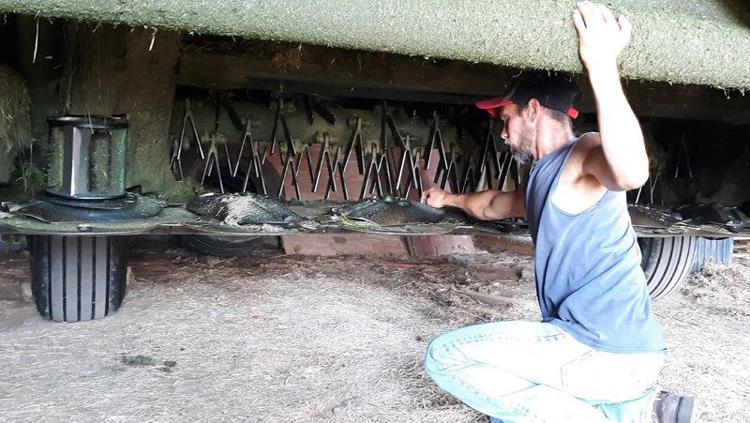 "Baleage helps you produce quality dry hay because you can pick and choose your fields, and also shorten your intervals between cuttings," he said.
While he used to enter first cutting bales and straight alfalfa, Bloss primarily submits entries for the later-cutting grass and alfalfa-grass mix. The wet weather that has persisted for two years has made it difficult to raise straight alfalfa, and first cutting usually goes for baleage.
Aside from the competition, Bloss said, the hay show provides other benefits.
The educational component is big, he said, for both producers and hay buyers.
"It allows people to see the differences in maturity levels and how it tests, and it helps to put a dollar value on quality hay, so buyers know what they're getting out of it," Bloss said. "It helps to market your hay."
The show also helps to dispel a myth.
According to Bloss, there's always a strong demand for alfalfa because buyers naturally assume it contains the highest protein levels. But if one looks at some of the entries at the hay show, they'll see that grass hay can match, and even exceed the protein levels found in alfalfa.
"People don't quite realize what maturity does. You can give them all the first-cutting alfalfa, but that second-cutting grass can be better in quality and palatability," Bloss said. "People are dismissive of grass, but I'm starting to like it better, considering the issues that weather and deer damage present for alfalfa."
That's why it's no surprise that in a dark corner of the overhead inside his barn, Bloss has neatly stacked several bales of later-cutting grass. Sure, they'll benefit his milk cows or his hay customers, but a part of the bales might just end up sporting a ribbon this month at Ag Progress Days.