YORK, Pa. — Miller Plant Farm is a sea of red this month as Christmas poinsettias take center stage.
Fourth-generation owner Dave Miller expects to sell 7,000 poinsettia plants this holiday season.
Miller's selection ranges from 3-inch pots with a single flower up to 10-inch pots with five plants.
A medium-sized option — 6-inch pot, single plant — is the most popular, he said.
The 50-acre Miller farm has more than 20 greenhouses to start produce crops and flowers.
Miller, 65, grew up on the family farm and runs it today with his children and nephew.

Miller's mother, Betty, started selling poinsettias in the 1960s. She selected a new Norwegian variety called Annette Hegg, an important cultivar that helped usher in the bushy, many-flowered plant that is familiar today.
Wild poinsettias actually grow straight and treelike up to 10 feet tall. Plant breeders have labored for decades to make smaller varieties that produce more of the modified leaves, called bracts, that are often called the plant's flowers, according to an article by USDA researcher Ing-Ming Lee.
Those bracts are traditionally red, but that's not a given anymore.
"Today, we sell many varieties of the plant in colors from pink, white, yellow, cream and glitter as breeders continually experiment with new shades," Miller said.
California grower Paul Ecke Sr. popularized the poinsettia, native to Central America, as a U.S. Christmas icon in the early 1900s.
When Ecke died in 1991, his company provided more than 90% of the world's poinsettia stock plants, according to the Los Angeles Times.
Miller starts his poinsettias from rooted cuttings grown in foam Oasis cubes. The plants sold at 10 inches are started as early as July.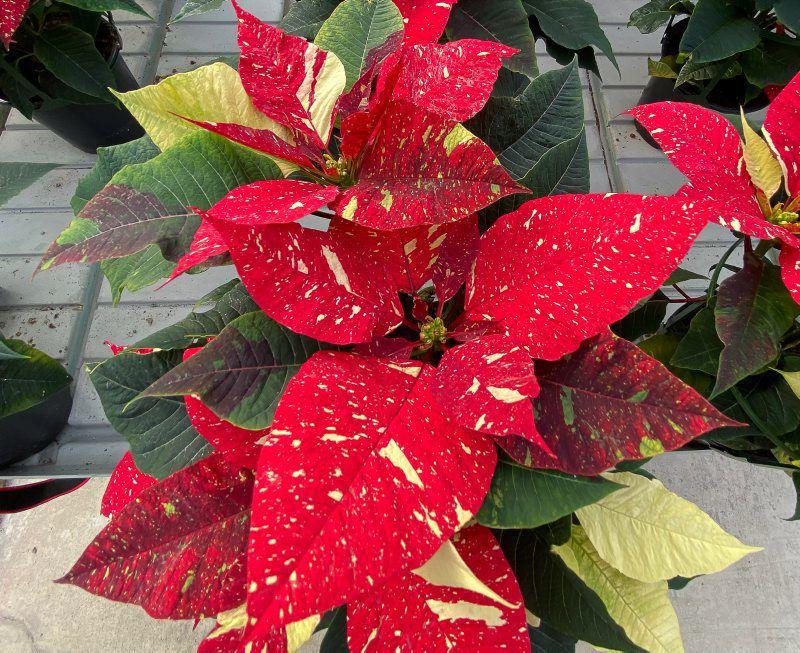 Local churches and nonprofits are key December markets for greenhouses because those groups often run poinsettia fundraisers.
This is also a good time of year for marketing events at farm stores.
The Millers held a children's pajama story time right after Thanksgiving and had a standing-room-only morning with Santa — and a live reindeer — the first weekend in December.
"It brings people to our farm from all over," said Christy Miller, who handles much of the farm's marketing.
Big-box stores with low prices command a huge chunk of the ornamental plant market, but Miller said retail farmers have another selling point.
"We and other family farms grow hearty, quality plants," he said.
Aggressive marketing is key to competing. Miller Plant Farm has an information-rich website, special events for adults and children, and a social media presence.
"This business is a lot different from when my great grandfather started it a 100 years ago," Miller said.
Dustyn Miller, a fifth-generation farmer and Christy's husband, is one of the family members who runs the poinsettia greenhouses.
One of customers' most common questions is how to get a poinsettia to bloom in its second year.
It's possible but labor intensive, Dustyn said. The plants need complete darkness during the evening and overnight.
He advises customers to recycle the plant after the leaves fall off in the new year and buy a new poinsettia next Christmas.