MOUNT JOY, Pa. — Jeff Graybill disappeared into a cornfield with some stakes and a measuring line.
He came back with a handful of stout, healthy-looking ears, and started husking.
With the bright yellow kernels exposed, Graybill set to counting — the number of rows around the cob, the number of kernels in a row.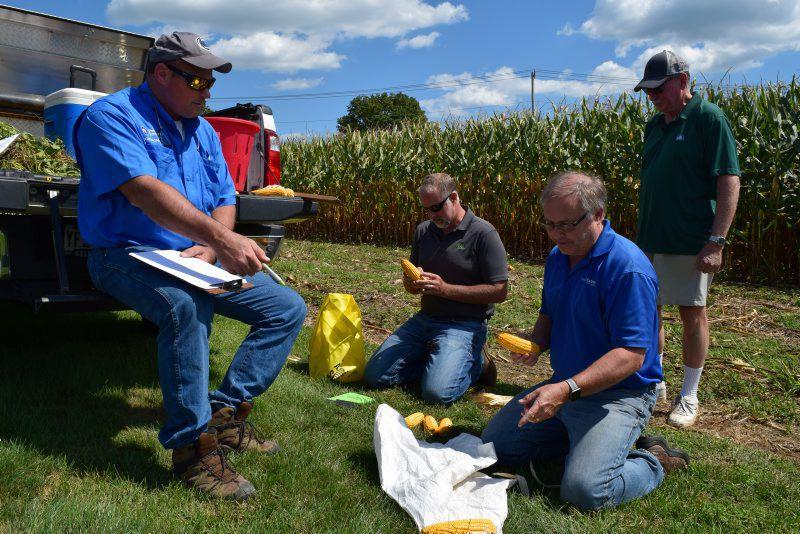 He reported each figure to fellow Penn State Extension educator Del Voight, the man with the clipboard and the sunglasses.
Around them, about 10 other people were doing the same thing — staking, husking, counting — to estimate yield potential at the Shearer farm in western Lancaster County.
And across the state, at 110 other fields, Extension and industry personnel on Aug. 29 were trying to answer the same simple question.
How are Pennsylvania's field crops looking as harvest approaches?
The answer, at the Shearers' place and in most corners of the state, is pretty good.
"We saw a lot of consistency across the state in terms of maturity," said Zach Larson, the Extension educator who organized the tour, now in its second year.
Educators planned and led the tour routes that wound through 26 Pennsylvania counties. Crop consultants, seed reps and some farmers joined the caravan.
Except for some sites in the northern tier, the corn was pretty much all in the dough or dent stage.
A lot of cornfields had good plant populations, and ear tips were filled out. Soybeans often had many pods per plant.
A few areas had been a little dry during pollination, and sites in Beaver, Franklin and Schuylkill counties showed some drought stress.
In corn, disease pressure, especially from gray leaf spot, seemed lighter than last year in corn. Not much northern corn leaf blight was found, but it could show up in the coming weeks.
Foxtail, the most common weed, was particularly prevalent in wet, sparse corners.
In soybeans, white mold and frogeye leaf spot were two of the most common problems. Disease pressure was similar to last year.
Perhaps the strangest cornfield had many malformed ears, which was attributed to an issue with a fungicide surfactant, Larson said.
While most tour sites racked up higher-than-average growing degree days this year, the fields got relatively few extremely hot days — low 90s in the north, upper 90s in the south.
Nitrogen deficiency was seen in some parts of the state, especially wet areas.
In those places, sidedressing or split nitrogen applications could have conserved nutrients for the crop, Larson said.
Larson made a loop through Blair, Bedford and Somerset counties. The region had good weather this spring, with some people saying they had finished planting as early as ever in recent years.
The robust crops reflected their good start.
He saw one field with bird damage to the corn ears, which was probably a localized occurrence.
In various places, yield losses from deer and bears were recorded.
The average estimated corn yields, in bushels per acre, were: southeast, 185; west, 180; central, 170; and north, 160.
Larson is still searching for a suitable soybean yield estimating technique. The procedures used this year and last have both produced unlikely numbers.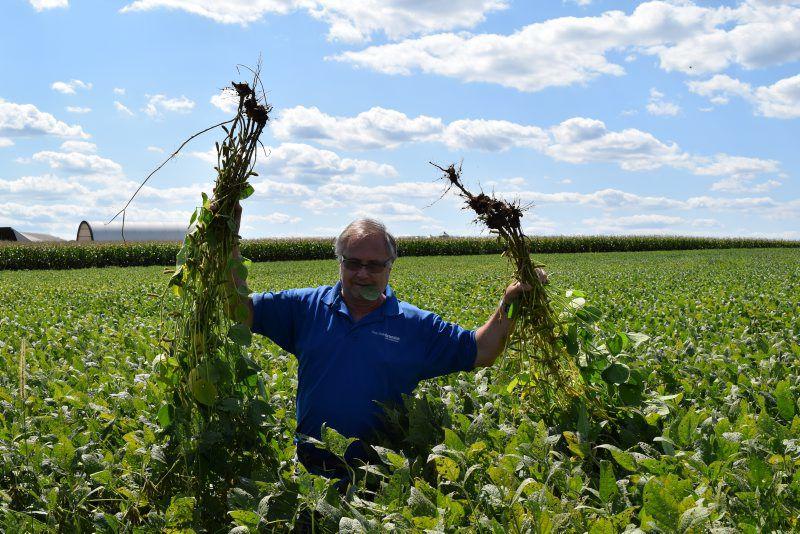 At the Shearers' soybean field along a busy two-lane road, Voight calculated an average soybean yield estimate of almost 98 bushels — which would top last year's state champion yield — and one plot as high as 111.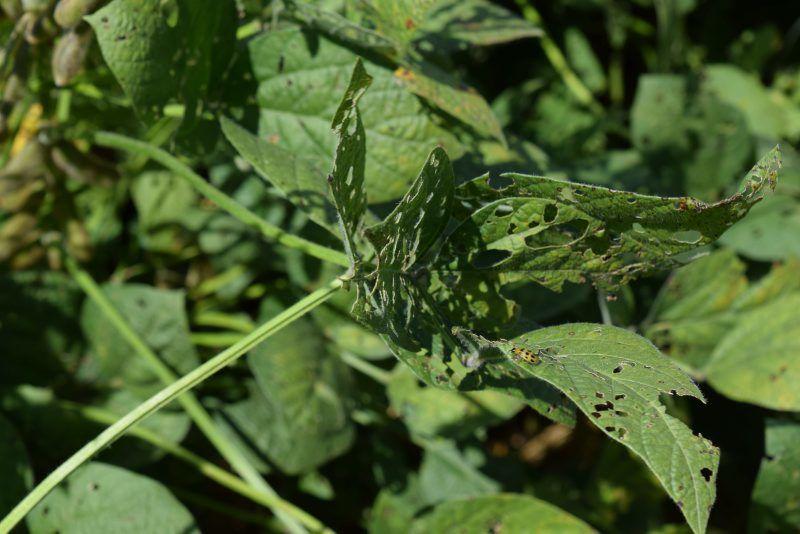 The tour offers a useful snapshot of various fields across the state, but the calculations were not conducted with the statistical rigor of USDA estimates.
As such, the tour data are not meant to predict statewide or individual farm yields, and farmers shouldn't make marketing decisions based on the numbers.
"We looked at a small picture at the end of the day," Larson said.
And as last year's tour proved, a lot can change in the final month or two before harvest.
Crops looked pretty good on that end-of-August tour, but about half of the days over the next six weeks were rainy. That led to ear rots and other issues, Larson said.
If this fall brings more average weather, though, many farmers seem well positioned for a good harvest.
The tour was sponsored by the Pennsylvania Corn Growers Association and the Pennsylvania Soybean Board.