HARRISBURG, Pa. — Regan Jackson almost skipped the All-American Dairy Show.
Jackson, of Boyce, Virginia, was prepared to take her Jersey heifer calf, WF Golddust Lindsay, which she had been practicing with since the winter.
When Jackson arrived at the barn on the morning of Aug. 6 to get Lindsay ready for the Virginia State Youth Dairy Show in Harrisonburg, Lindsay wasn't her perky self.
As the show wore on, Jackson could tell that Lindsay's condition was becoming more serious. Despite the illness, Jackson and Lindsay won supreme junior champion.
After consulting three veterinarians, Jackson and her family sent Lindsay for surgery at the University of Pennsylvania's New Bolton Center Hospital in Kennett Square.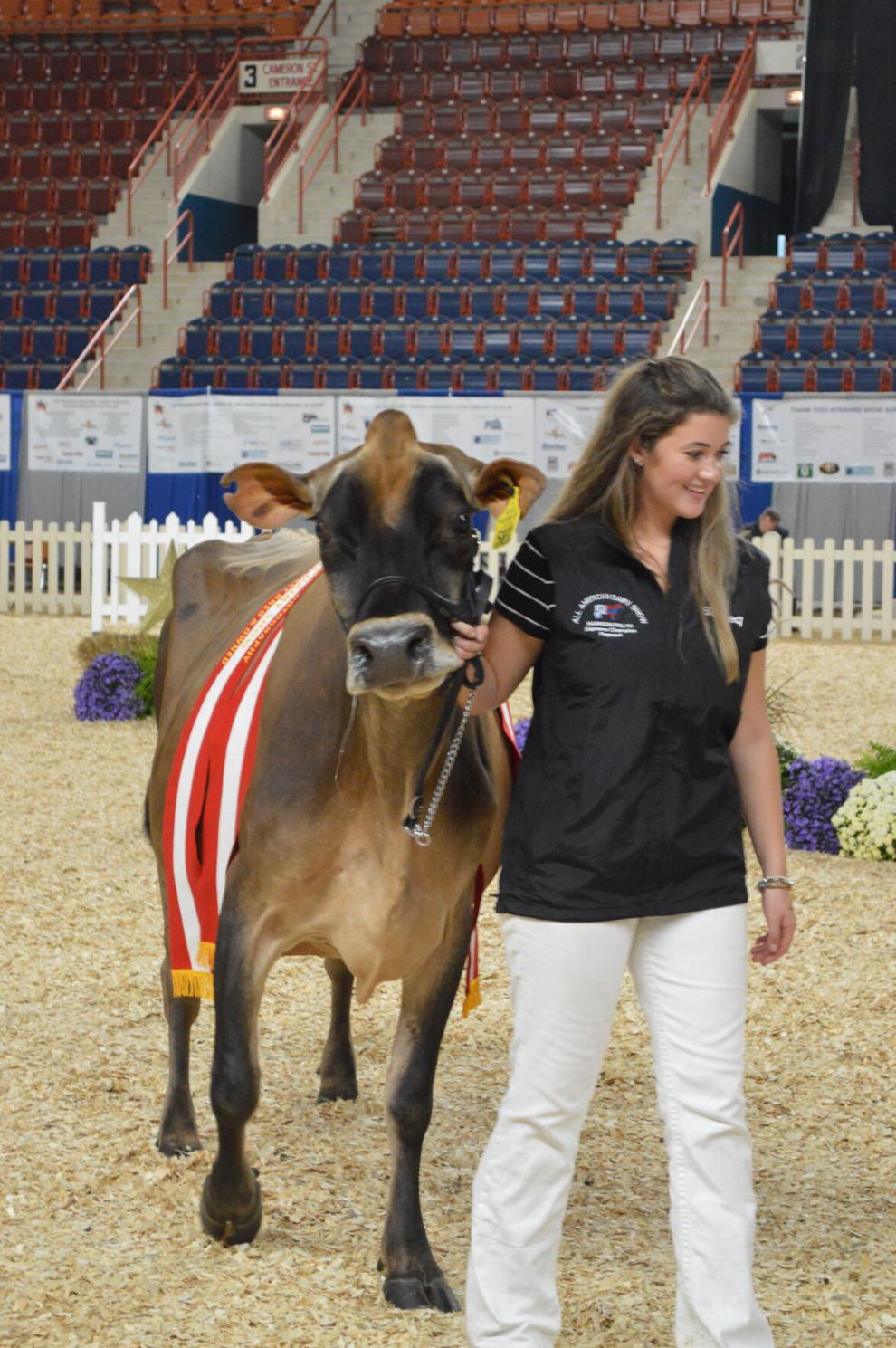 And 24 hours later, Jackson received a phone call with sad news. Lindsay had intussusception, a gut blockage. Veterinarians can usually untangle the intestines, but Lindsay's blockage had cut off blood flow, causing further injury.
Jackson, 17, had to make the decision to put Lindsay down.
"I cried for two days," she said. "I was beyond devastated. With some animals you just have a special bond with, and Lindsay was that one for me."
After that, Jackson lost her desire to show cattle.
"I admit, I was defeated. I didn't want to go to the county fair, and I didn't know who the heck I would have to show at All-American and in Louisville," she said.
To add to the stress, Jackson's grandparents are leaving the dairy business. Jackson had kept her cows at Waverly Farm and will only be able to rehome some of them with her relatives Claire and Justin Burdette at Windy Knoll Farm in Mercersburg, Pennsylvania.
One of those lucky cows was WF Valentino Lokie, whose pedigree goes back to Jackson's first cow, WF Apollo Lola, which was given to Jackson on her second birthday by her grandparents Mike and Priscilla Stiles.
Jackson had never shown Lokie before because she calved too late for fall shows. So when Lokie calved 48 days before All-American, Jackson rediscovered her passion to show.
"I love showing at All-American, and I was excited to do that again with Lokie," she said.
A Second Chance
It wasn't easy getting the 5-year-old cow ready to compete at a national show, but it was the challenge Jackson needed.
"She's one of those cows that doesn't love people. She would rather be alone, so she was very difficult to halter break," Jackson said. "It took a lot of time and strength. She's powerful."
Jackson spent two weeks at the halter, getting the big-bodied, caramel-toned cow ready for her moment in the spotlight.
The effort paid off.
Out of 1,300 cows, Lokie swept up several awards at All-American on Sept. 21 and 22, including junior grand champion Jersey cow and supreme champion best bred and owned.
After the judges announced the supreme champion award, Jackson stood speechless on the tanbark of the Pennsylvania Farm Show Complex's Large Arena and embraced her mother, Laura.
"We didn't expect any of this," Laura said, holding back tears. "We are glad to be (at All-American) and have something good enough to show. This is beyond what any of us expected."
For all the joy, the moment was bittersweet for Jackson.
"I'm still a little heart broken over Lindsay and I promise you, that's why I had tears," she said. "It was like God was telling me it was all going to be OK."
Jackson plans on working more with Lokie for next month's North American International Livestock Exposition in Louisville, Kentucky.
"I love her to pieces," Jackson said. "I plan on trying to wear her down and love her as much as I can."
Supreme cow at All-American went to Macland HF Yoder Rachal-ET, owned by Adam Liddle of Liddle Farms in Argyle, New York.
The Holstein's wide chest, moderate size, and good udder and foot structure are the traits that Liddle likes the most on his cow.
"She's an easy keeper. She takes good care of herself," he said.
Liddle said that he purchased Rachal from James McFarland of Minnesota last July. Rachal has also won reserve champion at the New York State Dairy Show.
"We like high-type functional cows and that's what supreme is so, it's a nice promotion," Liddle said. "It also makes you feel good for all the long hours you've put in."