Brandon Crouser and Lou Schellenberg are both passionate about being outdoors, and about the environment, and about protecting streams, and about keeping Lancaster County's fertile soils from washing into the county's 1,400 miles of waterways, half of which are impaired in one way or another.
Both are conservation activists who have recently joined the Lancaster County Riparian Ranger program, which is part of the Alliance for the Chesapeake Bay.
While they have much in common, Crouser and Schellenberg are distinctly different outdoorsy individuals. Schellenberg is an artist of considerable note. She retired a few years ago after two decades as an art professor at Elizabethtown College. But she continues to paint, much of it "en plein air," which is French for "in the open air."
As a plein air artist, she lugs her easel to a carefully chosen spot along with her paints, her brushes, her chair, her lunch, her water bottle and — we imagine — a broad-brimmed hat and an umbrella, just in case. Then she paints what she sees before her. Her art has been exhibited in galleries in the U.S. and Canada. She is represented by Lancaster Galleries, which has a number of her works on exhibit. Her most viewed painting will almost certainly be a seaside scene that graces the cover of the 2021 summer issue of the L.L. Bean catalog, which prints millions of copies.
At 40, Brandon Crouser is far from retired, and has spent most of his time outdoors just poking around and looking for trout. By day, he is an avid fly fisherman, amateur naturalist, planter of trees and an encyclopedia-in-the-making of everything outdoors. By night, Crouser mixes feed on the third shift for Wenger Feeds at its Rheems plant in Lancaster County. His feed portfolio includes chicken feed, hog feed, horse feed, and other specialty feeds. Everything but dairy rations, which are formulated at other Wenger plants.
Crouser's day job is all volunteer work, much of it for the Donegal Fish and Conservation Association, which he serves as secretary. The DFCA works with farmers and other landowners in the 1,400-square-mile Donegal Creek watershed in the northwest corner of Lancaster County.
Crouser and Schellenberg were both members of a volunteer land steward training program offered by the Lancaster Conservancy in pre-pandemic February and March of 2020. The course consisted of five weekly three-hour sessions devoted to close-to-home subjects like rain gardens and backyard habitat, and farther afield projects like riparian buffers.
At one of the sessions, they met with Ryan Davis, who is the Pennsylvania forests projects manager for the Alliance for the Chesapeake Bay. Davis was recruiting for his Riparian Ranger project, and Crouser and Schellenberg signed up.
Rangers Help Maintain Buffer
Their introduction to ranger work took place on a Tuesday morning in May of this year, when they met up with Davis and Rebecca Lauver. Lauver graduated in May of 2020 with a biology degree from Messiah College and is now an intern with the Alliance. Part of her job is to coordinate the Rangers.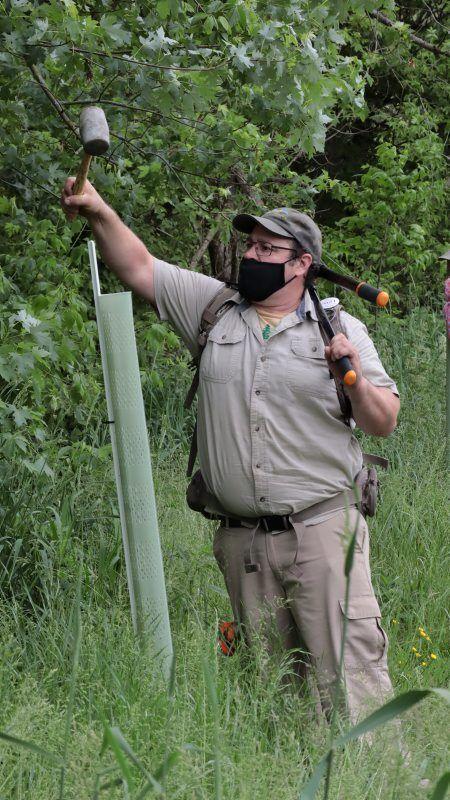 The four met at Brilyn Acres, a 90-acre family farm near Akron, Lancaster County. The owners, Brian and Lynette Sauder, produce beef, pork and poultry products that are sold at local farmers markets. In the spring of this year, a volunteer crew led by Davis planted 700 trees along the banks of the Cocalico Creek, The plantings stretched from the western end of the Sauder property to its eastern border, about half a mile of Cocalico frontage and occupying about 6 acres of what had been used to graze the farm's Angus herd.
A few days after the plantings, a contractor installed fencing to keep the cattle from roaming through the buffer. 
But that was nowhere near the end of the story, because nature will have her way with land that isn't grazed, cropped or mowed. The Rangers' job is to keep nature in check until the buffer trees are growing, leafing out and developing a canopy.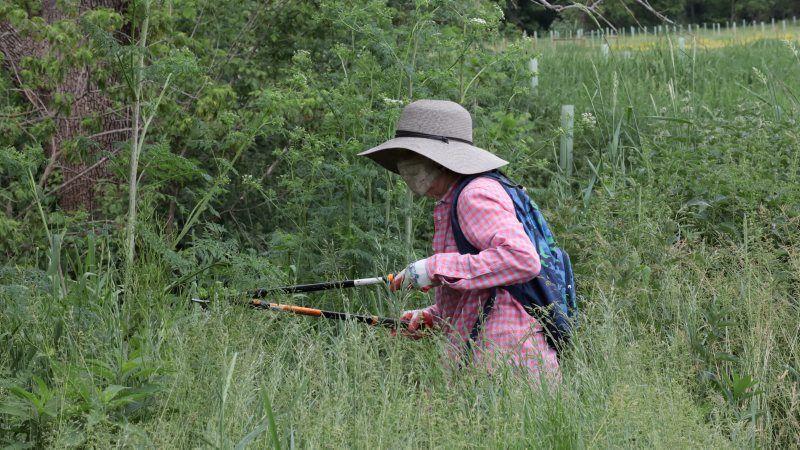 Managing a 6-acre forest-in-the-making is a chore for any working farm, especially one with a labor force of two, and even more so when one of the two, Brian, works off the farm in the parts department of a nearby farm equipment dealer.
The Sauders signed an agreement with the Alliance that says they will grow and maintain their buffer for 25 years. Part of the agreement stipulates, however, that the Alliance will maintain their buffer for the first three years after it's planted. Which is where the volunteer Rangers come in.
Schellenberg and Crouser worked side by side with Davis and Lauver. They checked to make sure the tree tubes and stakes protecting the seedlings were intact and in place. They made sure there were no weeds growing up through the tubes, competing with the young trees for nutrients. They looked for invasive species, like garlic mustard, hemlock, ailanthus and multiflora rose. They found a lot of poison hemlock and attacked it aggressively.
Crouser and Schellenberg said they will return about once a month or so to check the tubes, the stakes and the general progress of the site.
A Growing Team
Maintenance wasn't a priority two decades ago when buffers were gaining acceptance as part of conservation planning. That has changed, according to Davis, and he offered as proof the popularity of the Riparian Ranger program, which he initiated in Pennsylvania two years ago.
"It has grown immensely since 2019!" he said in an email. "We're still a small team, but we were even smaller then. I created and ran the program alone, while also running my other programs alone. So those early Riparian Rangers had much less communication with us than they do now, and the program didn't have much structure either.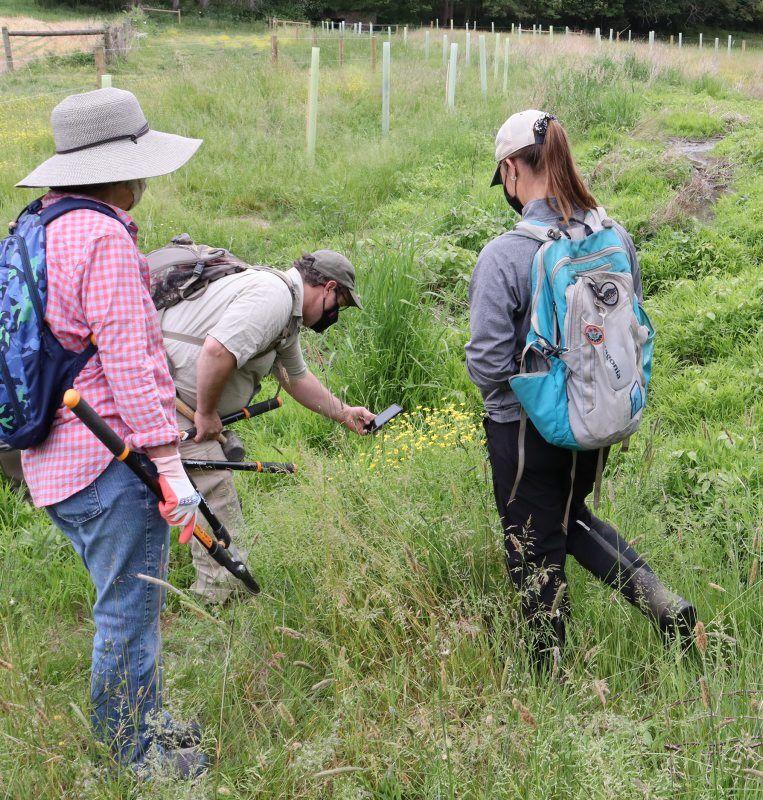 "We also didn't have any funds to put towards the program, so we weren't able to provide tools or other resources. The entire time we've dreamed of growing the program, and now that we have the people power and a tiny bit of funding, that's coming to fruition!"
Lauver works closely with Davis and Jim Kauffman, another Alliance staffer, but she has picked up much of the added workload that's come with the growth of the program. She said she now coordinates Riparian Ranger work groups in a branch that includes Franklin, Adams, Cumberland, York, Lebanon, Lancaster and Chester counties.
A recently added branch in Juniata County is led by Mindy Musser, the Juniata County Conservation District watershed specialist.
In all, Lauver said, they have 51 rangers in the original seven counties and six more in Juniata. There are 55 landowners with 55 buffer sites being tended to by Riparian Rangers, and the Alliance is looking for both more sites and more rangers.
Lauver can be reached at allianceforthebay.org, or by regular mail at Alliance for the Chesapeake Bay, 37 E. Orange St., Suite 302, Lancaster PA 17602.