Butchers are key to local meat production, but for some livestock producers, local processing remains a bit of a stretch.
Farmers from southern Maryland often truck their animals three to five hours to get them processed, sometimes in other states.
Then, when the meat's ready, they have to go back and pick it up.
It's a problem that farmers in this region, hemmed in by Baltimore, Washington and the Chesapeake Bay, have faced for at least 20 years.
"New facilities just don't come around very often," said Craig Sewell, marketing and livestock specialist at the Southern Maryland Agricultural Development Commission.
Across the country, small farmers complain about a shortage of meat processing capacity and long waits for dates at existing butcher shops.
Meanwhile, meat processors face high costs and have difficulty finding workers.
But throughout the Northeast — in southern Maryland, Pennsylvania, New York and New England — a handful of processors are opening or expanding.
It's an encouraging development for farmers seeking a slice of the local-food market.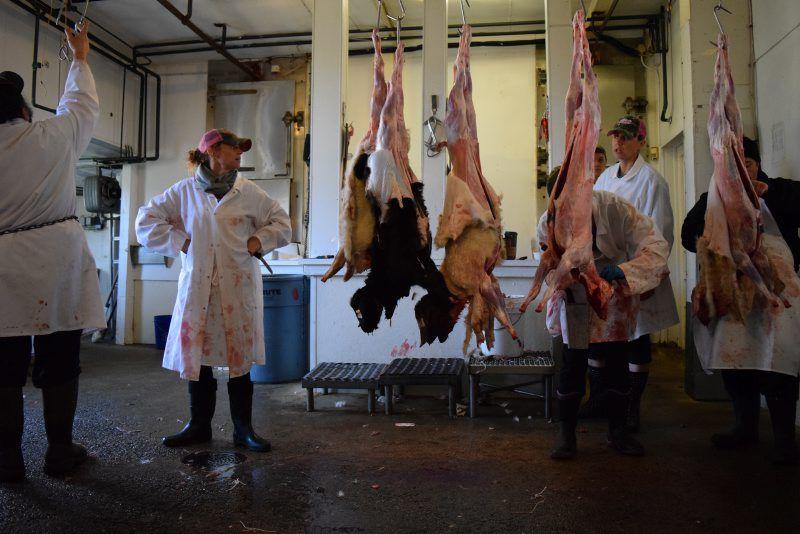 Roots of the Problem
Part of the challenge for small farmers is that not every meat processor will suit their needs.
To produce meat that can be sold, processors must be USDA inspected. That means there's a federal employee on site who inspects every animal before and after slaughter.
Many of the large USDA-inspected plants are operated by the likes of Cargill and Tyson Foods to fill their own supply chains.
It's the smaller federally inspected butcher shops that process meat for direct-marketing farmers.
Between 1990 and 2016, the number of federally inspected establishments fell by a third, to 800 nationwide, according to the Niche Meat Processor Assistance Network.
Many of the businesses that process deer for hunters are not federally inspected, though they are still periodically inspected by relevant agencies.
The meat these "custom-exempt" shops process is for the animal owner's personal use only, though farmers have found a loophole.
The producer can sell a customer a live animal or a share of it, and the customer, now the owner of the animal, can provide the cutting instructions to the processor.
Of course, that roundabout approach doesn't help farmers hoping to sell individual cuts at a farmers market.
For that, USDA-inspected processing is essential.
And as demand for that class of processing has grown, farmers have sometimes had difficulty booking a slaughter date, especially during the peak fall season.
An unexpected delay can push an animal past its target weight, increasing feed costs and possibly losing the farm a marketing opportunity.
"All local USDA-inspected processors seem to be booked about a year out. It takes a lot of planning to organize the butchering schedules," said Melanie Noss of Goose Lane Egg Farm in Gouglersville, Pennsylvania.
Noss gets her beef and pork processed at two butcher shops — one that is 30 minutes away, the other 90 minutes.
She processes the chickens on her farm under an exemption for small poultry producers.
But getting slammed with business doesn't mean small processors are necessarily rolling in money.
Plant equipment and regulatory paperwork can be costly, and compared to the big packers, small butcher shops must spread their costs across relatively few animals.
And while large processors make much of their revenue on animal byproducts — hides, livers and tongues popular on the export market, glands used in medicine — small-scale processors often don't have the volume of byproducts to tap into those markets, according to a 2011 study from USDA's Economic Research Service.
To be profitable, a small processor offering just basic services needs to process about 450 cattle a year, or their equivalent in other animals.
Processing poultry for small farmers is especially challenging. Production is highly seasonal, and because the birds grow so quickly, scheduling is not very flexible.
It can take 170 birds to equal the revenue from one beef animal, according to a 2013 USDA study.
The researchers found that processors can benefit from having anchor customers who provide regular volume.
The 62 federally inspected red meat plants in New York and New England serve an average of 170 producers, according a report released last month by Cornell and Tufts universities.
But the biggest challenge small butcher shops face?
"Trying to compete with a lot of easier jobs," said Jay Young, who has seven full-time employees at Rising Spring Meat Co. in Spring Mills, Pennsylvania.
Meat processors often have difficulty finding and retaining quality staff thanks to grisly working conditions, the seasonality of the work, and relatively low pay.
Workers in meat plants earn an average of $13.68 per hour, slightly less than janitors, according to the Bureau of Labor Statistics.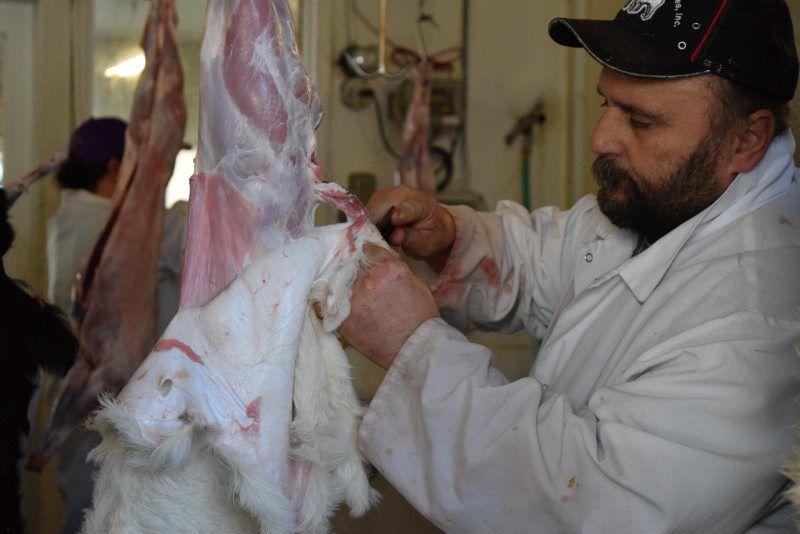 Taking the Initiative
But small farmers still need meat processors, and demand for new slaughter plants can be especially strong when producers have to travel long distances to find the nearest meat cutter.
In New Jersey, which has zero USDA-inspected niche processors, some 75 people turned out for a meeting in January to discuss remedying that situation.
The state Ag Department is still weighing its next steps, spokesman Jeff Wolfe said.
Pennsylvania officials are trying to grow meat processing capacity around Pittsburgh, where there are fewer than a dozen federally inspected plants in a six- to eight-county area.
The PA Farm Bill, a $24 million proposal from Gov. Tom Wolf, includes $500,000 to develop livestock slaughter capacity.
That should help 10 to 20 existing butcher shops step up to USDA-inspected processing, said Scott Sheely, special assistant for workforce development at the Pennsylvania Ag Department.
Processors would get expert assistance in writing their hazard analysis and critical control points, or HACCP, plan, which spells out food safety protocols and practices for humane treatment of animals.
The paperwork for the plan is about 3 inches thick.
"You can easily run into tens of thousands of dollars to get that accomplished," Sheely said.
The funding might also help butchers upgrade their equipment to USDA standards.
The state consider butchering an in-demand ag job, and Sheely thinks often about how to get people the knife training they need.
The only high school meat cutting program he knows of in the state is closing this year because of a teacher's retirement.
"Right now most people are training their own folks," Sheely said.
Kelsie Odhner likes the idea of funding for local meat processors.
Odhner, who runs Maiden Creek Beef in Lenhartsville, Pennsylvania, thinks small processors treat animals more humanely than large plants do.
And if there were more processors, maybe processing would be cheaper, she said.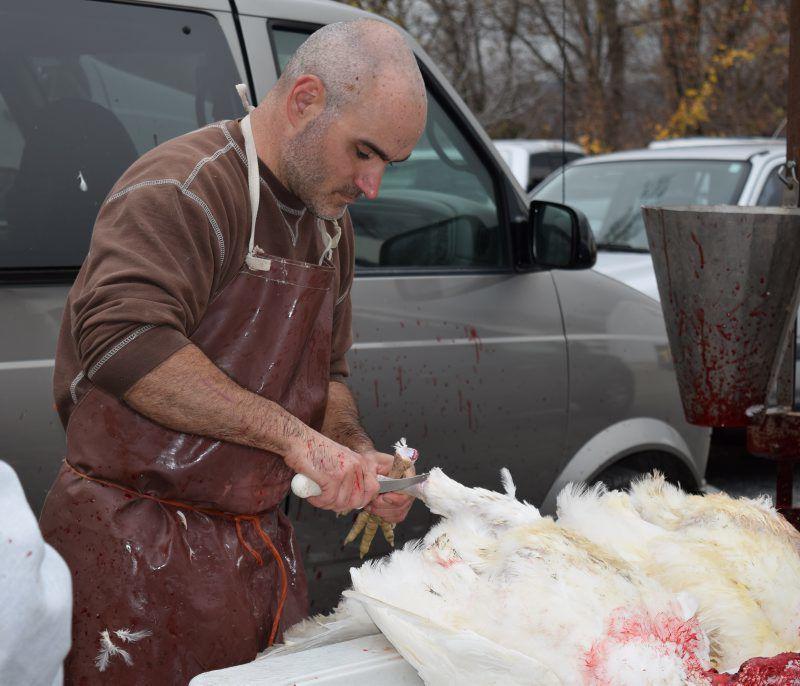 Some Are Starting
Indeed, saving farmers money is a key goal of Meatworks, a nonprofit processor that opened last September outside Fall River, Massachusetts.
The shop estimates it saves farmers $150 to $300 per head in transportation costs, according to a grant performance report filed with USDA.
The business, whose board president didn't return a request for comment, primarily serves farmers in southeastern Massachusetts, Rhode Island and eastern Connecticut.
Since the last local slaughterhouse closed in 2007, farmers had been hauling animals as far as Maine to get them processed, The Fall River Herald News reported.
In its first month of operation, Meatworks served 42 farms, butchering 55 pigs, 33 cattle, 15 lambs and a veal calf.
In southern Maryland, Sewell's group had a rocky start. Its first two rounds of proposal requests yielded no qualified applicants.
Now, though, the region is getting close to having its first local meat processor in a generation.
Amish farmers who have long done custom-exempt processing for home use are building a new slaughterhouse in St. Mary's County and are just about to apply for a grant of inspection.
New meat plants are unusual enough, but this one will be especially so.
Because the Amish generally avoid electricity, the facility will be run by diesel, gas and pneumatics. The paperwork will all be done by hand, a prodigious undertaking, Sewell said.
He expects the plant will be busy when it opens, though it will only do the slaughter part of the processing.
The rest of the work — turning the carcasses into steaks and sausages — will be the centerpiece of the regional ag center that will soon be built.
The center will also include a certified kitchen, instructional kitchen and frozen meat locker.
On top of all that, Sewell is working with another group of farmers to upgrade their custom-exempt poultry processing facility to USDA inspection, an effort that will stretch into next year.
Throughout the search for new processors, zoning issues and neighbor concerns have made site selection a challenge.
"No one, as far as I can see, is excited about having a slaughter facility in their backyard," Sewell said.
Growing Existing Processors
Compared to Fall River and southern Maryland, the Finger Lakes region of New York has a different challenge.
Over the past few years, new processors have opened and custom-exempt processors have become federally inspected.
A farmer can now find nine or so USDA processors within a two-hour drive, said Matt LeRoux, an ag marketing specialist at Cornell Cooperative Extension.
What the area needs now, LeRoux believes, is not necessarily more slaughterhouses. It's expanded capacity — cooler space, skilled staff, maybe more technology — at the businesses they have.
As butcher shops have gotten overwhelmed with business, some have decided to focus on beef cattle and hogs — the livestock most profitable for them.
Some lamb producers have found themselves turned away or offered prohibitively expensive prices.
"Our existing plants could process more if they had some assistance," LeRoux said.
A Vermont local-food task force came to a similar conclusion few years ago.
Some of the growth in existing shops could come from farmers and processors working better together.
While slaughterhouses are often swamped in the fall, farmers could have an easier time getting a delivery date — and give processors some much-needed business — during the spring slow season.
And a farmer selling quarters and halves of steers might not want to hand the customer a blank cut sheet and tell the person to sort out what they want with the butcher.
Instead, the farmer could offer a few templates tailored to the needs of large families, young couples or empty nesters. The customer would simply pick one to give to the butcher, LeRoux said.
Young, the Pennsylvania butcher, has carved out a few niches for his shop.
About half of the animals he processes are organic, and though he doesn't handle chickens, he plans to process ostriches in the future for two customers.
He has also been working on serving the Chinese residents of State College.
Many of them travel to New York or New Jersey to buy meat that is cut to be handled with chopsticks, he said.
Though meat processing is short on glamour and long on challenges, Young chose this line of work because he believes in it.
"Slaughterhouses conserve the agricultural community," he said. "If we don't answer that call, that's a missed agricultural opportunity."
Courtney Love contributed reporting.