LEBANON, Pa. — The annual dairy show is one of the centerpiece events at the Lebanon Area Fair.
Widely known for its high-quality dairy animals, this exhibition has been held through the years in spite of oppressive heat and humidity, mud bog-producing torrential rains, and fairground-clearing severe thunderstorm and tornado warnings.
"The show must go on" has always been the response to these challenges, even during the unprecedented year of COVID-19, albeit in a decidedly different manner.
Instead of a full showcasing of the area's best bovines, this year's edition of the fair was limited to youth participants only. Nevertheless, there was still plenty of dairy delightfulness to be admired.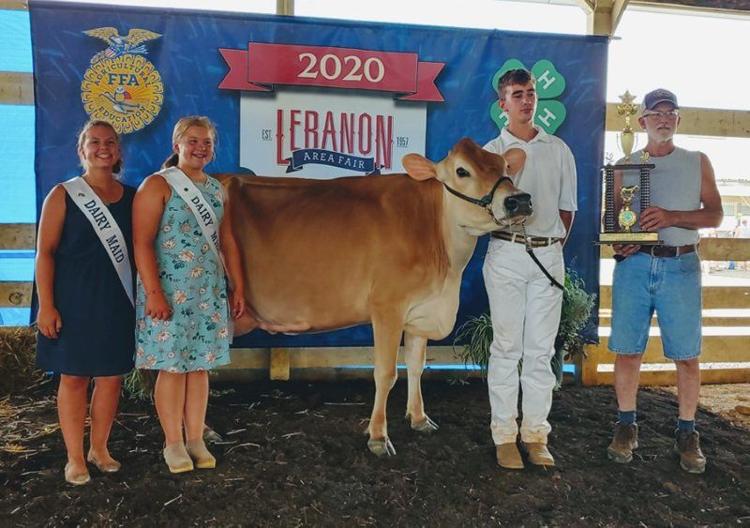 Scrubbing the open dairy show significantly reduced the total number of animals competing, but at the same time put the spotlight squarely onto dairying's future — 4-H and FFA youth and their animals.
In addition to the pristine white outfits participants wore into the show ring, this year's mandatory show wear included face masks. The heifers and cows also gained a little extra room in the ring due to social distancing requirements for their exhibitors.
This year's heifer and cow count of 112 animals represented only about half the usual turnout for youth showing their dairy cattle, so the 2020 show proceeded at a relatively fast and furious pace. With eight breeds being exhibited in 53 classes, the show, which started at 9 a.m., was ready to announce its top awards by shortly after 11.
Typically, this event is held inside the Lebanon Valley Expo Center's spacious Senator Brightbill Arena in front of a large audience. However, in keeping with the coronavirus recommendations, this year's youth-only dairy show was conducted in the open air under the shelter of the expo center's pole barn #3. Penning for the animals being exhibited was provided in adjacent pole barns #1 and #2, with animals leaving the fairground as soon as the event ended.
Longtime dairy show announcer Harry Bachman welcomed the small onsite audience, which was limited to exhibitors' parents and siblings. He also extended greetings to those watching at home on the livestreaming link set up on the fair's Facebook page.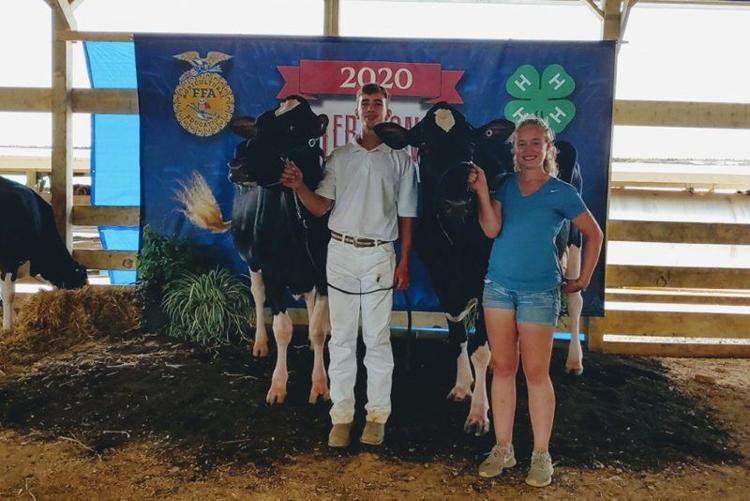 Judges, who volunteered their services, were Jim Younker of Kirbyville Holsteins and Brent Schuler of Schuler Farms, both from Berks County.
After all the individual breed shows were concluded, the junior best of breed winners were called back into the ring for the judges to review one more time. These included the following junior breed grand champions:
Ayrshire: Evelyn Maulfair of Jonestown; Brown Swiss: Aleah Copenhaver of Lebanon; Guernsey: Chase Weber of Lebanon; Holstein: Ella Hlavaty of Lititz; Jersey: Leah Roop of Lebanon; Lineback: Landen Copenhaver of Lebanon; Milking Shorthorn: Millena Bashore of Annville; and Red and White: Georgia Sellers of Lebanon.
Younker told the audience that this was a "really high-quality heifer show" and "parents can be proud of your youngsters and these animals." He offered a brief critique of each heifer, emphasizing the positives and offering words of encouragement.
In the end, he gave the nod for the youth junior supreme champion title to Ms. Brook-Corner DB Diamonds, a Holstein born Sept. 22, 2019, shown by Ella Hlavaty.
"She just put it all together and showed herself off from the time she walked into the ring," Younker said in describing his top pick.
Ms. Brook-Corner DB Diamonds was sired by Mr. D Apple Diamondback out of Miss Doorman Diva.
Hlavaty, the 12-year-old daughter of Bryant and Holly Hlavaty, is a member of Lebanon County's NoSoAnn 4-H Dairy Club and is in her fourth year of dairy showing. She will be a seventh grader in the Warwick School District and enjoys horseback riding, playing violin and sewing with her grandmother.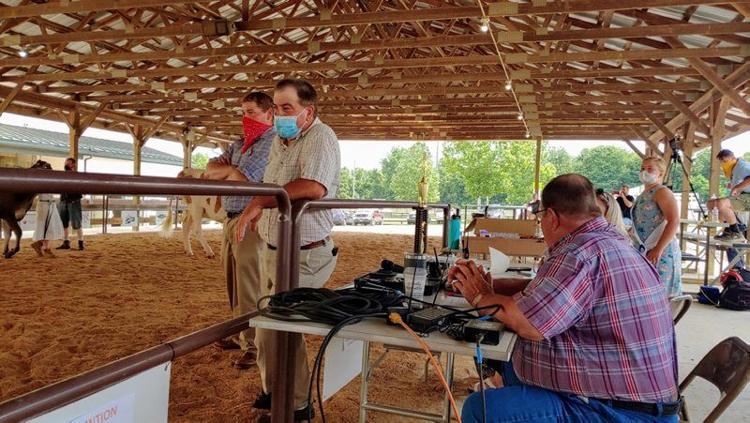 Anticipation built as the breed grand champions from the senior classes made their way to the center of pole barn #3's show ring. Facing the judges were:
Ayrshire: no senior entries; Brown Swiss: Austin Heilinger of Lebanon; Guernsey: no senior entries; Holstein: Hayden Weaver of Ephrata; Jersey: Hayden Weaver of Ephrata; Lineback: Kalli Schwenk of Annville; Milking Shorthorn: Millena Bashore of Annville; and Red and White: Melanie Showers of Fredericksburg.
For the second consecutive year, Weaver took home the youth supreme champion title, this time with his Jersey 3-year-old, SV Graystone Plus Leona, born Dec. 7, 2016. Sired by Sweetie Plus Iatolas Bold out of SV Graystone Premier Lushious, the winner of the supreme championship's Dale Maulfair Jr. Memorial Trophy was bred by Wayne Stiles and Steve Wagner. Leona was Hayden's first Jersey purchase, which he bought as a calf at Wagner's dispersal sale.
It was a triply good day for the 16-year-old junior at Cocalico High School because he also exhibited the show's junior grand champion Holstein and senior reserve grand champion Holstein. A member of the NoSoAnn 4-H Dairy Club, Weaver was especially proud to be the breeder of his 3-year-old Holstein grand champion, WSC Atlantic Icebreaker.
Weaver developed a special relationship with Atlantic Icebreaker while spending a lot of time with her after she was born with a fractured bone in her leg. A trip to New Bolton Center for veterinary care successfully resolved the problem with no residual ill effects.
In 2019, Weaver took youth supreme champion honors with his 5-year-old Holstein, Heart and Soul Armani Rachael, while older sister Madison won junior supreme champion with her Jersey heifer, Spatz Applejack Delightful.
With Madison now aged out of 4-H, this year she enjoyed assisting Hayden with his show preparations and making sure he was on time for his various show ring appearances. Ironically, due to COVID-19 cancellations, Hayden had not shown any of his dairy animals since last September's All-American Dairy Show.
Also as part of the Youth Dairy Show, Harper Sellers of Lebanon was announced as the recipient of the 2020 Lebanon Area Fair Scholarship.