THURMAN, N.Y. — Farming is difficult in the rugged, mountainous terrain of the Adirondacks where winter comes early each year. Noisy, large white turkeys are partially camouflaged as they battle for fresh pumpkin seeds scattered on snow that came on Halloween, and will likely still be there at Easter time.
Don Whitefield has worked hard to raise poultry the past 20 years while battling the elements and risks of doing business in a local economy that relies heavily on summer tourism in nearby Lake George.
A year ago, 2020 seemed to hold great promise for Whitefield. One of his biggest accounts, a well-known wedding venue, had numerous bookings and planned on needing at least 3,000 chicken breasts throughout the summer and autumn months. Then COVID-19 hit, restaurants and banquet halls closed their doors, and Whitefield's hopes for a successful season were shattered.
"I was looking forward to my best year ever, and then it just all fell apart," he said. "So I canceled the last two orders of chicks and found a guy who bought 100 live chickens. That was like the final straw. I'm cutting way back because next year could be the same."
Whitefield plans to scale back operations by two-thirds, and find part-time employment to supplement his income.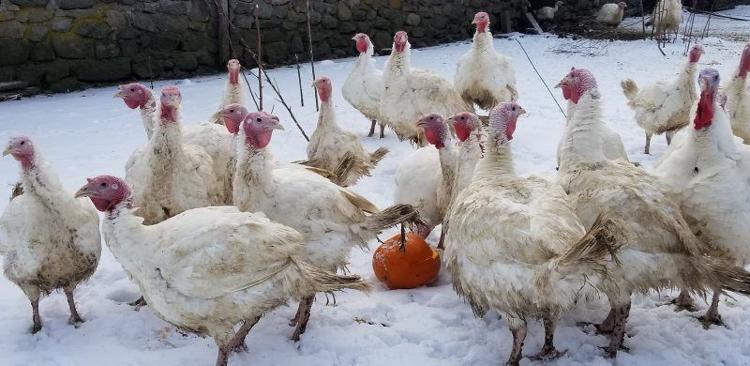 However, he's plenty busy this month. He still has more than 100 turkeys on hand, most of which will end up on Thanksgiving dinner tables on Nov. 26.
Beginning in May, he normally buys poults at three different times so that ideally there are enough small, medium and large birds to satisfy every customer.
"The first ones, those will be the monsters," Whitefield said. "The biggest one I ever had was 49 pounds. Most people want medium ones, but every year it's different. Now they want small ones."
Many restaurants have reopened with curbside service and limited sit-down dining, so some turkeys will go there. But the farm is also quite popular with area residents who prefer fresh, locally raised turkey over supermarket brands.
A New Jersey native, Whitefield spent summers in the Adirondacks as a youngster and decided to move there as soon as he turned 18. He and his wife, Michelle, who grew up locally, started raising as much of their own food as possible on their one-third acre property.
"We looked around at buying a farm somewhere," he said. "We went from Cherry Valley in central New York to New Hampshire. We even went up to Malone (near the Canadian border). For 15 minutes we almost became dairy farmers. We could have bought a 125-acre dairy farm for $80,000, but couldn't afford it."
That might have been the best thing they never did, considering hundreds of small dairy farms have gone out of the business the past few decades.
But the Whitefields' house was on land that was once part of the Sun Canyon Dude Ranch. In the years immediately after World War II, dude ranches were popular around Lake George, especially for returning servicemen.
The Whitefields jumped at a chance to buy a portion of the Sun Canyon property when the site went up for sale.
Turkeys stay warm and dry inside the former horse stable, a long, low-roofed stone building, but come outside to feed in the yard. They strip sunflowers bare, and when Whitefield tosses a pumpkin inside the fence, they rush to it and devour the seeds.
"That's what gives them the flavor, being outdoors, eating natural things, being in the sunshine and living longer," he said. "I like the hens better. They're shorter but fatter. They have more breast meat."
Early on, Whitefield also raised swine, but found it too difficult and focused strictly on poultry.
"They're a lot easier than pigs," Whitefield said. "Pigs pick up different diseases. You have to vaccinate them. That's tough to vaccinate a 350-pound angry sow. I could talk forever about all the different things you have to deal with, with pigs."
Previously, Whitefield raised chickens for their meat and eggs, which he sold by the caseload to restaurants and local summer residents.
In recent years, he has relied more heavily on restaurants for meat sales.
Normally, Whitefield would buy up to 1,600 baby chicks, in groups of 200, beginning in March, so there would always be some at the right size, ready for processing, throughout the year.
"I'd want the first ones to be big enough around Memorial Day when the restaurants start opening up," Whitefield said. "The main commercial breed is a Cornish breed. They're big, fat white ones. I like Freedom Rangers. They take twice as long to grow, but they'll pasture. Even when you feed them grain, they'll still go out if you give them room. They're eating bugs, vegetables, all sorts of stuff."
Occasionally, a customer asks Whitefield why his fresh poultry costs more than frozen supermarket products. His turkeys sell for $3.50 per pound, or $3.75 per pound at Thanksgiving when demand peaks.
The answer is all about taste and quality. Whitefield said it's no different from raising fresh fruits and vegetables.
"Go to the store, buy a tomato and grow one in your backyard. You tell me what the difference is," he said.
But with so much uncertainty on the horizon, he simply can't afford to invest as much in fowl, and some customers may have to go elsewhere this Thanksgiving.