Polly Gregor and husband, Brian Guillorn, certainly have their ducks in a row — and their geese and chickens, too.
The High Falls, New York-based farm raises birds "for the table," as Gregor puts it. She's careful to not say "meat birds" when referring to her flocks as her focus isn't raising the biggest birds but to focus on flavor.
The couple has owned their 6-acre farm for five years. Gregor raises 32 ducks. Some are French Duclair and Silver Appleyard, another heritage breed, and she has 12 Muscovy ducks.
The Duclair and Silver Appleyard ducks lay 15 eggs daily, most of which Gregor sells. She perpetually keeps a few eggs in her incubator to hatch and raise for the next holiday. Independence Day is the next one.
"It requires advanced planning to give time for the birds to be at the right age," she said.
It takes four weeks for eggs to hatch, and hatch to harvest, it's about 12-1/2 to 17 weeks.
"Ducks have to be harvested at the right time or it will be hard to get all the feathers out," she said.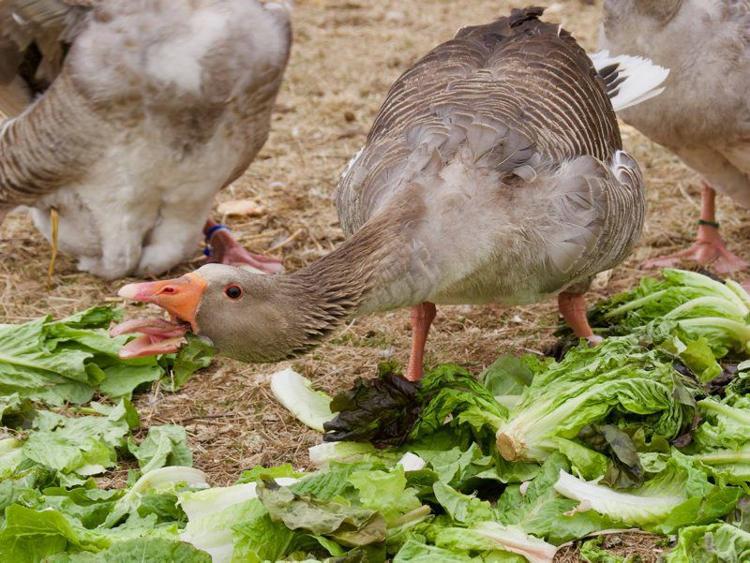 She doesn't collect the eggs from the Muscovy ducks.
"They reproduce on their own and are the best parents in the world," she said. "They're much lower in fat and a very different type of flesh, a superb smoked duck. I raise however many choose to reproduce."
Last year, she finished 150 Muscovy ducks.
Since Muscovy ducks fly, she clips the flight feathers on one wing so they can't "go visit the neighbors," she said.
The ducks can be harvested at seven to eight weeks if they're big enough, or she can wait 12-1/2 to 17 weeks. Their feathers during the in-between period are difficult to get out. Once fully feathered at 12-1/2 to 17 weeks, it doesn't matter.
Last year, she raised 200 geese, with half sold as live birds to Pelleh Poultry in White Swan, New York, a slaughterhouse that sells whole kosher birds.
To keep the birds warm enough, Gregor has in her house 40 goslings that just hatched. After about three weeks, she returns the birds to their parents who then raise them.
"Geese are very unusual this way," she said. "You can't go out and give ducklings to your ducks. They'll completely ignore them."
She raises three "families" of heritage geese: German Embden, French Toulouse, and an F1 cross-breed of those two types. Birds wear zip ties on a leg to indicate their family and during breeding season, they're kept separately.
Although Gregor has the capacity to hatch and raise hundreds of heritage chickens, it has not proved as profitable for her business as her other ventures. She has an American version of the French Bresse, along with some other French chicken breeds chosen for flavor, not growth potential.
"I can't afford to feed them if I can't sell them," she said. "Right now, our plans are to not have any chicks this year unless someone wants chicks. A little later in the season, we'll let the animals keep their eggs and they'll raise them and we'll raise those for our table, about 50."
They keep the breeding stock at their place and pasture most of their birds at two 10-acre lots at two different farms, each about an eight-minute drive away from Bonticou Ducks headquarters. The farmers exchange birds for land use. They don't use both properties each year. One is Maybrook Lodge, a former resort property. The other is Stone Ridge Orchard, a former berry farm. Gregor plans to use Stone Ridge Orchard this year.
"We'll brush hog it when the rain stops," Gregor said. "We've set up some pasture for the geese. We have a 10-acre at the orchard we can use. We have more pasture available but we have to figure out how to get water to it."
She pastures her birds using electrified poultry netting to keep predators away from the flock and she moves it to keep the birds on fresh pasture. The geese, ducks and chickens all share the pasture and the same feed; however, their nutrition needs differ.
"Geese like to eat grass," she said "They're very efficient lawn mowers."
Ducks don't do this. Gregor buys Poulin Grain to supplement what they cannot get from the pasture. The chickens gobble up whatever insects and worms they can find, along with grain.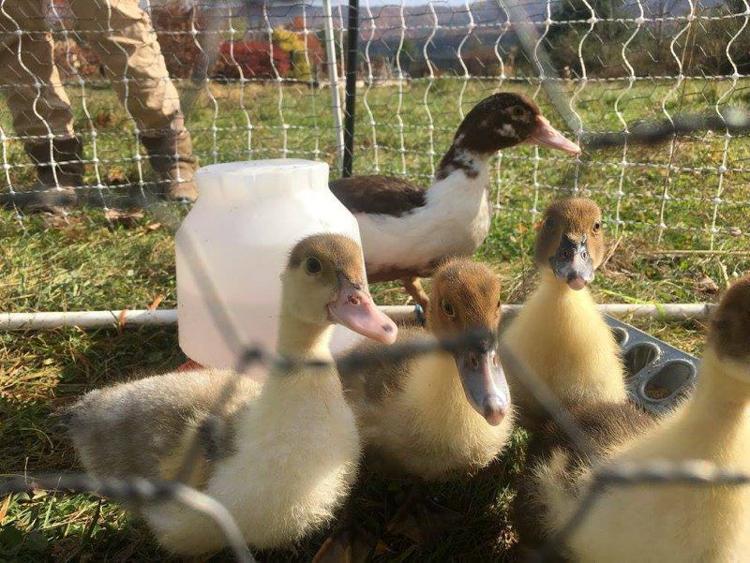 Gregor uses a chicken coop mounted on a hay wagon to provide the birds with shade and shelter wherever their portable pasture takes them. Although the geese are naturally protective from smaller predators, the electrified poultry netting helps ward off bigger animals.
"Our birds run around our property all day, every day," Gregor said. "We have hoppers available for food. Most of the time, they're going around doing bird things and they come in for breakfast and eat something later but their lives don't revolve around their food bowls. Most people raise 'free range' birds but legally they have just one hour of pasture a day there's no requirement to see grass. Or others have 'pastured poultry' but they're in a box dragged on the ground."
Gregor sells from the Troy Waterfront Market, a year-round market in Troy, New York, and a few other markets.
When selling from markets, she focuses on selling smoked duck and smoked goose breast, duck leg confit, pate and pot pie. They're all made in a New York state-inspected kitchen, vacuum sealed and frozen.
"That's the best way to preserve freshness," Gregor said.
Many people bring insulated bags to the markets and she's contemplating offering such bags with the Bonticou Ducks logo.
She also sells through mail order on the internet.
"We don't have ducks in our refrigerators," Gregor said. "We have ones scheduled for a harvest date. People order and pay in advance. Any duck not purchased is made into value-added products that are sold at the markets. I can't just take a duck to slaughter on a whim."
She works with the slaughterhouse operated by Pick of the Pasture, in Hoosic Falls, New York. Jack's Commissary Kitchen in Accord produces her value-added products.