EASTON, N.Y. — Sarah Kaufmann doesn't mind if people think she's a "big cheese."
It's part of her job as a world record-holding sculptor of Cheddar and many other types of this popular dairy product.
Kaufmann's tribute to the 100th anniversary of Cabot Cheese was one of the most fascinating exhibits at the recent Washington County Fair, the third-largest county fair in New York, whose attendance exceeded 100,000 despite losing a full day to severe weather.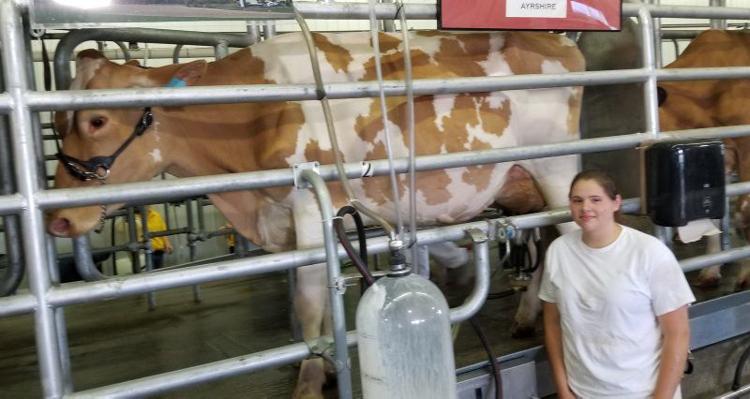 "I worked for Dairy Farms of Wisconsin for many years as their commercial artist," Kaufmann said. "One of my jobs was to hire people to carve cheese for us. When I went to shows with them I would join them and carve cheese. In 1996, when I left the company, they hired me to be a freelance artist and here I am 23 years later. No looking back."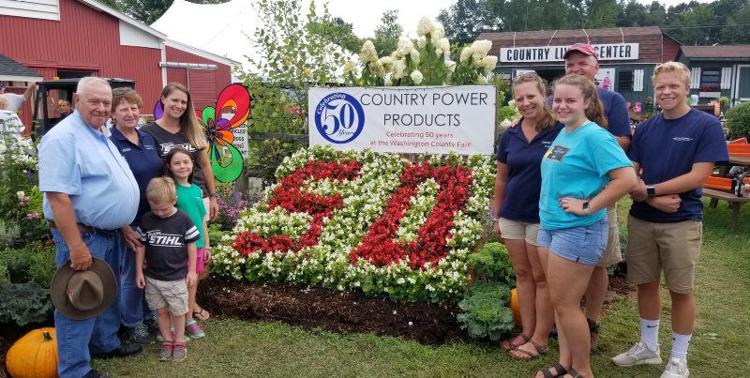 This year's schedule has already taken her to state fairs in Indiana, Oklahoma and Michigan's Upper Peninsula, with many appearances still to come.
"Jungle Jim's Cheese Fest in Cincinnati is one of my favorites," Kaufmann said. "I go to art fests and the Super Bowl. I carve for the Green Bay Packers, Milwaukee Bucks and University of Wisconsin Badgers, and I carve at supermarkets all over the country."
Last December, she made the Guinness Book of World Records for her 3,452-pound sculpture of a gator, wearing a chef's hat, stirring a pot of hot oil for deep-fried turkey, a culinary delight in the Deep South. She did it for Acquistapace's, a third-generation family-owned deli and market in Covington, Louisiana, near New Orleans.
The piece was made from a 4,000 pound cheese wheel.
The Cabot sculpture at Washington County Fair was much smaller, weighing 70 pounds, but quite colorful and creative nonetheless. The bottom layer was designed to look like a cheesecake, with cows parading around the sides, topped by the Cabot logo's iconic green barn and red lettering, large "100" numerals and a big candle complete with red flame.
"It's made from white Cabot Cheddar," Kaufmann said. "Here at the fair it's very warm, so I work for several hours then put it back in the cooler."
The sculpture was part of a Cabot company display inside the fair's Ag Center, which also has a working milking parlor, giving visitors a chance to see how milk is processed. In addition, kids could try their hand at milking a cow the old-fashioned way with a life-sized, faux Holstein.
Founded in 1840, Washington County Fair has remained true to its rural roots and bills itself as New York's most agricultural county fair. Only Erie County Fair near Buffalo and Dutchess County Fair in the Hudson Valley draw more people each year.
Washington County Fair set an all-time attendance record of 129,421 in 2018, a mark that might have fallen this year if not for torrential downpours that forced its closure on Wednesday, Aug. 21. But crowds quickly returned the next day and for the remainder of the week-long event.
"This fair is the heart and soul of the agricultural county that we have here," said John Rieger, a past board member. "That's because the directors themselves are focused on agriculture and have deep agricultural roots."
A former dairy farmer, Rieger owns the Greenwich-based firm Country Power Products, a long-time fair sponsor that is celebrating its 50th anniversary this year.
He is also president of the Washington-Saratoga-Warren-Hamilton-Essex counties Board of Cooperative Educational Services, which offers trade and technical career training to area high school students. Last October, Rieger was honored with the Everett R. Dyer award for his many years of service to BOCES at the New York State School Boards Association's annual convention in New York City.
Young people and education are near and dear to his heart and BOCES is well represented at the fair.
"A lot of farm-related business and industries are looking for employees right here in Washington County," Rieger said. "We like to offer opportunities for the kids in our county. This is where the rubber meets the road."
BOCES Dean of Students Michelle Maddalla helped staff a booth that introduced fair-goers to various BOCES programs such as horse care, environmental conservation and forestry, and heavy equipment operation.
"We're trying to raise community awareness for the programs we offer and the level of professionalism in the training we offer," she said. "When students demonstrate their technical skills, I think that's when we reach our widest audience. People are impressed with the tools and equipment kids can use and the knowledge they have."
For example, some students gave a chainsaw safety demonstration and why it's important to wear chaps.
"A lot of landowners will buy a chainsaw, but they won't have chaps," instructor Dennis Flynn said. "We put a pair of chaps on a log and cut into them with a chainsaw at full speed to show that a saw won't go through them."
"With our heavy equipment program, a lot of kids go work for farms because they've learned diesel mechanics," he said. "Quite often, it's farm kids to begin with who come into these programs. They work on our equipment, but also if there's a piece of equipment they can't work on at the farm they can actually bring it to school and work on it there with other kids. So it benefits the farms."
Maddalla said the fair is a great way to showcase what BOCES can do for the community, while creating interest among students who aren't familiar with its many opportunities.
"Our focus is really preparing students to be college or career ready," she said. "For students choosing the career-ready track, we offer a second-year internship program, which places them in a real-world business where they can make connections that are going to help them as soon as they graduate."
"In some cases, students don't have to go to college," Flynn said. "They've got a job when they leave us."