GUILDERLAND, N.Y. — Shauna Aeschlimann knows better than to put all her eggs in one basket.
That's why she and dozens of other agriculture producers attended a recent Farm to Fork Local Food Expo, to explore opportunities for getting their goods into schools throughout upstate New York's Capital Region.
Aeschlimann owns Oliver's Organic Eggs in Frankfort, but farm owners brought many other items to show off including fresh milk, honey, maple, cheese, beef, fruit and vegetables — even popcorn.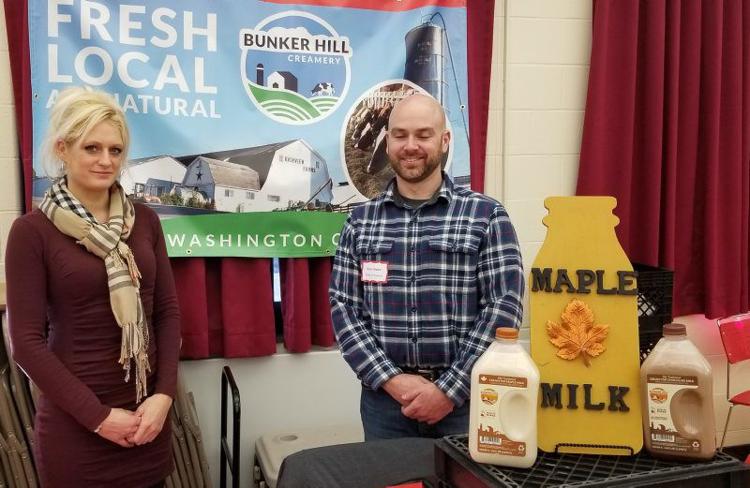 "At present we work with a distributor who supplies our eggs to private schools in Connecticut, which represents about 10% of our overall business," Aeschlimann said. "We mostly sell in stores. We're here to make connections with New York schools. It would help quite a bit."
The expo was organized by Albany County Cornell Cooperative Extension in partnership with Guilderland Central Schools. Under fairly recent state legislation, school districts that purchase at least 30% of their products from New York farms get an additional 25 cents-per-meal reimbursement from the state Education Department.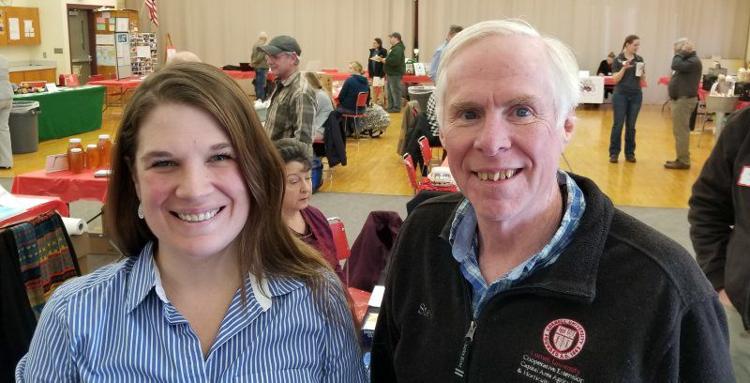 "That was the impetus for putting this together, to get farmer-vendors that have things to sell in touch with school food service directors to start the process of pulling things together," said Steve Hadcock, Extension's Capital Area Ag and Horticulture Program team leader.
Nearly a dozen school lunch program officials were on hand, including event co-organizer Megan Beck, of Guilderland Central Schools
"There's a push among kids to eat more healthy," she said. "They want fresh stuff. If you can show them that something will be coming from a local farm in three days, they're all excited. They love it."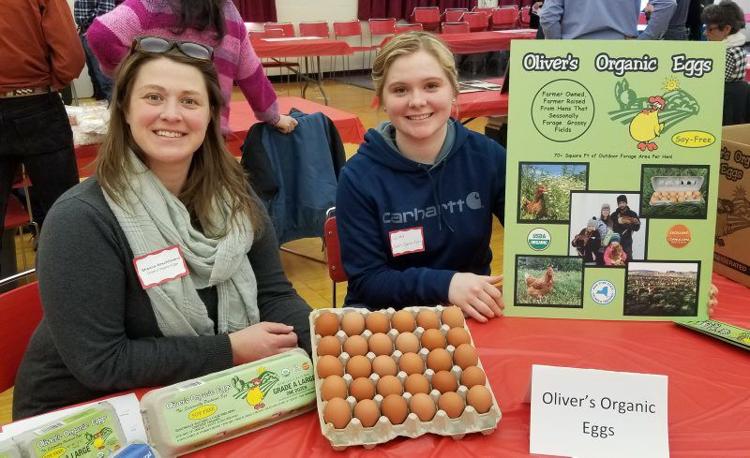 Depending on the season, Guilderland schools sources up to 80% of some items locally, she said. For example, Indian Ladder Farms, one of the area's largest orchards, is nearby.
"Eighty-five percent of our apples came from 5 miles down the road at minimal cost through a grant from USDA's Fresh Fruit and Vegetable Pilot Program, which is awesome," Beck said.
Last fall, while supplies lasted, the district also sourced New York state-produced tomatoes, romaine and onions. Working with the Troy-based food hub, Capitol Roots, the school is still getting potatoes and hydroponic-raised butterhead lettuce this winter.
"We're tracking everything we use this year, hoping to get the reimbursement next year," Beck said.
In addition to produce seasonality, logistics is the main challenge to making Farm to School programs work. Guilderland is a fairly rural suburb of Albany, the state capital. Getting fresh food into urban, inner city schools is more difficult.
"Schools, as any kind of food purveyor, need things to be very easy for any kind of food product to show up at their loading dock and not have to worry about how to get it from point A to point B," Hadcock said. "Some farmers are willing to deliver, but then they, too, have constraints of time and money. Is it worth their time and effort to deliver a small order to a school district?"
That's what vegetable farmer Jim Gade, of nearby Altamont, hoped to learn at the expo. He grows 60 acres of fresh produce such as tomatoes, squash, corn, winter squash, pumpkins and smaller amounts of specialty crops including eggplant, cucumbers, lettuces and onions.
"I'm always looking for new customers," he said. "I'm not currently selling to any school districts. My goal is to get some more information and learn how to possibly get involved. A problem is that we grow most of our products in June, July and August when schools aren't in session. So I'd like to see how they're going to make that work. I need more details."
John and Eva Moore raise pastured beef, chicken and pork at their St. Croix Farm in Valley Falls. Seasonality isn't as much of a problem because meat can be frozen and has a long shelf life. The biggest challenge is simply making inroads at area schools, John Moore said.
"You have to make a lot of phone calls," he said. "We think schools can be a very good customer. They're steady and predictable because they have a lunch menu that's set up for the year. We would like to be a piece in that puzzle."
The Moores currently sell meat to Hoosick Valley Central Schools and went to the expo hoping to make at least one more good connection.
The state Department of Agriculture and Markets has done a great deal to promote its Farm to School program across New York. At least 43% of school districts participate in some fashion.
Under the program, a number of Farm to School coordinators have been hired in different regions, such as Annie Mills who covers the Capital Region. She's based in Warren County where nine schools are participating, plus two more in neighboring Washington County.
"Three are quite close to reaching the 30% locally-sourced threshold for the first half of this year," Mills said. "Milk is one of the easier products to source. There's a list of New York State Grown and Certified processors. There are strategies for securing milk for the whole year. Apples are another big commodity that schools can purchase."
Diane Whitten, of Saratoga County Cornell Cooperative Extension, has done a great deal to promote such efforts in her area. A state grant helped pay for infrastructure at the non-profit Pitney Meadows Community Farm, in Saratoga Springs, so it can supply fresh goods to Saratoga Springs City Schools.
"It's a very unique situation," Whitten said. "The farm has already given 3,000 pounds of goods to Saratoga schools. Now they're working with Schuylerville and Corinth schools, producing and selling them greens."
Kyle Depew runs Bunker Hill Creamery, which opened just over a year ago, at Dan and Erin Richards' Richview Farm in Washington County.
"We're in some grocery stores like Price Chopper and Hannaford," Depew said. "Obviously the more demand we have for different types and sizes of our product, the more we can invest in what we need to meet that demand. An event like today, we're hoping to reach new people and introduce them to our products. If the demand is there we can figure out a way to meet it."