CHARLTON, N.Y. — It's a brave new world at dozens of fall agritourism destinations this year.
Many activities enjoyed by people of all ages have been canceled and guests who turn out must adapt to COVID-19 health and safety protocols, which pose costly new challenges for farm owners.
"We're just happy to be able to open," Garth Ellms said. "We'll have about 10 people dedicated to cleaning and sanitizing. They'll be sanitizing the farm throughout the day, every day, and we'll obviously be promoting social distancing. Masks will be required 100% of the time."
Ellms, one of the Capital Region's largest and most popular fall farm attractions, planned to open on Saturday, Sept. 19, and operate four days per week, Thursday to Sunday, through Nov. 1.
In previous years the venue was open seven days a week and entertained thousands of elementary school groups with rides and shows. But school outings have been canceled this year, and attendance on any given day is limited to 33% of normal capacity.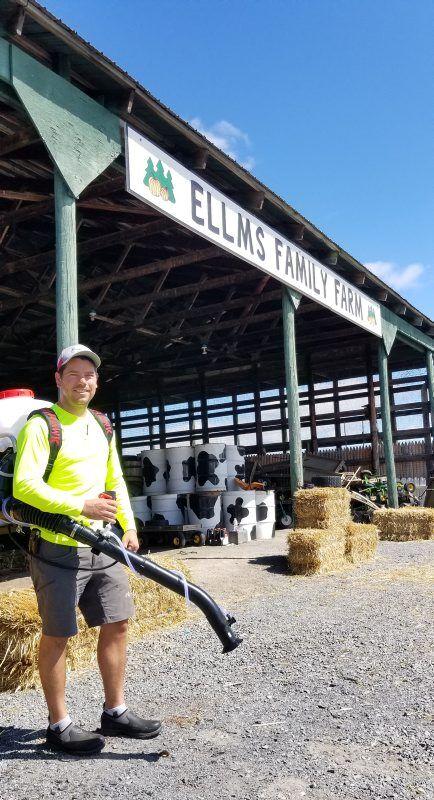 But a major new attraction, a Pumpkin Glow & Light Show Drive-Thru, could offset such setbacks. Similar to a Christmas light show, this Halloween experience will look like a pumpkin wonderland with thousands of hand-carved illuminated jack-o'-lanterns.
It's similar in concept to The Great Jack O'Lantern Blaze, held each year in the lower Hudson Valley, except it's a drive-thru rather than a walking event.
Ellms' light show will run through Sunday, Nov. 8, a week after his other agritourism activities come to an end.
To promote a contactless experience, customers will purchase drive-thru tickets online ahead of time at the farm website. They can also buy treats and beverages such as doughnuts, kettle corn and cider to enjoy while taking the mile-and-a-half ride.
Ellms, 38, got the pumpkin light show idea at an agritourism trade show in Nashville.
The farm employs more than 100 part-time seasonal helpers, from ages 14 to 84. Any activity involving close contact between staff and guests, such at putting small kids in a ropes course harness, has been canceled.
But many other features such as hayrides, trolley rides, a Moo-Moo Choo-Choo train and a mechanical chicken show will continue.
"We're lucky we can spread people over 70 to 80 acres," Ellms said. "We have a great customer base, and people are usually pretty respectful of each other."
Ellms recently took over the farm business from his parents, Chip and Sally Ellms, who built the operation by introducing fun, new activities each year.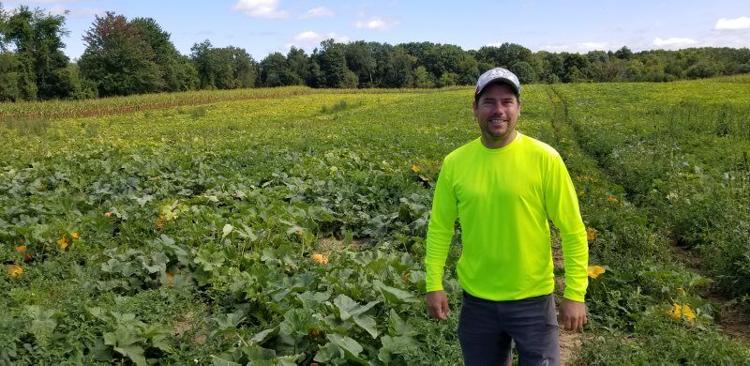 Chip Ellms instituted many of the customer service-oriented principles he learned by taking a Disney World training course in Florida, and Garth is continuing that tradition.
Last spring, when the coronavirus first hit, the Ellms family didn't know if they'd have a fall season.
"We start planting pumpkins in May, the corn maze in June," Garth Ellms said. "We had no idea what was going to happen in the fall. But you can't put in a corn maze or get pumpkins in a day, so we had to take a risk in the spring. We moved forward. We planted that stuff."
The 4-acre maze will open, with concessions to COVID-19.
"Before, you could really get lost in it and you'd be crossing paths with people," Garth Ellms said. "This year it's more of a thoroughfare, to limit interaction with other people."
Pumpkin picking is essentially unchanged. With 7 acres to roam, guests will be able to spread out.
"There's no need to be on top of somebody. If you want to come out, we'll create a safe environment," Garth said.
In neighboring Washington County, Hick's Orchard is also adjusting to life during the pandemic.
On normal fall weekends, people turn out in droves to pick apples and stand in long lines for freshly baked apple cider doughnuts.
"The state in general has been pretty good at coming up with guidance, but sometimes it's at the very last minute," owner Dan Wilson said. "For example, with agritourism we were just on the verge of opening when the state came up with guidance, and we had to shift our messaging and rewrite it to stay compliant with state guidelines."
People venturing into orchards must wear a mask, and Hick's has opted not to hold attractions such as a corn maze and children's bounce house this year.
"We do have curbside pickup available for people who want to use that," Wilson said. "We're also creating some incentives for people to come during the week instead of weekends when we're busiest."
Tuesday is senior discount day, and on Wednesdays, reduced price will be given to essential workers such as first responders and teachers.
Also, the farm will stay open an hour later, until 7 p.m., on Thursday and Friday for people who want to order a wood-fired pizza to take home with them.
And food trucks, another new offering, are also available.
"We're trying to do more retail outside in our barnyard instead of in the barn," Wilson said. "We're certainly encouraging social distancing when there are lines. It's part of the challenge of retooling our business to stay as safe as we can during this busy season."