LIVONIA, N.Y. — Kyli and Jake Stevens of Livonia are the proud owners of Fire Creek Farms, an operation nestled off of New York State Route 15A, the path leading to Rochester, or "the North Country," as the locals call it. The two met through mutual friends.
"He sold hay and I played polo with the friends that hooked us up. We went on our first date on a snowy day in January of 2015 and I knew right away that he was for me. It took Jake a little longer, but he also knew pretty quick," Kyli Stevens said.
The couple wasted no time exploring their love for agriculture and the outdoors together. They purchased the property their farm store and operation are on at the end of 2015.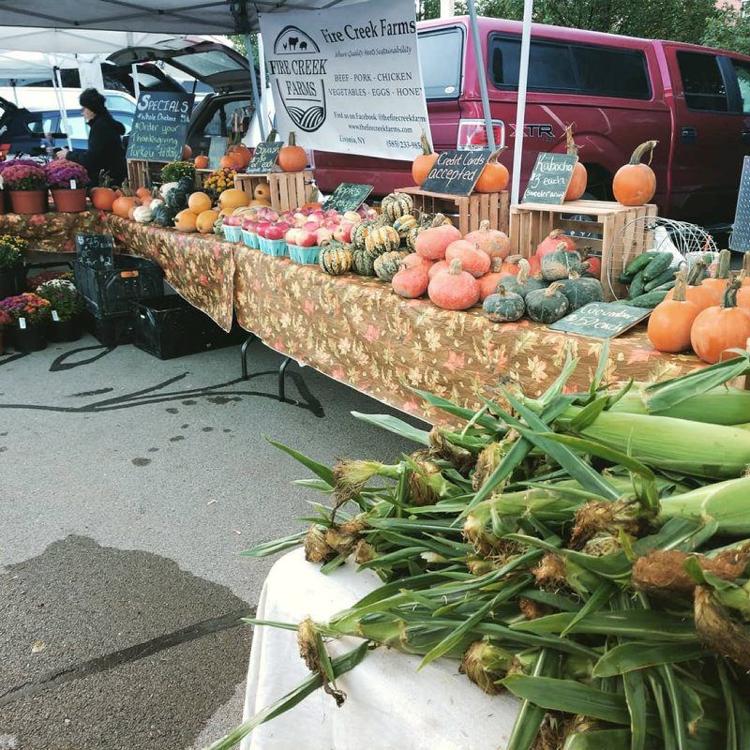 "It was nothing, there was an empty lot and all of the potential to make it ours," Kyli Stevens said. "We live just around the corner and our goal was to open a store so we decided it would make an ideal and accessible location for commuters."
The Stevenses began with a purchased lot and a few cows. Jake Stevens has always worked with cows. They added pigs soon after. The farm raises Idaho pasture pigs.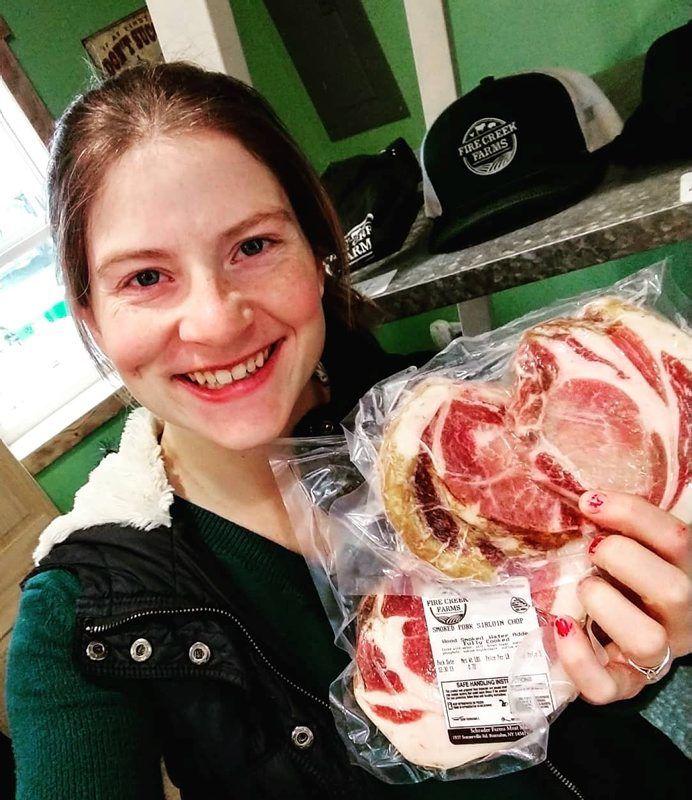 Cows and pigs led to a vegetable garden and shop. From there, the couple's garden grew, more pigs and cows were added, as well as chickens, turkeys, more vegetables, unfiltered honey, and more. More product led the couple to explore local farmers markets and ultimately start a CSA program, while selling hay, straw and beans.
Fire Creek Farms hosted its first CSA season in 2016 through a summer share. Members of the vegetable share visited the farm or farmers market for 18 weeks throughout the growing season, 15 weeks for the meat share. Consumers can also purchase a meat and vegetable combo share.
The year 2017 led to continued offerings of a vegetable and meat share and the addition of a winter share. The winter share allows members to enjoy Fire Creek meat and eggs, or just eggs, all winter long. Summer pick-ups are at farmers market locations or the farm once weekly, winter share pick-up's are twice monthly. The farm hosted 70 CSA members in 2019 and is looking to maintain and grow that membership during the 2020 season.
"I find 70 members to be very comfortable for us but my husband wants to deliver fresh product to as many people as he can while educating them on how their food is raised," Kyli Stevens said.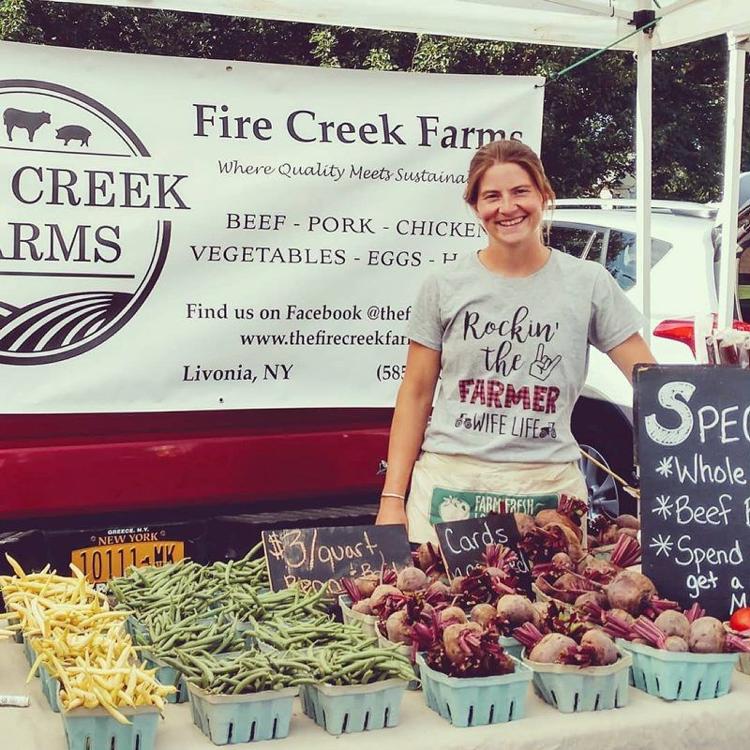 With a CSA on the ground and a dynamic farm in hand, Kyli and Jake Stevens were married during the summer of 2019 solidifying their partnership and commitment to the dream they have built together. 2020 will mark one year of marriage and their greatest adventure to date — they will welcome a baby to the farm. With their new baby, the couple will attend three farmers markets to distribute their product and offer CSA program pick up's — Geneseo, Fair Port and West Side markets.
The Stevenses insure what they are delivering to their customers is the highest quality as members of New York Farm Bureau, the New York Beef Producers, the New York Pork Producers, and these organizations quality assurance programs.
The quality customers find through the CSA program and at farmers markets can be found in their farm store as well. The Stevenses generated financing to build their store through sales and off-farm jobs. Kyli Stevens works as a teacher and Jake Stevens works as a member of the Rochester Water Supply team.
The farm store offers customers CSA pick-ups, vegetables outside of those sold in shares, fruit from local growers, honey, eggs, sauces, rubs, local cheeses, canned goods, candles, bees wax products, goat's milk soap, pork, beef, chicken, turkeys, and any products added by other local producers.
Almost all of the products sold and raised are produced on the 30 acres at the home farm. The couple rents another 474 acres and raises hay, soybeans, and straw for resale and use on the farm. The couple uses these inputs on their 12 sows, 2 boars, over 400 chickens, and a combination of managed and owned cows totaling 200.
"I love this life," Kyli Stevens said. "I would not trade it for anything. With all of the hard work I could not be happier. We go to sleep tired each night and I look forward to my summers outside of the classroom to be full time on the farm. We are working toward having a full-time employee but for now, we will work hard and give it our all so that we can raise our baby in this way."