Ted Berndt grew up on a Christmas tree farm in Sterling, New York. After working in quality control and in pharmaceutical sales, he wanted to get back into something involving agriculture.
This summer, he plans to launch Battenkill Valley Farms in Cambridge, New York. The 175-acre property has 20 tillable acres, along with land for grazing, timber and mixed use.
And Berndt is going to mix it up with a farmers market that will offer a little of everything as a destination shopping venue.
He had eyed the property for years and was finally able to purchase it in 2013 at a bank auction. The land had previously been used for mushroom growing, and numerous buildings populated the land. Berndt worked to clean up the buildings and replace obsolete infrastructure. Scrapping the HVAC system, for example, helped provide some working capital.
He also sold five tractor trailer loads of mushroom boards. As soon as he could, he offered areas in the buildings for rent for car, boat and RV storage.
"We found that to be a good revenue stream," he said.
He grows pumpkins and rents land to other farmers in the area for growing and grazing. He hopes to raise produce on 10 to 20 acres of his land to sell at the market.
"I don't want to compete with my vendors; that's not my intention," he said.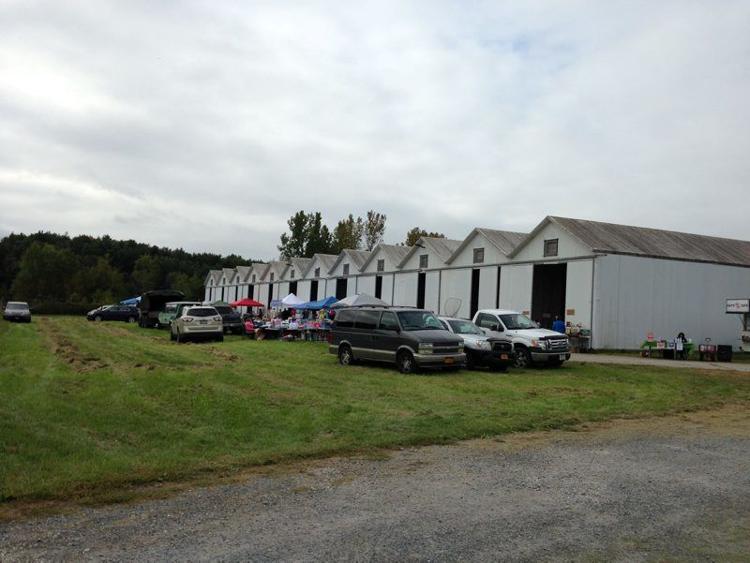 He has 24 total insulated-panel metal buildings with concrete floors, each measuring 20 feet by 77 feet as well as a few smaller buildings. All the structures can help keep his planned farmers' market open even in inclement weather.
He hopes to have 60 vendors indoors and 40 outdoors at the Saturday-only market to include produce, value-added farm products, crafts, live music, food trucks and craft beverage tasting. At this point, he plans to run for 23 Saturdays a year; however, he will consider extending it into December by condensing vendors indoors and putting in heat.
Speaking like a former farm kid, Berndt likes the idea of creating a revenue stream for farmers in his area.
"I think we can create a destination that will pull people into Washington County," he said.
He wants to rent space to up to a dozen vendors of specialty food, including value-added farm producers with established businesses and ones who haven't used farmers markets as a marketing channel.
"It will provide opportunities to those who want to work part-time locally, working with a vendor to pick up hours," Berndt said. "They may have a brick and mortar location but could do a farmers market. I firmly believe we can get enough traffic from folks that don't go to farmers markets that this could be a full day experience."
He also hopes to have a rotation of 10 to 12 vendors of craft beverages.
The complex is bigger than ordinary farmers markets, and Berndt wants to make shopping at Battenkill Valley an experience that keeps people on the farm for the day.
"It should draw a little different customer base for those looking for an experience," he said.
He charges $600 to $750 per vendor for the entire season, from May 9 through Oct. 10.
Berndt also has a rental house on site and hopes to create a visitor's center for Washington County where he can rent out space for area organizations. The house had been converted for use as office space at one point and has commercial doors and a lobby.
With space for 500 cars to park and room for tour buses, he's gearing up for numerous visitors on Saturdays. He plans to bring in portable toilets for guest use.
Berndt is also hoping to have about eight food trucks to keep guests around, as well as live music whenever possible, and "a really decent PA system and XM radio," he added.
Special events should also help draw crowds. He's planning car shows on June 13 and Sept. 5.
"We are trying to create more event-driven dates to work with nonprofits," Brendt said. "We can increase the attendance for their functions and it has this dual role of getting people to attend our venue."
Marketing Battenkill involves rradio spots and print ads, but most of it is social media.
Despite all the irons he has in the fire, Berndt has more ideas than hours in the day. He's interested in converting the site's 7,000-square-foot packing plant into a food hub. There's also the county snowmobile trails that run through the property that may draw people to winter events. He's also thinking about hosting antique tractor and vehicle events, hosting CSA pick-ups, renting space to ag equipment dealerships to set up static displays or a sales kiosk, and glamping sites.
He has also tried operating a corn maze and haunted house.
"I have so many other ideas," he said. "I want to stay out of flea market and antiques, as it's well developed in the Capital Region, but that isn't to say I wouldn't take on a few because some folks are anxious to shop at vendors like them and there are vendors that want to be one of only several."
To test the plausibility of operating a farmers market, he has opened the farm a few days in the past for brief events. This summer will be his first of staying open each Saturday.
He readily admitted, "It's tough to do a startup now, more than 30 years ago."
But he also believes that many people in his area are still looking for a family experience. He hopes that they'll find it at Battenkill Valley.