QUEENSBURY, N.Y. — Dairy producer-turned-pastor Randy Gross has a passion for helping people physically and spiritually.
That's why, in last April, he opened Dix Avenue Diner specializing in farm to fork food, which he's convinced helps combat four leading chronic diseases in America — cancer, heart disease, obesity and diabetes.
But the eatery is only the first part of his big-picture plan for promoting overall health and well-being.
"The natural way to keep the immune system strong is through natural food, food that's well grown," Gross said. "Our ambition is to bring this to the marketplace. The diner is my hello to the community. Currently we serve a couple hundred people every week through the diner, telling our story and mission that food can fix what's going on across the population."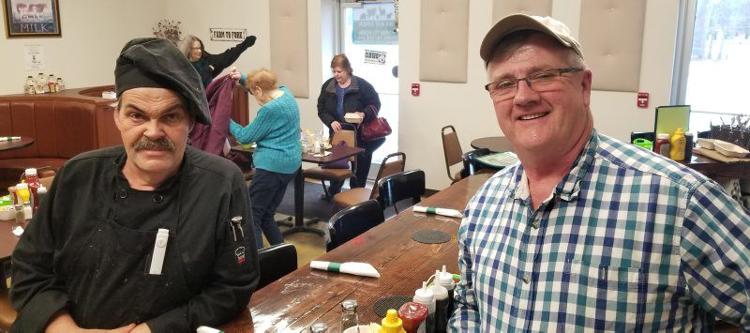 Raised on his family's farm in rural Allegany County, southeast of Buffalo, Gross earned an agribusiness degree from the nearby Agricultural and Technical College at Alfred, now part of the state university system.
"All I ever wanted to be was a dairy farmer," he said.
After graduation, however, he went to work at other successful operations while two brothers took over the family operation back home in Cuba, New York.
Next, Gross turned to over-the-road truck driving and a million miles later, after meeting people from all walks of life, he followed a calling to full-time ministry. Moving to Warren County, about an hour north of Albany, he founded New Beginnings Church in 2001.
"People very near and dear to me took ill from cancer and died; one in particular five months after being cured with chemotherapy," Gross said. "That made me ask, 'Why are people so sick?' I found that our food stream, the amount of processed foods Americans are consuming, is a major cause."
Breaking into a small-town market, with plenty of popular breakfast and lunch spots to choose from, wasn't easy. So for the most part, the menu started with standard diner fare that patrons felt comfortable with.
Slow and steadily, Gross began offering more locally grown and sourced food such as grass-fed beef, grass-fed turkey and eggs produced by free-range chickens.
"People every day are asking, how do you get eggs that taste this good?" he said. "People who have never eaten this type of food are noticing how radically different it is. We're finding a lot of passionate people who realize their health comes from what they eat."
"One of our signature items that heals is a bone broth that we make from grass-finished beef bone and the carcass of grass-finished turkeys," Gross said. "That part of our business is growing tremendously. Volume doubled during the last quarter of 2019 alone. We're actually gearing up, hoping to go on the internet and compete in that sales market, which is growing by leaps and bounds."
The farm to fork venture helps area producers by providing an outlet for their goods. Fresh milk, for example, comes from Battenkill Creamery, a roughly year-old business that specializes in small batch, non-homogenized, low-temperature pasteurized milk.
The diner, open Monday to Saturday and closed Sundays, is attached to a new church building, which opened a few years ago.
But farming will always be near and dear to Gross's heart, so he's also pursuing plans to lease property and raise beef cattle a few miles away in neighboring Washington County.
"Our greater vision is to begin to grow and harvest grass-finished animals, and actually control the whole process and capture the whole food dollar as opposed to selling to an auction house and then getting a percentage," he said. "Then we would do value-added products and have a country store attached to our diner as well as direct market through buying clubs and selling to other restaurants."
"I think it'll be an ongoing, growing business," Gross said. "We envision a row of freezer glass doors down the hallway where people can grab soups, bone broth and other products as well as refrigerated items. Eventually there will probably be fresh produce."
Always forward-thinking, Gross believes the local area is well situated for yet another long-term project he'd like to pursue, involving production of biochar, a charcoal-like substance made by burning agricultural and forestry wastes (biomass) in a controlled process called pyrolysis.
During pyrolysis, organic materials are burned in a container with very little oxygen, so there's very little or no release of contaminating fumes. At the same time, organic material is converted into biochar, a stable form of carbon that can't easily escape into the atmosphere.
Considerable work has been done at leading research institutions around the world in recent years. As a soil amendment it's believed biochar may increase agricultural productivity by improving soil health and protecting against some foliar and soil-borne diseases.
Biochar lasts in soil for thousands of years. So at the same time, it would fulfill a dual role of carbon sequestration to help mitigate global warming and climate change.
The greater Glens Falls area, which Queensbury is part of, has three large paper mills. Much waste product is currently landfilled.
And Washington County, where Gross wants to build a $10 million biochar plant, is home to numerous large dairy farms. Paper sludge, cow manure and food waste from local institutions could all be used to produce biochar, he said.
"This would take all of that, you could dry it and create a safe useable product," Gross said. "It's very dynamic in growing food. My big-picture goal would be to cooperate with Cornell, doing field trials and insert biochar in the soil, which causes an immediate opportunity for water, oxygen and biology to go deep in the soil profile. Then it migrates laterally and takes heavy clay soil and turns it into arable soil. Basically you can take marginal land and turn it into Class A land."
"We're working on formulating a sound business plan," he said.