CROTON-ON-HUDSON, N.Y. — Ichabod Crane was never seen or heard from again.
The only thing villagers found were his hat and a smashed pumpkin near the Headless Horseman's Bridge.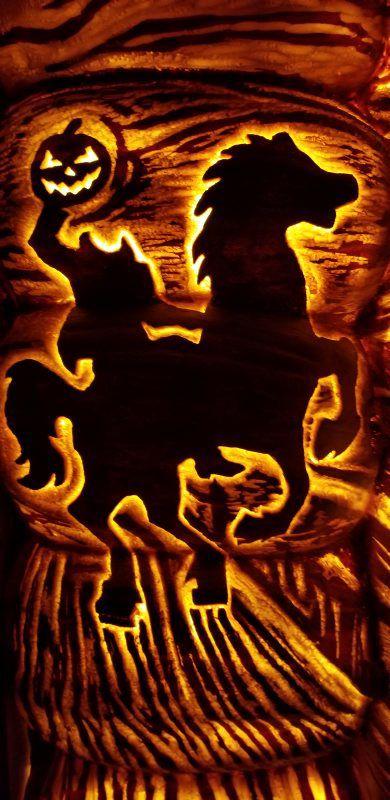 Washington Irving's classic tale, "The Legend of Sleepy Hollow," immortalized jack-o'-lanterns in American literature, and unbeknownst to him, still provides a major boost to the lower Hudson Valley's agricultural economy.
More than 7,000 creatively carved pumpkins comprise an amazing display called The Great Jack O'Lantern Blaze at historic Van Cortlandt Manor, a Colonial stone and brick house built prior to 1732 that's been declared a National Historic Landmark.
The event is the largest fundraiser of the year for Historic Hudson Valley, a nonprofit education and preservation organization that owns the Manor and several other significant historic sites in the region.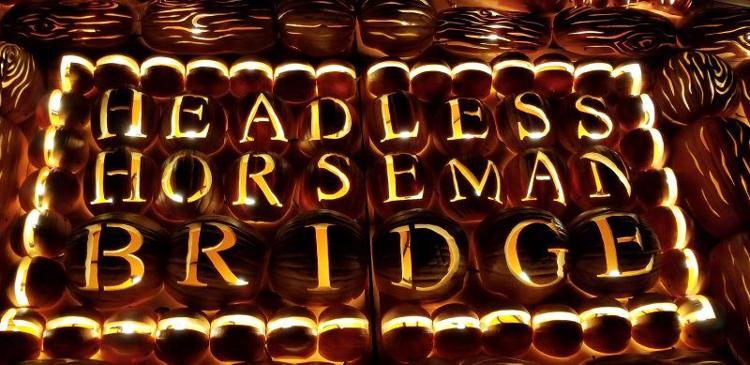 "We go through approximately 200,000 pounds of pumpkins each year," said Rob Schweitzer, the group's vice president of communications and commerce. "All of our pumpkins are sourced from the Hudson Valley and we generally use the same supplier year after year. Occasionally, unusually bad weather has impacted the pumpkin crop in our area and we are forced to look elsewhere, but that hasn't happened for some time and isn't the norm."
"We use the same family-operated farm each year," he said. "It's a great relationship and we're happy to be such a big customer."
This year's special displays include dinosaurs, a 25-foot tall Statue of Liberty consisting of 114 individually carved pumpkins, a giant 24-foot high spider web, a whirling pumpkin carousel, spinning pumpkin windmill and pumpkin planetarium with a dramatic light and sound show.
There's also a large circus train complete with life-size lions, gorillas and giraffes, and guests may walk across a small version of the new Gov. Mario M. Cuomo Bridge (it replaced the Tappan Zee Bridge), which spans the Hudson River in nearby Tarrytown.
The Blaze even has a brand new Museum of Pumpkin Art.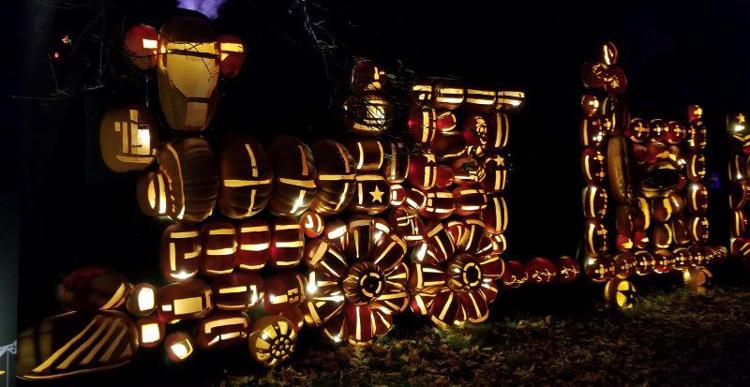 It takes more than 2,500 volunteers to scoop out and prepare pumpkins for carving, which is done on-site by a small team of professional artists led by creative director Michael Natiello. The Blaze is actually a land art installation.
It's an ongoing process as many pumpkins must be replaced during the event's 11-week run. It continues daily through October and weekends in November.
"Our first public night was Sept. 20, so we started carving pumpkins about a week before that and we continue to carve all the way through the end of the event on Nov. 30," Schweitzer said.
"With favorable weather we are able to keep them on display a bit longer, but the minute they start to look not so fresh, they get replaced," he said. "We have a bit of a military operation going each week, planning the scooping, the carving and the replacing."
Numerous volunteer organizations from firefighters to area Girl Scout and Boy Scout troops also help light jack-o'-lanterns.
The arrangement and placement of pumpkins are meant to complement and draw attention to the Manor's architectural and landscape features, which fulfills Historic Hudson Valley's mission of promoting the region's heritage and culture.
Irving (1783-1859) spent much of his life in Tarrytown, and visitors can tour his home, Sunnyside, overlooking the Hudson River's eastern shore about 15 miles north of New York City. Many area vantage points afford views of Manhattan's skyline.
Sleepy Hollow is the name of an actual village neighboring Tarrytown, and Irving's grave, along with those of several other prominent early 20th century figures, is found in the Sleepy Hollow Cemetery along with the Headless Horseman's Bridge made famous in Irving's timeless tale.
Cemetery tours are available or visitors may meander about on their own.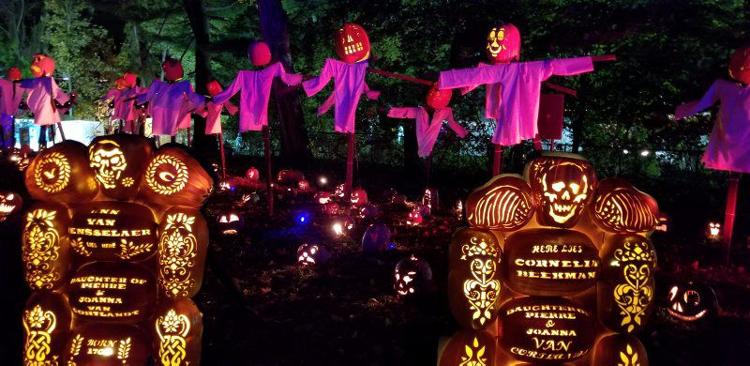 The surrounding area is a hotbed of Halloween-themed activities.
Performances of Irving's "Legend" are presented in the candlelit Old Dutch Church adjacent to the cemetery, and especially brave souls venture to Philipsburg Manor in Sleepy Hollow, where a real-life Headless Horseman rides again after dark.
But the Blaze is the most awe-inspiring attraction that shouldn't be missed. It's grown almost exponentially, with new features added annually, since its inception 15 years ago.
"We are constantly innovating, tweaking and making sure the operations and creative aspects of the event are first class," Schweitzer said. "Blaze started 15 years ago. It was open for eight nights and had 2,500 jack-o'-lanterns on display. We had about 18,000 people come through that year. Now, we're open for 49 nights over 11 weeks, and we expect to welcome more than 180,000 this year. That is a huge increase and it's possible only because we continue to improve the visitor experience every year. Who knows what we'll do next?"