SALEM, N.Y. — Dave Campbell stopped milking cows 15 years ago to focus on his rapidly expanding maple business, which continues to grow despite the many challenges and setbacks involved with COVID-19.
It started with the cancellation of last spring's annual Maple Open House Weekends, a highly popular industry-wide attraction, and continued into summer with the dramatic loss of restaurant sales.
But Campbell's Mapleland Farms, set atop a beautiful Washington County ridgeline with views into Vermont, has a diverse marketing strategy that keeps syrup flowing to some of America's largest urban centers.
"One of our big customers, FreshDirect, does home food delivery in New York City," Campbell said. "People are eating more breakfast at home so they're buying more syrup. Maple syrup is a comfort food. It makes you feel good to eat sweet syrup. FreshDirect's sales are probably double what they were a year ago. So that's helped move our product and they're expanding up into Westchester and down to Washington, D.C. and Philadelphia for delivery. Lately, we've been giving them one or two pallets full of 12-ounce bottles per week."
The 2020 maple season shattered all production records as U.S. sugarmakers made 4.372 million gallons of syrup to eclipse the previous record of 4.199 million gallons set in 2018. Industry leader Vermont had its all-time best year with 2.22 million gallons produced, while New York was second with 804,000 gallons followed by Maine at 590,000 gallons.
Quebec, which churns out 80% of the global supply, also had a banner year.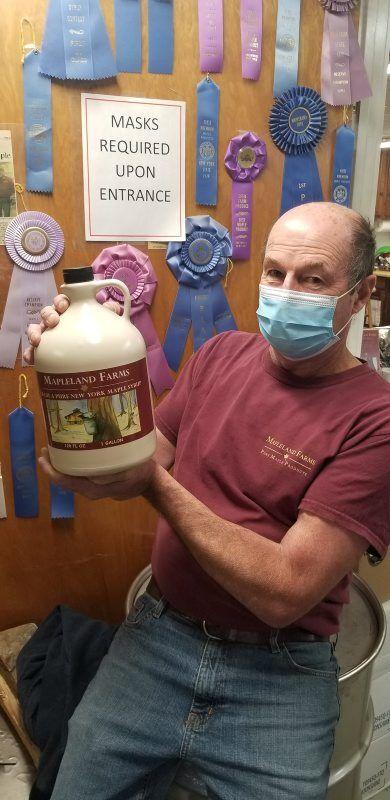 "There's still growing demand in the market place," Campbell said. "Of course, maple syrup is the healthiest sweetener on the market if you look at the nutrition content. I think that's going to increase interest among consumers in the future. However, per capita consumption in the U.S. is way below what it is in Canada. It's a staple in everybody's diet up there. In the U.S., maple is primarily made in the Northeast so people in other parts of the country don't know much about maple syrup and it's not readily available to them."
Campbell does everything possible to promote sales in his region. For the past 30 years he's been president of the Upper Hudson Maple Producers Association, which took part in a recent week-long "Fall in Love with Maple" campaign, featuring daily open houses that gave people a chance to tour sugarhouses, learn about the industry and buy not only syrup, but value-added products such as maple candy, cotton candy, nuts and granulated sugar.
Campbell runs Mapleland Farms, a 20,000 tap operation, with his partner Mary Jeanne Packer; his brother, Terry, and Terry's wife, Sue. The farm has been in Campbell's family since 1853.
Packer is one of the most prominent women in New York agriculture. She's past executive director of the New York State Maple Producers Association, is currently bookkeeper for the International Maple Syrup Institute, is a New York Farm Viability Institute board member and is vice president of the Empire State Council of Ag Organizations.
In addition, she's executive director of the Christmas Tree Farmers Association of New York, and owns Battenkill Fibers Carding and Spinning Mill, which provides custom processing services for fiber farmers to convert their fleeces into yarn, roving, and some machine knitted or woven finished goods. It also purchases raw wool, alpaca, and mohair from farms in a roughly 500-mile radius of the mill, located in nearby Greenwich.
It's hard for Packer to choose her favorite ag industry, but maple is high on the list.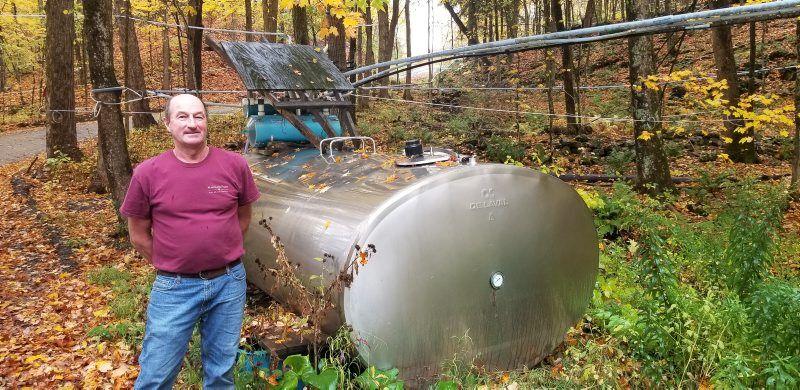 "Maple products are natural and nutritious," she said. "They are a true local, place-based product, unique to North America and with distinct regional flavors. I also really like the people who work in the industry, given their connections to the land and sustainable forest management."
Packer studied engineering in college and spent 16 years with the U.S. Forest Service before starting her own consulting business in 1995, serving forestry and wood products industries.
"Through that work, I started interacting more with maple syrup producers and soil and water conservation districts, and little by little the ag community just kind of took me in," she said. "There is less bias towards a woman in agriculture than in many other industries such as engineering. Especially in the fields of ag business and ag communications I've not only seen very little bias against women, but in many cases I think there is a bias in favor of women. There seems to be a general attitude of giving important jobs to women because there's a sense they can get things done and get it done now."
The coronavirus pandemic will be a full year old when the 2021 maple season arrives.
"On our scale it hasn't affected harvesting and processing," Campbell said. "We're a small group of workers spread out in the woods so we aren't concerned as much as if we were a big packing factory with a lot of workers. Usually there are three people at most in the kitchen here so we can spread out."
The biggest issue for many producers is simply adapting to market conditions that no one could have imagined a year ago.
"Producers that only retail their product have been hurt quite a lot because people couldn't come to their place to purchase, or if they did they were doing curbside pickup," Campbell said. "Luckily we have our markets spread out over a large range. We sell a lot to restaurants. Some with outdoor seating have been doing very well since they've been allowed to do that. We've just got to become more innovative about how we market things. Internet sales have been booming. Hopefully that's going to be a bigger trend the closer we get to Christmas."