ALTAMONT, N.Y. — John Sheehan entered his new Ice Cider in the prestigious 2018 New York International Wine Competition in Manhattan, just hoping for constructive criticism or a few tips about how to make the product better.
After all, he and partner Bernard Melewski had only gotten their license to do business two years earlier.
Instead, they were shocked and pleasantly surprised to win a gold medal, the first of several high honors their Meadowdale Winery has earned including last year's recognition as New York Ice Cider Producer of the Year.
"I grew up drinking my uncle's and grandfather's wine," Sheehan said. "It's just something you did as an Italian. There was no concern about whether you were 18 or 21."
When the home brewing craze began, he started making beer. But his wife didn't care for the smell, especially when pregnant, expecting the couple's daughter.
"So I switched over to wine because you don't have to boil it," Sheehan said. "Frankly, there was less equipment involved, which simplified matters for me and I could do it within a relatively small space in the house. I enjoyed sharing it with family and friends around the holidays and bringing it to parties."
A few years ago, state officials approved major changes to New York's craft beverage laws, sparking widespread industry growth by making it easier for producers to get started and do business.
So Sheehan and Melewski launched Meadowdale Winery at Melewski's historic Black Creek Farm, about 10 miles from downtown Albany, the state capital. The pastoral setting lies just beneath the Helderberg Escarpment, a unique geologic formation whose high sheer cliffs afford dramatic views of more than 100 miles.
The farm was originally owned by John Fryer, who was given a land grant of several hundred acres by the Dutch Patroon Van Rensselaer, in the 1700s.
"Everyone else at that time rented from the patroon," Melewski said. "No one has been able to explain why he was given that favor."
But the farm stayed in the Fryer family for more than 200 years until Melewski and his wife, Molli Lampi, purchased part of it in 1988. The focal point is a historic, but newly renovated, hay barn whose oldest section, a characteristic Dutch-style "H" structure, dates to the 1730s.
In the mid-1800s, it was expanded by using materials from another nearby barn, including massive beams that extend the building's entire length.
This year, Melewski made considerable renovations, converting the barn into a cozy wine tasting room, which celebrated its grand opening on June 22 and 23.
"With this new facility, there's a lot space we never had before," Sheehan said.
Meadowdale used the event to introduce its new red wines including corot noir in dry red and rose; Curious Cardinal, described as a well-balanced, full-bodied, dry red blend of two New York-grown grapes; and a limited-edition, oak-aged marquette.
However, the winery's quick rise to prominence was achieved by filling a unique niche.
"We were trying hard ciders and things we hadn't seen on the market before and started thinking about making wine from apples," Sheehan said.
The gold medal-winning Ice Cider was one of about 1,400 entries from 24 countries.
"Last fall, we entered our dry Apple Wine in the New York Wine Classic in the Finger Lakes, where all New York wineries are judged at the same time," he said. "It won a silver medal in that contest and this spring we won a silver (Ice Cider) and bronze (dry Apple Wine) at the Great American International Wine Competition in Rochester."
Melewski's Black Creek Farm is just down the road from Indian Ladder Farms, one of the Capital Region's leading apple growers.
Sheehan attributes Meadowdale Winery's success to "a good recipe and great cider from our neighbors using five late-season varieties of apples that are a good mix for beverages. And they're planning some additional sour apples that will bring acidity levels up."
Another white wine is made from birch sap.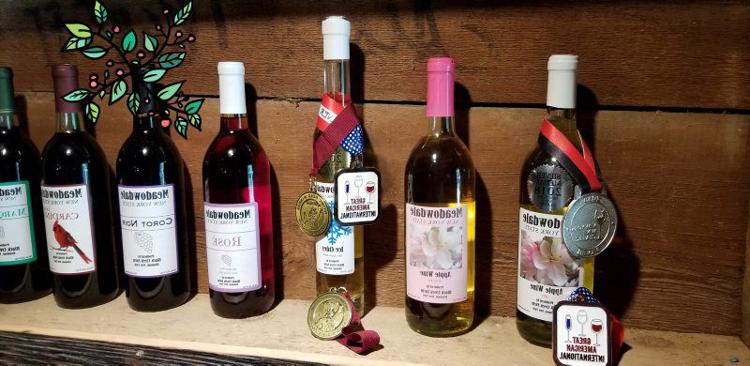 Black Creek Farm is a working farm that raises strawberries, blueberries, potatoes, garlic and tomatoes. In spring, it also produces maple syrup.
"Right after maple season, Bernard turns the equipment over to birch trees and collects this sap for a week or two," Sheehan said. "Along with other ingredients it's usually an eight- to 10-week process to turn it into wine."
Red wines are made with grapes Meadowdale currently buys from wineries in the Finger Lakes. However, future plans call for planting a vineyard at Black Creek Farm, or getting grapes from vineyards closer to home.
"All told, we have eight wines available at the moment," Sheehan said.
In addition to product excellence, the partners are dedicated to running an environmentally-friendly business. The farm is powered by solar and geothermal energy and winemaking wastes are composted and reused for agricultural purposes.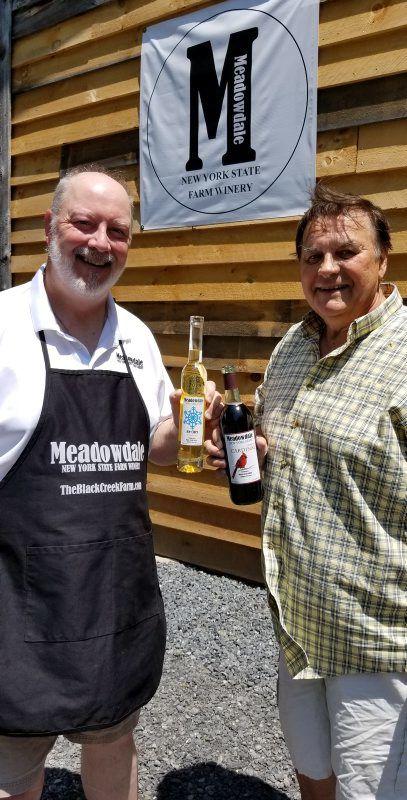 Meadowdale belongs to the Capital Craft Beverage Trail and is also part of the newly-created federal Upper Hudson Viticultural Region.
"Within a few miles we have Indian Ladder Farms, Helderberg Mead Works, Altamont Winery and several craft breweries and distilleries," Sheehan said. "It's very encouraging. None of us consider the others competitors. We're trying to get the critical mass up so people can go from one place to the next and make an afternoon or evening of it, pretty much anytime they want to."