WHITEHALL, N.Y. — It was all hands on deck as faculty, staff, administrators and community members volunteered for food distributions that benefited 400 households in Whitehall and neighboring Granville on May 12.
The activity was organized by Kim Barber, Whitehall Elementary School science teacher and backpack program coordinator, in partnership with the Albany-based Regional Food Bank of Northeastern New York, which supplied food items.
Long lines of cars drove through the high school parking lots in both towns, where masked helpers loaded all kinds of goods into trunks and back seats, such as peanut butter, raisins, apples, potatoes, watermelon, frozen eggs, chicken, split peas and cabbage.
"It does my heart good to see this happen," said Penny Hollister, Whitehall school buildings and grounds department secretary. "We have a lot families on dual incomes where both people are out of work and they're struggling right now. So every little bit we can do as a community and school family is all the better."
Each Friday, Whitehall's backpack program supplies 40 children with easy-to-prepare food items they can take home with them, to get through the weekend. The program has continued during the COVID-19 outbreak.
In an effort to help even more people, the Food Bank contacted Barber about hosting a community-wide food distribution. She publicized it with fliers and on Facebook, and dozens of people quickly agreed to help out.
"We got enough food for 400 people, so I reached out to Granville's backpack program and asked if they wanted to go halves with us," Barber said.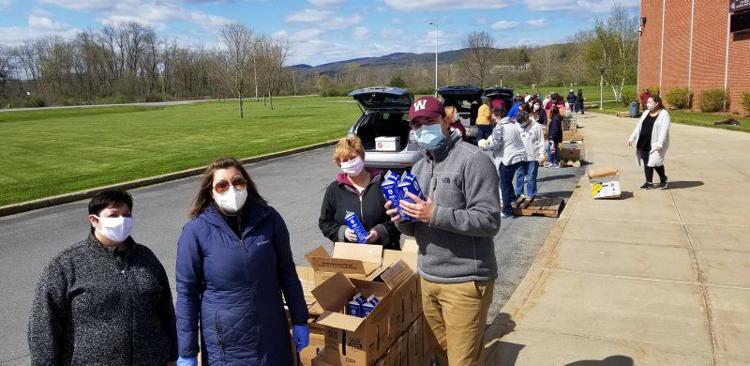 So people in both rural communities got a much-needed boost. Whitehall and Granville border western Vermont and are located in northern Washington County, whose economy is heavily based on agriculture.
The food distributions were similar in style to a newly launched, $25 million state initiative called Nourish NY that provides money to food banks for the purchase of surplus agricultural products from New York farms, for distribution to populations that need them most.
The first Nourish NY event took place on May 8 on Long Island, where the Island Harvest Food Bank held a drive-through food distribution that provided goods to 3,000 families impacted by coronavirus.
This one event alone distributed 14,000 units of yogurt, 3,500 units of mozzarella cheese, 7,000 pounds of Ruby Frost apples, 3,500 gallons of milk, 3,500 units of greens, 14,000 units of grape juice, 3,500 pounds of onions, 7,000 pounds of potatoes, and 3,500 heads of cabbage from New York-based farms and food manufacturers.
Other Nourish NY events were planned across the state.
"Our food banks have been doing tremendous work to feed people in need, especially at this unprecedented time, and today we are seeing our work to connect our families, our food banks, and our farmers realized," said Richard Ball, state Agriculture and Markets commissioner. "The program is bringing New York products to those who need them most, while supporting our farmers and producers. We look forward to seeing many more of these events in the days ahead."
Regional Food Bank of Northeastern New York supplies 1,000 food pantries, shelters and soup kitchens in 23 counties from Canada to the lower Hudson Valley. It received $3 million of the $25 million budgeted for Nourish NY.
In addition to special drive-thru food distributions, some Nourish NY money will be used to continue supplying food pantries from now through October, said Susan Linter, director of community impact.
"We're in the initial stages now," she said. "It's not traditional surplus that we're buying from farms. For example, there's a lot of extra milk now because restaurants and schools are closed."
The COVID-19 pandemic has caused a dramatic increase in demand at food banks across New York, in some regions up to 200%, as many New Yorkers struggle to put food on the table. At the same time, New York's farmers and producers have been faced with their own unprecedented extreme financial difficulties. Many have lost up to 50% of their markets, leaving them without a place to sell their perishable products.
So Nourish NY is helping consumers and producers alike.
Food banks contract directly with food manufacturers and farmers in their respective areas.
While not officially part of Nourish NY, Whitehall High School Principal John Godfrey said the food distribution there had an extremely positive impact on his community.
"It's great to see everybody here helping out," he said. "Everybody's pitching in."
Assistant Principal Ethan Burgess said, "I haven't seen the faculty in over a month-and-a-half. It's nice to see faces even though they're behind masks. You can see them smiling through their eyes."
Money for Nourish NY came from the state's special public health emergency fund. The state is asking any philanthropies that would like to help the food banks to contact Fran Barrett, director of non-profits, at COVIDPhilanthropies@exec.ny.gov