Many busy people find it difficult to put a healthful meal sourced from local ingredients on the table each night.
That's where RealEats America comes in.
The company ships chef-prepared meals made from nearby farms' produce and meat. Rather than DIY meal kits — a very popular trend among the "foodie" population — RealEats' meals are completely ready to eat and require only reheating. The innovative company won the $1 million first prize in the inaugural Grow-NY business competition hosted by Empire State Development and Cornell University's Center for Regional Economic Advancement in November 2019.
Making meals with ingredients from local farms represents a big part of RealEats' mission.
"We're keeping the farmers going," said Executive Chef Marco Ballatori. "With processed foods and a lot of the chemicals people put in stuff, we're combating that. It's important to make a positive impact on all parts of the community."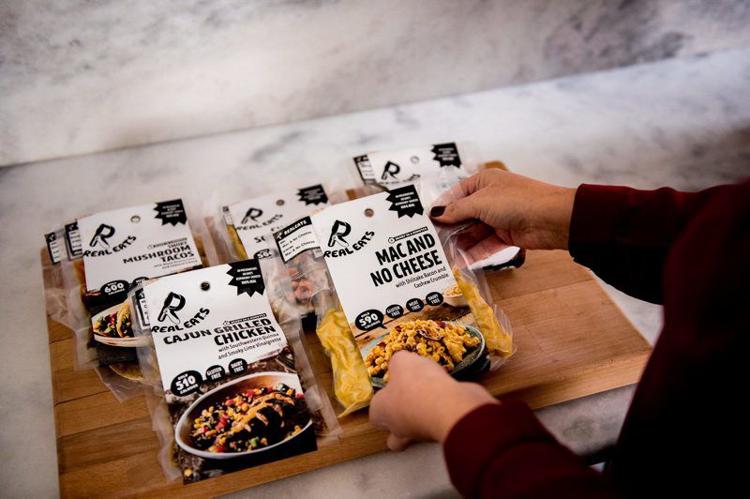 Working with Headwater Food Hub in Ontario, New York, helps RealEats connect with 120 small farms within 200 miles of RealEats.
"By going through them, I can get the products I need," Ballatori said. "A smaller farm can't get a truck out to me, but the food hub picks up at all these farms. We are also cultivating relationships with farms so they can grow what we want. We really need products. I know I'll be able to give our customers good products and the farms will have a market."
Working with Headwater and smaller producers in close proximity helps him get what he needs for the 25,000 to 30,000 RealEats meals shipped out per month. The meal plans range from four to 12 individual meals per weekly shipment, costing $58 to $150 per week.
Ballatori said that the "finicky" growing season in New York can be challenging. Last year's rainy season caused many New York farmers to lose crops. Plus, the shorter growing season limits the amount farmers can produce when compared with those working in warmer climates.
"If it can't be local, it has to be top-quality organic, pesticide free," Ballatori said. "There's no shortage of vendors that can get their hands on products down South or California."
While beef is easy to obtain in New York, Ballatori said salmon isn't available. He works with Clean Fish in Boston that provides farm-raised, sustainable salmon. The shrimp comes from a source in South America that can be traced.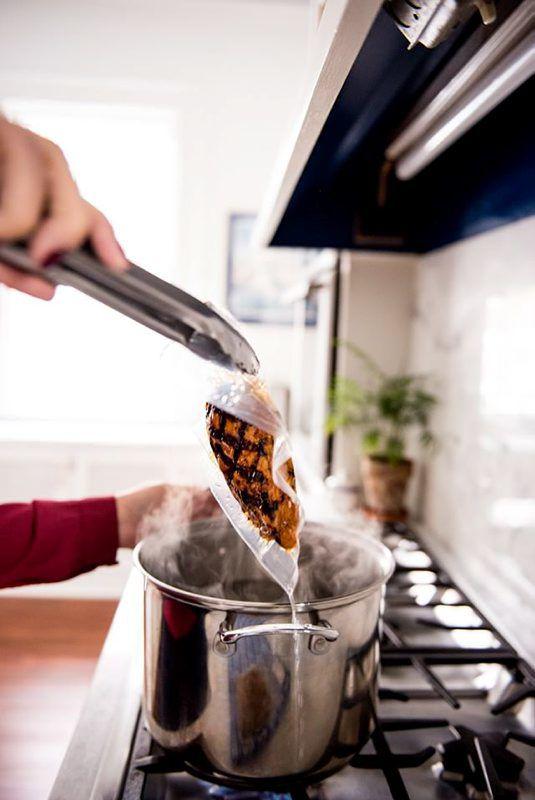 Grain grower Thor Oechsner, owner of Oechsner Farms in Newfield, New York, likes when the bounty of his 1,200 organic acres ends up local. He is a co-owner of Farmer Ground Flour, a supplier to RealEats.
"As a grower, that is fantastic," he said. "I'm all about growing, processing and eating locally. That's the whole M.O. of our flour mill."
Adam Hainer, owner of Juniper Hill Farm in Wadams, New York, raises 100 acres of NOFA-NY certified produce. He said that he recently shipped an order of sweet potatoes to RealEats.
"I haven't had much of a chance to work with them, but I hope it works out," Hainer said.
He's glad to have a local company among his clients, mostly wholesalers.
While RealEats is all about the convenience of a chef-prepared meal at home in about 10 minutes, it's also about "the impact we're making on our community," Ballatori said.
In addition to supporting local farmers, RealEats also donates any food overages to a food pantry near the company kitchen.
Eating well represents another important facet of RealEats. That's tough for people who don't cook or don't have the time to cook. Boiling water and immersing the BPA-free plastic bags of food is all a customer must do to eat RealEats entrees.
Ballatori prepares the food, which contains all the sauces and seasoning involved, including items like barbecue brisket, mashed potatoes and green beans, all in separate pouches. Or entrees like chickpea and squash curry or seared lime shrimp with brown rice noodle pad Thai.
"We try to minimize our negative impact on the planet," Ballatori said. "Pound per pound, RealEats is less plastic than going to the grocery store. Granted, stores are trying to get away from plastic. We also go local to reduce our footprint."
The company ships with insulated boxes made of recycled material and frozen gel packs that can safely go down the drain and recycled.
RealEats distributes in 22 Northeastern states and is considering expansion into Tennessee and Michigan. Once a customer receives a shipment, he has seven to 10 days to cook it or freeze it. One struggle in the concept is obtaining reliable shipping. A few customer complaints on the RealEats Facebook page indicate hiccups in the process. The food is supposed to ship to the customer within two days. If a shipper lags in timeliness, the chilled meals' icepacks can melt, leaving customers with warm, unsafe food. RealEats offers refunds in these rare cases and tells customers to dispose of the food they received.
"People don't want to compromise quality for time," Ballatori said. "They may have stopped for pizza or take-out. RealEats gives them the opportunity to enjoy clean, healthy food. Our food is really well curated and we've worked out some incredible recipes."
Customers can offer a minimum of four meals of the 19 available. Options for lactose-free, plant-based and gluten-free are available.
RealEats competed with 200 entrants in the Grow-NY competition, held in Rochester, New York. Winning the $1 million prize will help RealEats expand.
"We were extremely excited that we beat out so many wonderful companies," Ballatori said. "That will help kick start our growth year. It will lead to more jobs, more demand for local products and the cycle will feed into itself. We're excited about what the future will hold for ourselves and our customers."
RealEats plans to build a larger cooler space to aid in production and hire about 30 to 40 more full-time employees.
"I want to congratulate RealEats as the first recipient of the Grow-NY Competition," said Gov. Andrew Cuomo in a release. "This targeted investment not only helps these dynamic companies establish themselves in New York state, but supports New York's regional agricultural economy. RealEats represents the initiatives that will create a lasting economic impact on New York's agribusiness."