WILTON, N.Y. — Jon Ariel isn't the least bit worried about coronavirus-related lack of business during his farm's always popular, pick-your-own strawberry season.
In fact, he expects more visitors than ever as people flock to get outside in the fresh air and sunshine, after being cooped up at home during the COVID-19 pandemic.
New health and safety protocols such as mandatory face masks, a hand-washing station and social distancing are minor obstacles to overcome for the reward of enjoying one of Mother Nature's most delicious treats of the year.
"I've been counting down the days. I was a little concerned this wouldn't be allowed, but I also knew I was going to come in the middle of the night with a headlamp and pick," joked long-time customer Jen Karlson, who turned out for berry picking's opening day on June 15 with her children Lucas, 9, and Hailey, 4.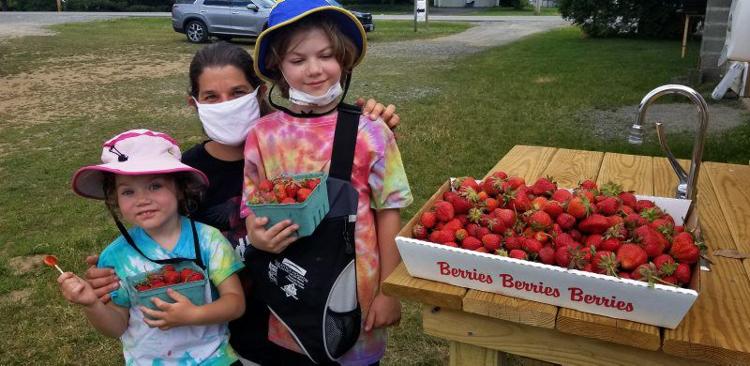 "I'm super excited," she said. "It's like a return to normalcy a little bit. I'm going to make strawberry jam, which the kids like for peanut butter and jelly. They like the strawberries fresh. They won't eat them from the store, but they'll always eat fresh-picked ones, sometimes faster than I pick. We got over 10 pounds today."
Anne Ernst, who turned out with her daughter, Abby, said her family doesn't let a single berry go to waste.
"We eat them all as soon as they get home, they never last more than a day," she said. "I was worried about how the farm would operate the you-pick, but it helps that it's outside. That makes everything safer."
The 20.6-acre Saratoga County farm was founded by Ariel's father, Francis, in 1947 and features a variety of fresh, local produce such as corn, cucumbers, melons, squash, black and red raspberries, asparagus, and semi-hydroponic tomatoes grown in high tunnels.
"This is why a lot of people want to come to upstate New York because there's so much local vegetables, local produce and small-scale family run farms," Ernst said. "You know what the practices are. I think it's really important for people to have that kind of control over their food. It's great to have this be part of the community."
But strawberries are the most highly anticipated crop of the year. Ariel raises seven varieties starting with early-season types such as Wendy and Cavendish.
This year, Ariel is giving a new variety called Albion a test run in a newly constructed high tunnel. He planted them in late March.
"Canadians have been doing it for several years now," he said. "After our season is over with, they've been shipping in some beautiful, tasty strawberries. So I figured I'd give it a try. Strawberries normally bear fruit in spring and early summer. These bear fruit continuously until I let them grow dormant. I'm hoping to keep picking until November. We've been picking them now for almost three weeks. It's debatable whether they're going to be profitable, but they're doing better than I expected."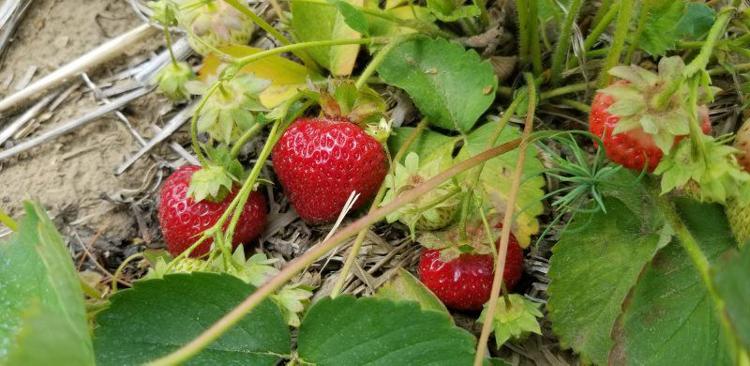 "It's our first year, so it's trial and error," Ariel said. "I always give myself two years."
The biggest issue with high tunnel production is adhering to an intense fertilizer program. However, he began implementing new fertilizer practices for all berry varieties several years ago through a private company, Colorado-based Nutrien Ag Solutions. "Used in conjunction with tissue sampling and soil tests it seem to make a big difference in berry quality and flavor," Ariel said. "It's a combination of magnesium, potassium and humic acid. There's a lot of timing to it. You don't see much difference the first year. The second and third years is when you see a noticeable difference."
Weather is just one of many factors that present ongoing challenges for the farm. Two nights of freezing temperatures a few weeks ago affected the earliest variety berry plants' yield and size.
"We were blessed because southern New York had five nights," Ariel said. "It got so cold that even running irrigation for forest protection didn't protect them. It was down to 25 degrees. We're into the Darselect now and they didn't get hit quite so hard."
Development pressure is another concern as Saratoga County is upstate New York's fastest growing county, and Wilton is one of its most densely populated towns, located along the Interstate 87 corridor. Houses under construction in a new subdivision neighboring the farm can be seen through the trees at the far end of a berry field.
But Ariel keeps changing and adapting to keep the farm going. His optimism for the strawberry season is based on what he's seen taking place at farm, garden and nursery centers throughout the area this spring and early summer.
"They've all said sales are out of sight," he said. "They've had difficulty with selling out. Our major problem is going to be with checking in and checking out. We've set up hand-wash stations and additional checkout counters so people don't get too close to one another."
"We have monitors in the field to make sure people stay separate," he said. "When it's really busy we're going to assign rows to make sure people keep the 6-foot distance. On busiest days we'll have to limit crowds."
The farm has lost some business from local restaurants that "aren't taking nearly as much, about a 10th of what they used to," Ariel said. "We also have some other farm markets we sell to wholesale, but 90% of our business is pick-your-own."
The season typically lasts till the Fourth of July.
Ariel likes a later variety called Malwina the best.
"It's a great berry for anything, but makes a terrific jam," he said. "It has a terrific flavor."
But in Ariel's household, many of these berries never get to the stove for jam making because he and his wife Kathy's favorite desert is strawberry shortcake. Regardless of the variety, Ariel likes all berries the same way.
"Ripe!" he said, smiling.