BRANDYWINE, Md. — After more than a decade with Army counterintelligence in Pakistan and other far-flung locations, Peter Scott came home in 2010 to "grow some roots and start a family."
The transition to civilian life was not easy for him, complicated, he said, by post-traumatic stress disorder.
"It reached the point where I had to get help or lose my family," Scott said.
Scott got that help through the U.S. Department of Veteran Affairs and others, like Dog Tag Inc., a group that provides education, training and support for returning veterans and spouses.
He urges other veterans to seek help with mental health challenges.
"You can deal with it while you're young or live with it for your whole life," he said.
Eventually, the demons subsided and the nightmares faded.
"I have a very loving wife and I am very grateful for that," he said.
Still, he knew other vets need a helping hand.
The result was Fields 4 Valor, a small farm in southern Maryland, provides free food shares for veterans and their families. The non-profit farm raises chickens, beehives and grows mixed vegetables near Washington, D.C.
Scott is the founder and CEO of Fields 4 Valor. It's a logical fit for Scott, who has learned beekeeping, taken a course in cheesemaking at the University of Vermont, worked at a grassfed dairy, apprenticed as a brewer and earned an associate degree in culinary arts.
"I didn't want to work in a big restaurant, but I really like the culture of people making food," he said.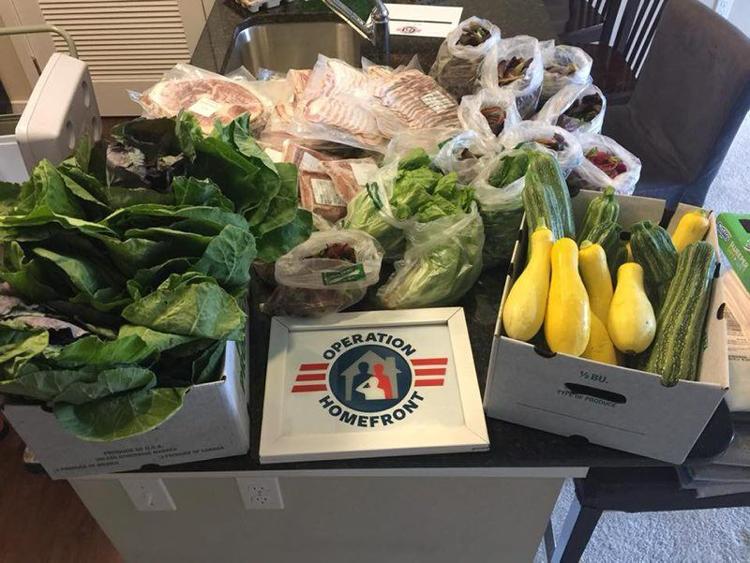 He hopes that giving food to veterans helps in a small way to make lives better.
"The whole goal is trying to help keep families together. It's a way to give back and hopefully make people's lives a little better," Scott said. "It feels really good."
Several veterans also work at the 7-acre farm, including combat veteran Antoinette LaForce, who lives on site. She has a degree in horticulture and was being evicted from her home on the day that she began living and working at the farm, Scott said.
"All veterans and their families face large hurdles entering the civilian space, whether transitioning from service, recovering from injury or disability, continuing life after the loss of a loved one, or dealing with the remnants of conflict. Through the restorative power of food and agriculture, Fields 4 Valor provides a positive and sustaining impact on the lives of veterans and military families, offering a fresh start toward achieving greater well-being and renewed purpose," the Fields 4 Valor website says. "Fields 4 Valor is a nonprofit and innovative farm founded to combat the often-unseen struggle of food insecurity among military and veteran families. We are dedicated to growing and donating healthy foods as an important part of easing the financial burden for Washington, D.C., area veterans and military families who are transitioning to civilian life."
Fields 4 Valor has 20 apiaries, a number of chickens that produce eggs at "Fort Clucks," and a little over 4 acres of vegetables.
Deliveries began this year on Saturday, May 30, and the farm also gave out some 55 flats of vegetable seedlings to veterans this spring. Those seedlings would normally have been sold at a hardware store, but there has been little normal about this spring. So, Scott decided to give the seedlings away for "sort of victory gardens," he said.
This spring, the number of chickens is being expanded, and Scott hopes to eventually make them free-range birds. The number of hives is also being expanded and a walk-in cooler for vegetable and product storage, including a washing station, is being added. The goal is to be able to provide eggs, honey and vegetables for about 30 families, he said.
In addition to food donations, Fields 4 Valor also offers programs for veterans and their families, including culinary classes. The farm offers employment, housing and volunteer opportunities as well.
One of those assistance programs is sponsoring five slots for veterans to learn beekeeping skills. Fields 4 Valor will then provide them with bees to begin producing honey.
"I tell people that nothing focuses you on the present like opening a box with 10,000 stinging insects," Scott said.