GRANTSVILLE, Md. — Mike Koch used his cell phone to capture the image of a large quilt design as a crane hoisted it near the top of his barn.
The artwork is now part of a Barn Quilt Association of Garrett County's tour that includes roughly 50 signs displayed throughout the area.
The association's mission is to provide a heritage tourism attraction that promotes the county's agriculture, history and arts culture through visual combinations of barns and quilt designs "to educate the public and showcase our Appalachian tradition," according to garrettbarnquilts.org.
Garrett is the first county in Maryland to have a barn quilt trail, the site states.
Koch and his partner Pablo Solanet recently had two identical "quilts" installed by a Beitzel Corporation crew on each side of their barn.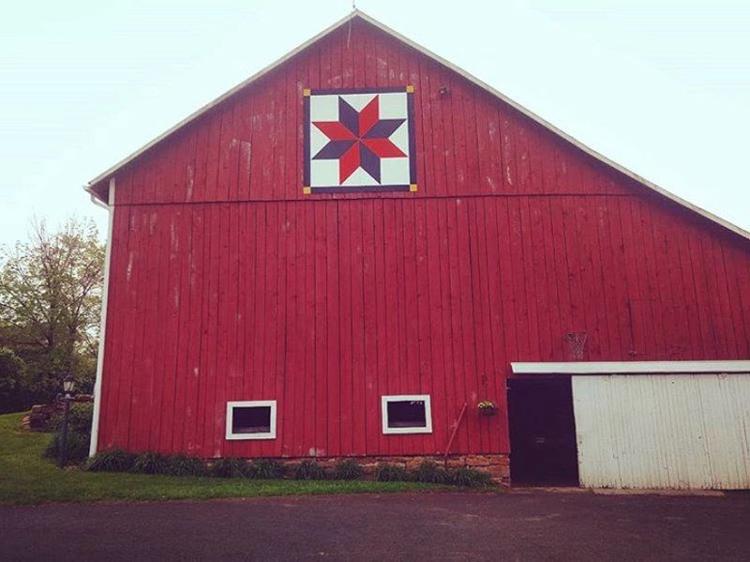 The couple, who also own Firefly Farms Creamery and Market in Accident, chose a red, white and black pattern for their signs.
"We made the right decision on color," Koch said.
"I love it," Sonanet said.
The computer generated designs are made by volunteers at the Garrett Engineering And Robotics Society. Exterior paint, which is expected to last up to 10 years, is used to create each block pattern on DiBond, an aluminum composite material.
Costs of barn quilt squares vary by size. An 8-by-8-foot block design costs about $450. The Barn Quilt Association, which achieved IRS nonprofit status in 2010, owns the signs and has a locations committee that visits each prospective barn to determine the best size of a quilt design block for the structure.
Blocks may be sponsored to honor someone, support the project or as a gift.
Cheryl DeBerry, the Barn Quilt Association's treasurer, said proceeds from the block sales benefit the Barn Quilt Association and Garrett County robotics teams.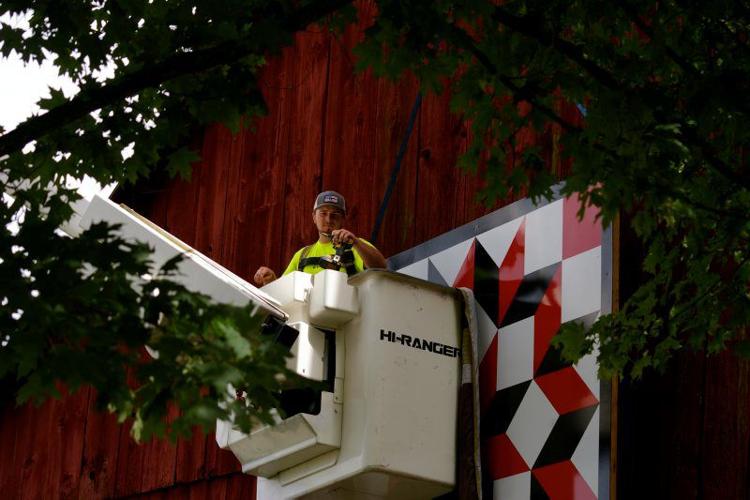 The association is run by volunteers with additional support from the Garrett County Arts Council, Maryland Heritage Areas Authority, and Tucker Community Foundation, as well as donations from private individuals.
The barn quilt idea originated with native Appalachian Donna Sue Groves, who bought a farm in Ohio that included an old tobacco barn, DeBerry said. To honor her mother, an avid quilter, Groves had a quilt block painted on the structure.
Today, roughly 30 states and two Canadian provinces have a barn quilt trail.
Folks can use a free phone app, launched by the Mountain Maryland Gateway to the West Heritage Area, that's available on Apple and Android devices to find barn quilt and other heritage-related tours across Garrett County. The app can be found by searching Garrett Heritage Area in the Google Play or iTunes App stores.
Kathleen "Kate" Fratz has had a barn quilt, a LeMoyne Star pattern, for nearly 11 years.
"We were the first ones in Garrett County," she said and added her late husband, Gary Fratz, and their son, Brent Fratz, installed the sign on their barn.
Today, Brent Fratz raises soybeans, corn, hay and beef cattle on the family farm.
"We're definitely a working farm," Kate Fratz said. "We've been here 56 years."
The barn is visible and attracts attention, she said.
"We have lots of people stopping by," Kate Fratz said.
Eileen McCrobie has a Diamond Star pattern sign with hues including maroon and pink on her barn in Oakland.
"I found it in a magazine," she said of the design. "I like the colors."
She and her late husband, Charles McCrobie, saw several of the barn quilts throughout the county.
"My husband enjoyed them so I did it in his memory," she said of installing the barn quilt. "People pull off and take pictures of it."
Learn more at barnquilts.org.