CLEAR BROOK, Va. — Chet Boden's crossbred market steer, named Doc, was the 2019 champion market steer at the Frederick County Fair.
"This feels good," said Boden, 16. "My steer has a very chill personality and he doesn't get worked up over many things. This is the first time I have ever won and I have been showing eight years. I was hoping we could win but I wasn't sure we could get around the other steers."
In addition to showing steers, Boden also shows pigs, goats and sheep.
The reserve champion steer, named Snowball, was exhibited by Hayley Seabright.
"This feels awesome," said Seabright, 16. "I give it to my steer as he is bright and I love him so much."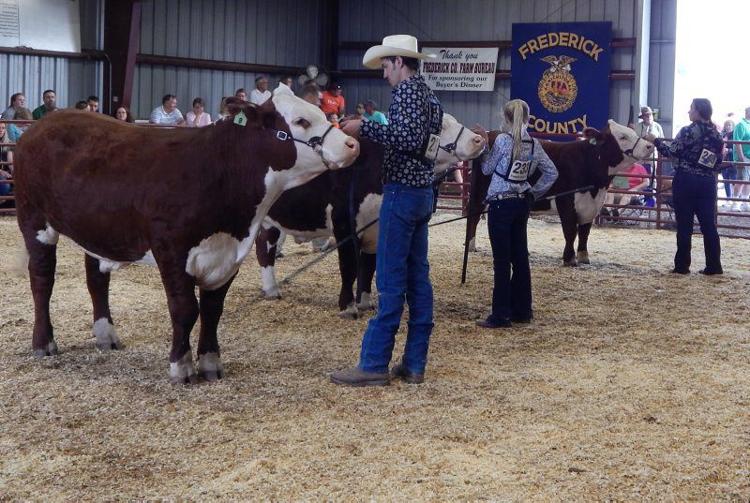 Seabright has been showing cattle since she was 11. She said she works with her cattle every day, for four hours a day.
Seabright doesn't come to shows with the expectation of winning; she acknowledged that all of her competitors work very hard, too.
The champion and reserve Hereford steers were raised by Cyle DeHaven, who received a trophy sponsored by Rolling Hills Farm while Hannah Davis presented the champion Angus steer, and reserve champion.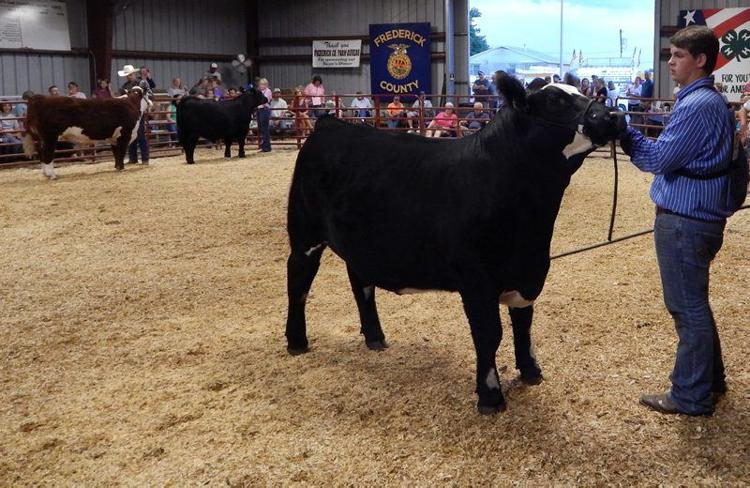 Colt Bauserman won the champion British cross steer and Hannah Davis' Chianina won the all other breeds champion and Berkeley Frank's entry won county bred honors.
"Steer numbers are down a bit from last year although the quality is better," said show judge Colby Ferguson. "Crossbred steers were really good and they did a good job getting them fed so we didn't have a lot of under finished steers. Whoever buys the steers at the sale on Friday will be pleased."
Ferguson said that the show was good on the heifer side, as well.
Hannah Davis, 18, brought the overall champion female with her Angus heifer and won champion purebred heifer.
Champion commercial heifer was presented by Brooklyn Davis, and reserve champion commercial female was exhibited by Eddyn Molden. Champion Hereford female and reserve were won by Cyle Dehaven and Longhorn summer yearling heifer was shown by Jacob Stout.
Regardless of the class, to win requires showmanship.
"Showmanship is the most fun I have, as that is just me and the kids working together," Ferguson said. "I look at ring etiquette, confidence in themselves and partnership with their animals. You can tell if it is their first time or whether they have full confidence with their partner."
Reversing their standings in the market steer competition, Hayley Seabright took champion senior showman while Chet Boden received reserve champion showmanship. Eddyn Molden took the champion junior showman honor while Keller Cooley won reserve champion. Jacob Stout won champion senior novice on his first try while champion junior novice was Emma Wisecarver.
There were also 12 entries in the bucket calf competition for those future showman ages 3-9.
"The bucket calves is the most fun for me," said Ferguson. "These kids are the future of these programs and by injecting that fun and enjoyment of the fair and actually grabbing a hold of that animal that fits their size is great. The calves are quite a good size relative to the little tykes and this is better for them as they can look eye to eye."
"I have been doing this about 20 years," said Jamie Whitacre, beef chairperson. "I thought the show ran smoothly and, importantly, all the calves graded choice."
The show included 21 steers, 15 heifers and 12 bucket calves.
"A lot of these kids will go onto regionals or even nationals," said Chuck Alexander, of the Northern Virginia Angus Association. "We offer a small prize to help promote the kids in the Angus world, but the cattle have to be registered. We have done this for 15 or 20 years. We have fundraisers twice a year and this is where we put our money. It's all for the children."