DAMERON, Md. — "A goal is a dream with its workboots on,'' said author Rachel Hollis on the topic of entrepreneurship.
You can tell that this is something intrinsic to Mary Trossbach, as she stands among the cattle at Trossbach Family Meats, in St. Mary's County, Maryland.
Hard-working and determined, Trossbach, her brother JC, and her cousin Travis, are the owners and founders of their farm's newest enterprise, Trossbach Family Meats. They are the fifth generation to work their family's land, which has been in production since the early 1900s.
"I was born into the love of this way of life, and the farm trade," said Trossbach.
Raised going to markets, hosting field trips on the farm, and helping with the farm's pick-your-own strawberry patch, Trossbach learned how to interact with the public and sell farm products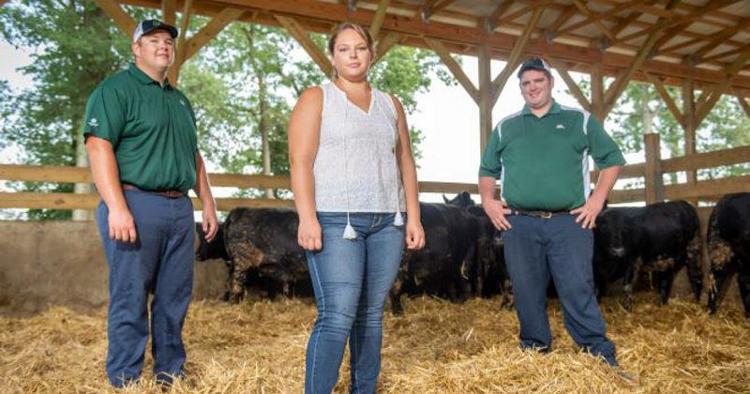 All three of the young family members participated in 4-H, and Trossbach said as they grew older it gave them a new outlook on the business aspect of the farm.
"It all began around Grandma's dinner table with the famous words, 'what if,'" Trossbach said. "And once we committed to it, it took a lot of motivation, dedication, and strategic planning, followed by an abundance of paperwork, to open our new business."
Trossbach Family Meats became operational on the farm in 2018.
"We produce only all-natural freezer beef and pork, raised on our family farm in Dameron, Maryland,'' Trossbach said. They specialize in Angus beef and York/Hampshire crossed pork.
Their cattle are raised on pasture, and both the cattle and hogs are grass-fed and grain-finished. The Trossbachs take pride in raising animals humanely, and without added hormones or growth implants. They are never fed animal byproducts, and no antibiotics are used.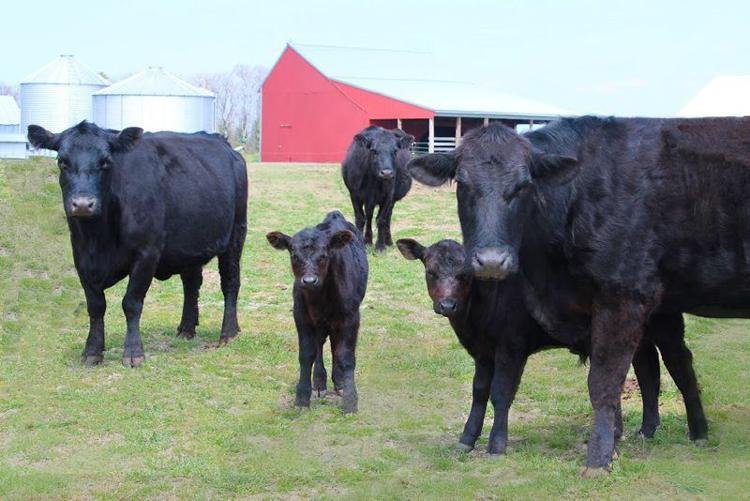 Their market-ready animals are processed by a local USDA inspected facility.
The beef is hung and dry-aged for a minimum of 14 days to ensure tenderness and flavor, and both the beef and pork are sold by the whole, by the half side, and by individual cuts, and is USDA processed, packaged and vacuum-sealed. They also offer bacon, sausages and specialty beef cuts.
Their products are sold by delivery, at the on-farm store, and at the Home Grown Farm Market in Lexington Park.
"We are always working to expand our farm's products and services,'' Trossbach said. "We arrange for transportation of the animals to the processing facility, as well as delivery to the customer, and we take custom orders."
While they mostly focus on beef and pork, the business has also slowly expanded to include chickens and turkeys for the seasonal holidays. The farm also grows and harvests a variety of field crops including corn, beans, wheat and barely.
Trossbach said that "the overall growth of the business in the last year has bonded the family in a multitude of dimensions."
As young farmers, Trossbach and her partners faced a variety of challenges getting started, mostly securing all the needed business permits, and then working to gain customers that weren't family or friends. She said the Southern Maryland Meats Program and the Home Grown Farm Market are resources that helped along the way. They are still members of both organizations.
Trossbach faced her own specific set of challenges as a women in the livestock business. She said she worked hard, "step by step with the boys," to break any stereotypes attributed to women in agriculture. She is also currently studying business at the University of Maryland Global College, which she says has helped the business.
All three of the Trossbach Family Meats partners also work off the farm, primarily for the health benefits provided. However, their success on the farm has been shown in their increasing customer base and customer loyalty.
"Having the opportunity to see my son on the farm, and watching the love in his eyes for it, has reopened mine," Trossbach said. "As the fifth generation on the farm, we are committed to preserving it, and to providing a legacy for our children."