Deana Tice can be described as a farm-based Wonder Woman.
She owns and operates Enticement Stables in Anne Arundel County, Maryland, a 70-horse, full-service equestrian farm that teaches over 100 lessons a week, trains horses, re-trains off-the-track Thoroughbreds, hosts summer camps, and manages a show team of about 20-25 riders competing in over 12 events a year.
She's also the proprietor and manager of En-Tice-Ment Farm Raised Meats, a family farm, raising beef, pork, chicken and lamb that is sold from the farm store and at local farmers markets, and that also supplies a few restaurants in the southern Anne Arundel County area.
Tice contributes extensively to the local agricultural community off the farm as well.
She is on the Anne Arundel ag commission, co-chair of the Ag Education Committee, the Anne Arundel County Farmers Market secretary, the current Anne Arundel County Farm Bureau director at large, a Harwood 4-H club leader, the Anne Arundel County 4-H Livestock Auction Committee president, a County Fair board member, an FFA alumni member, a fellow in the current LEAD Maryland class, Anne Arundel County Soil Conservationist of the Year 2018, and most recently was appointed in January 2020 as the Anne Arundel County farmer representative on the Southern Maryland Agricultural Development Commission board.
Tice is also a wife and mother of three.
Hard working, dedicated, ambitious, forward thinking, and a consummate cheerleader of the agricultural industry, Tice is a role model for those that come behind her.
"I was born into farming, and I received my first pony before I was even born. It was presented for me at my mom's baby shower," Tice said.
Both sets of her grandparents had farms in Montgomery County. Horses were the main focus of each farm, though both couples also raised livestock and produce, mainly to feed their large families.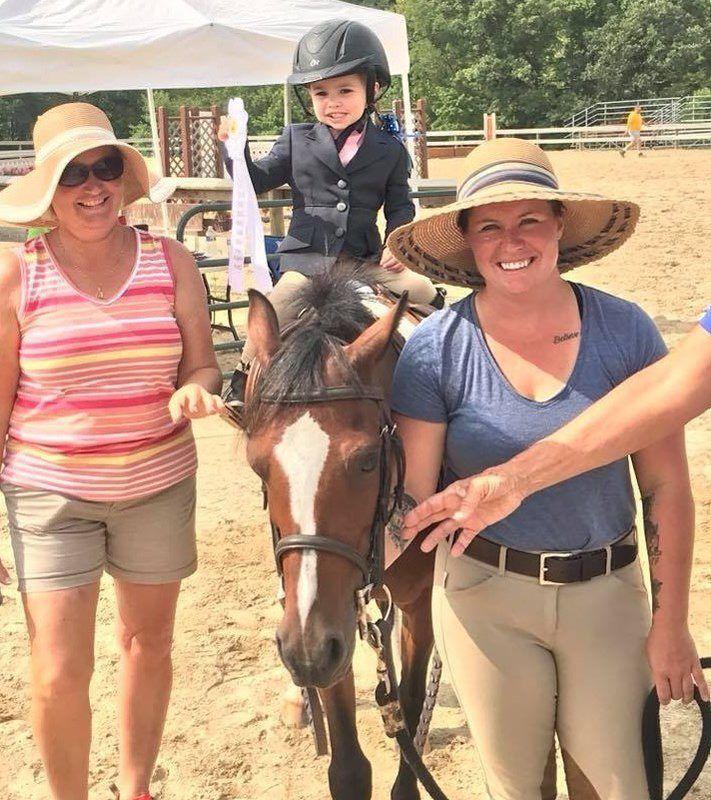 "During my school years, my passion was centered around 4-H and FFA," Tice said. "I really enjoyed all my livestock and equestrian projects, and that encouraged me as I reached college age. I went on to graduate from the University of Maryland with a degree in agriculture and resource economics with a minor in education."
She began her career in the 1980s with a farm supply business, managing stores and sales. This was a time when there were very few women working in the professional agricultural field, and Tice said, "I was originally turned down for jobs which I later worked my way into; and more then once I had an older farmer customer look at me, and then ask for my boss. But I took that challenge on as a way to prove myself. I developed great relationships with the farmers who came to trust that I knew what I was doing."
Tice started Enticement Stables 18 years ago after leaving the farm supply business to stay home with her kids. The business grew in size and success in the countryside outside of Annapolis where horses are a strong agricultural focus.
It is a family business and Tice said, "My niece, Brittany Tice, is my assistant manager, my three sons work after school and on weekends, and of course my electrician husband has a large 'honey-do list.' Luckily he grew up on his family farm growing tobacco and raising horses, so he likes the farm life too. We also employ 12 other part-time workers to care for the horses and assist in running all the barn programs."
En-Tice-Ment Farm Raised Meats is her second business.
It started out of raising meat for the family, and grew into another farm based enterprise.
"I manage En-Tice- Ment Farm Raised Meats, but the majority of the work is done by our three sons, who took to the livestock more than the horses," Tice said.
En-Tice-Ment Farm Meats offers beef, chicken, lamb and pork that is USDA slaughtered and processed, vacuum packed and wrapped frozen cuts.
Tice takes pride in her livestock.
"We raise our animals in a natural atmosphere with care. Our beef is pasture-raised, grain-fed/corn-finished," she said. "We only use antibiotics when medically necessary, and strictly follow all withdrawal guidelines. We do not use any growth implants or hormones."
Their meat products are sold at their on-farm store and at the Anne Arundel County Farmers Market.
When asked about future plans, Tice said she is focused on continuing the farm businesses, reaching out to consumers, and advocating for agriculture.
"My hope is to get as many kids involved in ag through 4-H and FFA as possible, as I feel the future of farming is in the youth," she said. "That being said though, no matter your age you can always keep learning. My hope is that agricultural education keeps on growing. Most times, people just don't know where or how their food was raised, but I find that they are craving to find out."