HUNTINGTOWN, Md. — From cowgirl boots in a dusty rodeo arena, to a pasture full of heritage breed New Zealand pork, Amanda Hand's path to full-time farming quite literally led her around the world.
"When I was growing up, my family ran a multi-generational cattle operation in both Indiana and Florida,'' said Hand. "My father also had a quarter horse breeding operation in Emmett, Idaho, and in college I chased after my love of my dad's horse businesses through rodeo eventing, cutting and training."
Standing on her current farm in Calvert County, Maryland, Hand talks about how she previously had to set farm life and her love of livestock and horses aside when she married her husband Jason, a U.S. Navy sailor.
"For 18 years I followed him all over the world, supporting his naval career. Then when he retired after 22 years of service, he took a job that brought him to D.C.," said Hand. "Before we moved, I told him I really wanted the farm life back. That led to us buying our current farm just about an hour outside of the city in southern Maryland."
They named it Mkono Farm — after mkono, the Swahili word for hand — that is taken from the phrase "Mkono wa Bwana" or "the hand of God."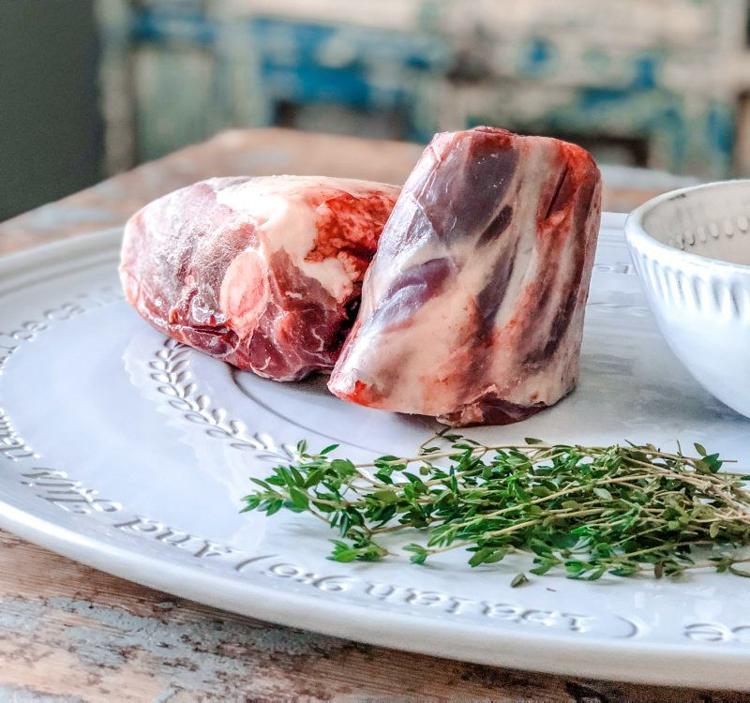 The moniker not only stems from their own last name, but also from the time Hand's husband Jason spent in Kenya while serving in the U.S. Navy. He did multiple tours there and was greatly influenced by the Swahili culture.
Hand said that the farm was thus named "because through the hand of God we have seen his works and they are great. Mkono embraces the idea that it is in His strength and not ours that keeps, sustains and provides. What he has given, we will be faithful stewards of."
Hand has now become a faithful steward of something that's a bit unique for a Mid-Atlantic farm, a herd of Kunekune pigs.
Smaller, tri-colored and friendly, they're not your average vision of southern Maryland swine. Originating in New Zealand, the heritage breed called the KuneKune is a lard breed pig that is known for its deep red and well marbled rich meat.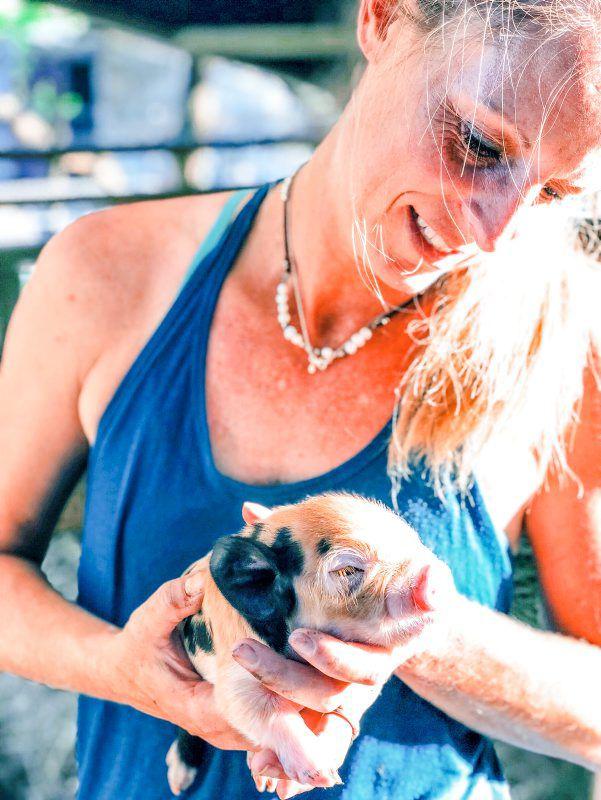 "If you asked me in 2017 if I would one day have a pasture of KuneKune pigs, I would have replied 'KuneKune what?'" Hand said.
Her intentions for the farm when they bought it were very different from what it has become today. Originally just wanting her horses in a pasture that "I could view from my kitchen window, and maybe have a few chickens," turned into wanting to make the property profitable.
"My husband first approached me about doing meat chickens and my response was 'heck no,'" Hand said. "I am the type of person that must be passionate about what I am working on, and having had a couple of businesses prior, I knew that if the farm was going to be profitable, and I was doing most of the work, then I needed to be passionate about the animal that we chose to raise."
Hand delved into research as well, and began to follow several well known farms online that practice permaculture methods and pasture rotation. She became a "huge fan" of Primal Pastures, and happened to catch a live feed of them receiving their first grouping of their new "primal pigs" on the farm. Those pigs were the KuneKune.
Hand soon discovered that the breeds docile nature, excellent mothering skills, hardiness and ease on the land were attributes that would be a good fit for their farm. She purchased her first four KuneKune in January 2018.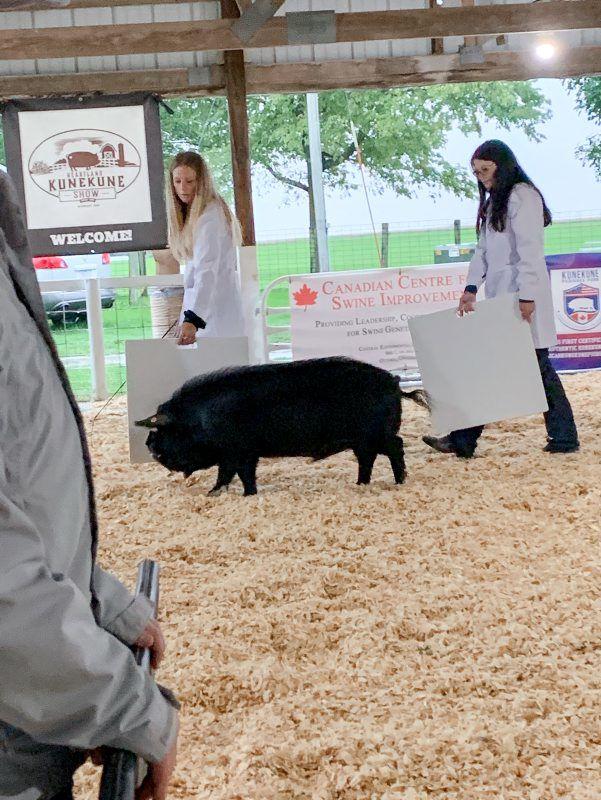 "Within hours of picking them up and bringing them back to the farm, I was in love," she said. "Within six weeks we purchased another 11 pigs. Since the KuneKune is a slower growing pig, I soon realized that I would need to start with buying a herd of almost adult sized meat-quality kunekune to get the business going to attract a customer base. We harvested our first kunekune from the purchased herd in August of 2018, and in September of 2019, we harvested our first kunekune that were Mkono Farm-born."
Mkono Farm has taken on the unique responsibility of producing small batch exclusive heritage products for their customers in the Washington D.C., northern Virginia, and Maryland area. Located on the fertile banks of the Patuxent River in southern Maryland, they use their natural environment to raise, grow and harvest food that is "as nature intended: healthy, delicious and sustainably produced."
Hand is proud of their commitment to ethical and humane treatment of their animals and the environment. She said they take their "farm to table" stewardship seriously, and that their animals are free to roam, socialize and eat at their pleasure, making them happier and thus creating "a perfectly delicious harvest."
The Hand family strives to utilize the KuneKune pig in every facet they can — selling show stock, breeding stock, homestead stock, and feeders to whole pig, roasters, and meat by the cut.
They were also able to expand the profitability of the pigs by utilizing the kunekune at all ages within the pork industry. Being smaller in size from two months to nine months of age the kunekune make perfect roasters and BBQ pigs. Between nine and 12 months of age they can use them for smaller cuts or sausage. Then at 12 to 15 months of age, they go as wholes, halves and cuts.
Mknono Farms offers their customers USDA processed, vacuum sealed, quick-frozen individual cuts, or by custom order for whole, half and other custom cuts. For custom orders they will arrange to and from transportation of the animals and the product from the processing facility. Their processed pork products include bacon, sausage, ham and other specialty charcuterie.
Hand sells pork bi-monthly and fresh at Let's Meat on the Avenue in Alexandria, Virginia, and she also participated in three local Calvert County farmers markets this year.
"We also have a website that many of our customers utilize for ordering," Hand said. "We have been very busy this year harvesting on demand. By that I mean, as fast as we are bringing it back from the processor, it is sold with in days. We are having a hard time keeping up with demand, which is a good problem to have."
As with any farming enterprise however, there were hurdles to conquer to get Hand to where she is today. As an out-of-town, beginning again female farmer, and with a fairly unknown product, Hand faced a series of challenges to get the production off the ground.
"Being the new farm in town can be difficult," Hand said. "Especially one that is raising a niche breed and pushing the 'farming boundaries' in ways that local farmers have not experienced before. Some other farms have seen us as competition, but I don't think that's the case. I have not viewed any other southern Maryland area farms as my competition because we are dealing with an entirely new breed, raised uniquely, and hitting profit centers and audiences that differ from them. I think there's more than enough room for everyone at the table, and that diversity is a good choice for the customers to have."
The other big challenge of course is one that many farmers face, capital investment. Currently, Mkono only operates with cash, which has at times limited their growth. But Hand said that "not knowing all the risks as we went into farming, we felt that it was the best way to operate with the least amount of financial risk to our family."
Hand also worked hard to consistently promote the heritage breed by showing that their farm is a reputable recognized breeder, with quality KuneKune breeding stock.
Her industry work paid off, as she has recently accepted a board position on the new KuneKune Pork Producers Association.
Mkono Farm has been supporting its own operation since their 13th month of business with no debt.
"After only 22 months in business, I would call this my biggest success to date,'' Hand said.
She has plans for expansion on the near horizon, and would like to see their pork regularly on a local restaurant menu by 2020.
"Our farm is excited about having a charcuterie where our KuneKune can be utilized to make gourmet value added items, like speck, prosciutto, salami, pancetta, copocollo, and soppressatta," Hand said. "These charcuterie items are ones that we delighted in every day when we lived in Italy and it will be amazing to be producing such items from our own animals. I envision our gourmet cuts on charcuterie boards with local cheeses at southern Maryland wineries."
Her biggest goal however, is her five year plan "to be the largest KuneKune pork producing farm east of the Mississippi River and maybe even in the U.S."
This goal would require Hand and her family to relocate to a larger farm.
Like many women in agriculture, Hand has many roles — farmer, business woman, wife and mother.
"Most KuneKune breeders are women and they enjoy mentoring one another," she said. "I have carried on this tradition in our farm's business model. When someone buys a KuneKune from me they are not only getting a pig to take home to their farm, but also a mentor that will be there to guide them as they begin their journey with this breed."
Hand said it's important for new farmers to be willing to ask for assistance, and to let professionals help them.
"Take advantage of local farm organizations both locally and nationally that you can align yourself with," Hand said.
She also stresses the importance of "making the investment into excellent marketing materials, and to put yourself out there again and again. Be your farm's number one cheerleader and advocate. If you are not putting yourself out there, you are not making sales or setting yourself apart."
Her last bit of advice was not to try to grow too quickly.
"Build your farm brick by brick," Hand said. "Have a specialty that sets you apart from other farms and do that one thing with excellence and uniqueness, and then add on if needed in the future.